Celtics
Morning sports update: The Celtics' top 5 players are reportedly 'off limits' in a trade for Kawhi Leonard
"Boston's more willing to do a deal that's pick-heavy."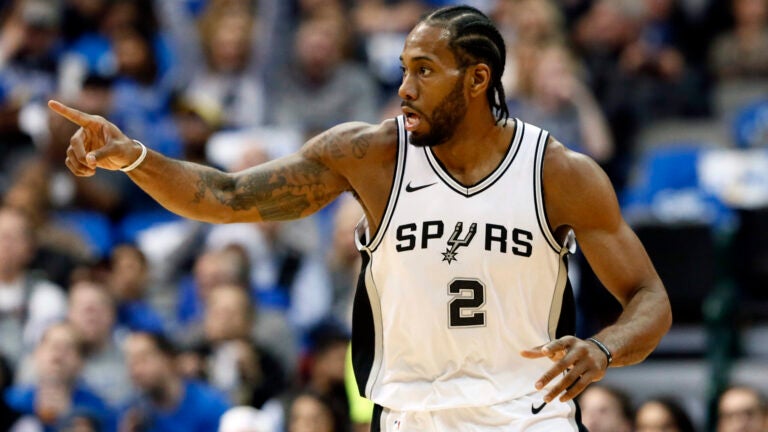 After the Red Sox completed a three-game sweep over the Nationals with a 3-0 win on Wednesday, Washington held a players-only meeting to discuss their 17th defeat in 22 games. Jackie Bradley Jr. had two RBIs on a seventh-inning sacrifice fly to send the Nationals soul-searching.
The Celtics' top 5 players are reportedly 'off limits' in a trade for Kawhi Leonard
The San Antonio Spurs appear set to lose their franchise centerpiece when star forward Kawhi Leonard hits free agency next summer. Rather than let him walk away, coach Gregg Popovich and the Spurs are looking to trade him for a package of picks and players that will allow them to reload without sinking into a total rebuild.
That asking price may prove too high for the teams interested in Leonard's services, according to ESPN's Adrian Wojnarowski. The Los Angeles Lakers, the organization the two-time Defensive Player of the Year reportedly wants to join, could be content to wait until next offseason to sign Leonard instead of dealing for him now.
For the Boston Celtics and Philadelphia Sixers, Wojnarowski reports a trade would be a "big risk" for two teams that don't look like they'll need to take one. Neither team has access to Leonard's medical information as he returns from a right quad injury. Nor can they be sure he would re-sign with them instead of heading for L.A. when his contract expires next season.
"To take him on essentially as a rental — to give up players, picks for a player who's going to leave after one year — Boston and Philly don't have to take big risks like that," Wojnarowski said on ESPN.
He noted Philadelphia is not willing to part with Joel Embiid, Ben Simmons and Markelle Fultz, while the Celtics' list of untouchable talents is even longer.
"Boston's really got their top-five players off-limits," Wojnarowski said. "Boston's more willing to do a deal that's pick-heavy. But the Spurs want good players back. They don't want to rebuild. They want picks and they want guys that can help them stay in the playoffs."
The analyst did not specify which Celtics were off the board, but it seems safe to assume Danny Ainge wants to hold on to Gordon Hayward, Kyrie Irving, Al Horford, Jayson Tatum, and Jaylen Brown. If the Celtics general manager is indeed willing to trade future draft selections for Leonard, he has a plethora of picks to offer.
Without Julian Edelman, how will the Patriots fare against their first four opponents?: Edelman's four-game PED suspension was upheld on Tuesday, so the Patriots will be without the wide receiver for the first month of the season. Rachel Bowers examined Edelman's history against those four teams, highlighting the last time he faced them, and what personnel in the defensive backfield New England will be up against in Edelman's absence. (Boston.com)
Jackie Bradley Jr.'s game-winning RBI was a bit unconventional: Bradley's sacrifice fly came on a foul ball that appeared headed into the stands behind third base before left fielder Adam Eaton made a sliding catch. Rafael Devers scored from third when Eaton's throw sailed over the catcher's head. (Boston.com)
Defending champ Joey Chestnut sets record with 74 hot dogs: Joey "Jaws" Chestnut downed a record 74 wieners and buns in 10 minutes to take home the coveted Mustard Belt for the 11th time.
"I found a vicious rhythm," the 34-year-old said after the Nathan's Famous July Fourth hot dog eating contest. (Boston.com)
Daily highlight:
https://twitter.com/RedSox/status/1014585855065944065