Celtics
Kyrie Irving reportedly never wanted LeBron James to come back to Cleveland
Plus, other nuggets on their relationship from NBA reporters Jason Lloyd, Joe Vardon, and Dave McMenamin.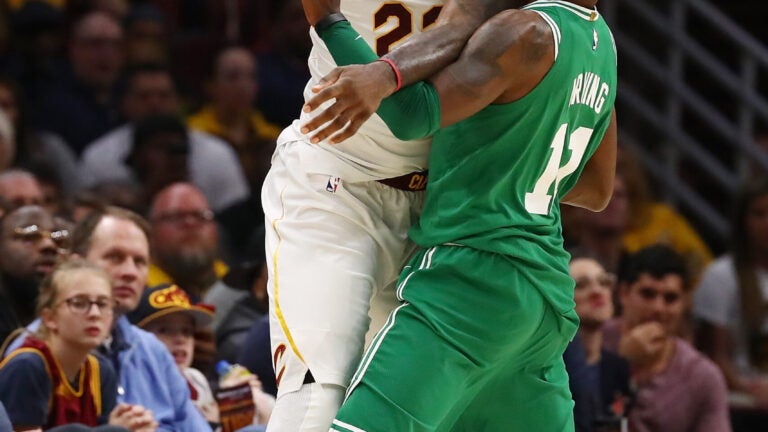 The relationship between former Cleveland Cavaliers Kyrie Irving and LeBron James was a rocky one from the get-go, according to a trio of Cavs reporters.
"It has been made clear to me by multiple people, Kyrie never really wanted LeBron to come back in the first place," The Athletic's Jason Lloyd said in a roundtable discussion on 92.3 The Fan, a Cleveland radio station. "He didn't think it was necessary. LeBron said something to Kyrie on the court following a game when he was with Miami, something to the effect of, 'Keep going, keep doing what you're doing. You never know, I could be back here one day,' or something like that.
"Kyrie went into the locker room and basically said, 'We don't need that. What's he talking about? We don't need that guy.' So Kyrie never really wanted him here."
Irving, who the Cavaliers selected with the No. 1 overall pick in the 2011 NBA Draft, played three seasons in Cleveland before James announced he was returning to the Cavs in July 2014. Once James arrived, things between the two All-Stars did not get off to a good start.
There were two locker room confrontations within the first week of the season, Cleveland.com's Joe Vardon said. Irving and James had it out following both the third (a 101-82 loss against the Portland Trail Blazers) and fourth (a 102-100 loss against the Utah Jazz) games. Irving had zero assists against the Jazz.
"You couldn't have started off worse than they did," Vardon said. "It just kind of carried on that way."
The Cavaliers advanced to the NBA Finals that year, but Irving was sidelined for Games 2-6 because of a fractured kneecap. Leading up to the postseason-ending injury, however, James was getting increasingly frustrated, according to Vardon.
"Before Kyrie blew out his knee, he was having leg problems, he was limping through series and taking games off," Vardon said. "This annoyed LeBron and LeBron's people to no end. They were calling him 'soft' and questioning his toughness, and LeBron was doing it in comments to the media. It took a while for there to be real respect between those two guys at all."
***
Some other tidbits from Lloyd, Vardon, and ESPN's Dave McMenamin's roundtable:
Before Irving was traded to the Celtics, someone in the league told McMenamin Irving was going to turn out like former NBA point guard Stephon Marbury — an "immense talent" who people predict is going to do great things, but ultimately ends up "on four or five teams by the time his career is over."
McMenamin said Irving once got offended when he asked him about James's improved three-point shooting: "He looked at me like I had three heads, like, 'Why would you ask me? He's not on my level as a three-point shooter. Let's talk about my three-point shooting.' Stuff like that, you look back, it's telling."
Irving and his camp considered asking for a trade after the 2016 NBA championship, according to Vardon.
Lloyd: "I will freely admit it, it was worse than I thought. The LeBron-Kyrie relationship was worse than I thought it was. I told LeBron that on opening night. I said, 'You guys did a great job of fooling me. I had no idea.' I won't tell you exactly what he said in response, but he more or less agreed it was not a good relationship between the two of them."
Between Cleveland's first-round and second-round playoff series in 2017, Irving did not speak to anyone, according to McMenamin. He said Irving "went days at practice where he would not interact with anyone."
Vardon said Irving was not happy with "how much attention," "how much power," and "how much sway" James had within the Cavaliers organization.
Though James says he asked the Cavs not to trade Irving, Vardon said "he did absolutely nothing to keep [Irving in Cleveland] until it was too late."