Celtics
What does the future hold for Jabari Bird?
Bird seems set on one thing.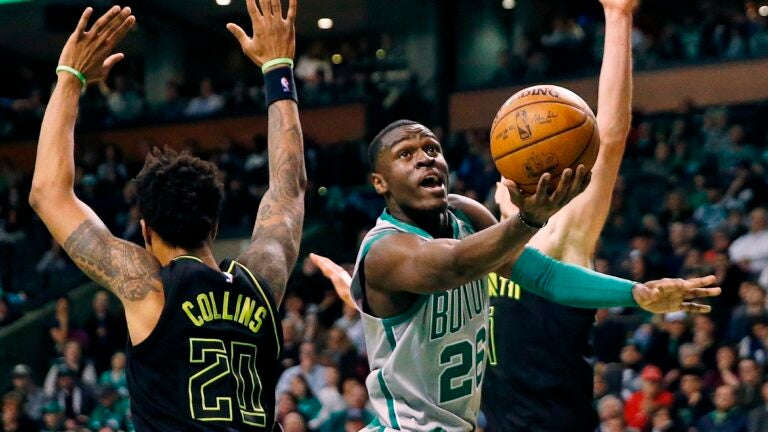 LAS VEGAS — Last year, the Celtics scored nicely when they signed point guard Shane Larkin away from Baskonia, a EuroLeague team in Spain.
This year, they hope to repeat that success with the Brad Wanamaker signing. Wanamaker has played for seven teams overseas, most recently Fenerbahçe in Turkey.
Jabari Bird is not planning on taking that same path.
"I'm an NBA player," he said.
Bird is an athletic wing who can shoot and read defenses to score on backdoor cuts when he's off the ball. He has been impressive early in summer league, averaging 19 points on 56 percent shooting in his first two games. That's tough to do when most of his teammates in Las Vegas will only be teammates for about 10 days.
Summer league can be a jumbled mess of motivations for teams. Every guy here is chasing a dream. Sometimes that chase can take the focus off of the team's greater good for an aspiring NBA rotation player.
"Everybody's motivated by something when they step onto the court," Bird told Boston.com. "I can only worry about the things I can control, and I can't be too concerned about what other guys are trying to do or what their motivations are. I'm just trying to play the team game and play the right way."
Bird's play is getting noticed. The stands are full of executives from around the world looking for ways to improve their team. Bird is a 6-foot-6 wing — one of the hottest basketball commodities these days. There are good teams in good leagues that could come calling.
"I'm an NBA player. That's it," Bird said. "G-League, NBA, I'm going to be in the states doing what I do. I got drafted last year, that's one foot in the door. I'm a restricted free agent, that's another foot."
Restricted free agency could also be a foot out of the door in Boston. The Celtics don't have much money to spend before they become taxpayers. They also don't have many minutes to offer, assuming they are able to avoid another avalanche of injuries. Another team can offer something slightly above the league minimum and that might be just too much for the Celtics in their current situation. But Bird is content to let that situation play itself out.
"I haven't really been concerned about free agency," he said. "The only time I talk about it or think about it, it's when I'm in front of the media. Outside that, I'm more worried about what time is practice, when am I gonna get some sleep, [and] when's the next game."
Bird has the advantage of having performed on the NBA stage. His two-way contract got him into 13 games for the Celtics, including one start, so he's shown that summer-league buckets aren't just coming because he's facing future G-Leaguers.
"Jabari has done that in NBA games," said Celtics assistant and summer league head coach Jay Larranaga. "He's incredibly talented, he's made some spectacular plays. As he improves at the defensive end of the floor and embraces that I think he's got a really bright future."
Circumstances can change on a dime, and money can be a pretty good motivator, but Bird seems set on what his future holds — and it won't include a passport.
"I'm going to make the best of the opportunities I have," he said. "I'm just thankful to be here, I happy to be part of the Celtics, and I'm just looking forward to anything that happens moving forward.
"Wherever my dream takes me, at the end of the day I know I'm an NBA player."