Celtics
What Brad Stevens had to say about the Eastern Conference without LeBron James
"There's nothing easy in coaching."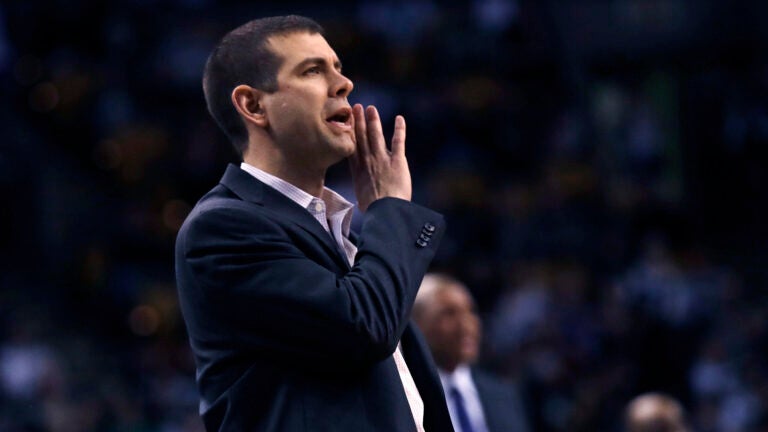 Although the oddsmakers have anointed his team as the prohibitive favorite to represent the Eastern Conference in the 2019 NBA Finals, Brad Stevens won't be booking a flight to Oakland just yet. The Celtics head coach, in Las Vegas to keep an eye on the up-and-comers seeking a spot on his roster, noted Boston won't stroll to the Finals — even with LeBron James out of the way.
"There's nothing easy in coaching," Stevens said. "You're trying to win the next game. Winning a game is hard and certainly winning a series is hard. There's so many things that go into getting an opportunity to compete in the playoffs, let alone advance in the playoffs."
Stevens spoke Monday during ESPN's broadcast of the Celtics summer league matchup against the Charlotte Hornets (Boston won 100-80 and improved to 2-1 in Vegas). He expressed the need for a strong training camp if the Celtics hope to replicate the success they attained last season.
"You have to start on day one," he said. "You can't skip steps, and, if you do skip steps, the game will tell you. You'll be humbled very quickly. So — at the end of the day — there's a lot of good teams, there's a lot of good players, and it's about who plays the best. We did a lot of good things last year but that doesn't mean it's going to happen again. You have to make it happen again, and that starts when we all get back together in training camp."
Stevens was also asked about Al Horford — a line of questioning he doesn't often face.
"Nobody ever talks about Al," he laughed.
But the Celtics head coach knows the team's veteran leader won't be too upset about attention going toward his teammates.
"I know this," Stevens said. "Al's probably at home, watching the game, enjoying time with his kids and his wife, and not caring one bit that he's not the first question asked by everybody."
One Celtic who has been stealing some of the limelight from Horford is Jayson Tatum. The second-year star isn't playing at summer league after taking the floor for 99 games as a 19, then 20-year-old rookie. Stevens was asked if — during last year's summer league — he thought Tatum would make such an impact once the season kicked off.
"I don't think it's our job as coaches to put ceilings on guys," he said.
Stevens noted Tatum didn't hit a rookie wall and fade away. Instead, the forward continued to improve all the way through the playoffs. But the coach says the coaching staff has talked to Tatum a lot this summer about making sure he isn't satisfied with his first year in the league.
"This can't be the highlight though," Stevens said. "It's about going back to work and getting even better at some of the things you want to get better at, getting stronger, and working on some of those things that people are inevitably going to try to take away. 'Cause he's got a chance to be special, but, you know, special's not for everybody. But we think he certainly can be and we believe in him."