Celtics
The Kings are reportedly preparing to make an offer to Marcus Smart
Smart is an available restricted free agent.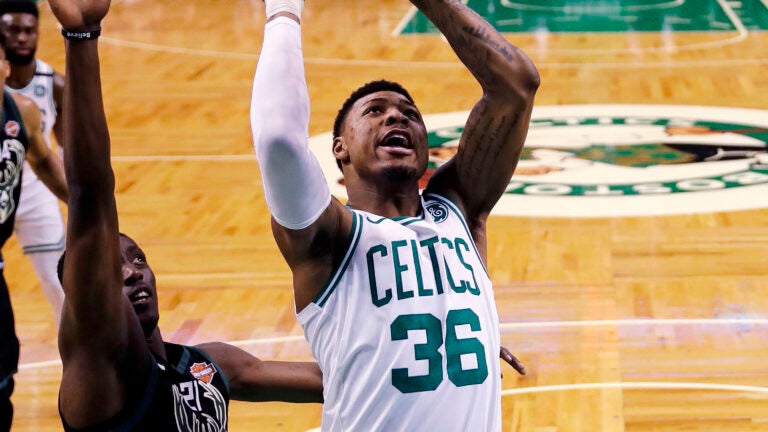 The Sacramento Kings are preparing to assemble an offer for Celtics guard Marcus Smart, a source told NBC Sports Boston's A. Sherrod Blakeley.
Source: After striking out on Zach Levine, the Sacramento Kings are preparing to put together an offer #Celtics Marcus Smart.

— A. Sherrod Blakely (@ASherrodblakely) July 10, 2018
The Celtics have extended a $6 million qualifying offer to Smart and will have the chance to match any offer sheet he signs with another team. Smart, on the other hand, has three options. He can: 1. Sign the qualifying offer; 2. Negotiate with the Celtics; or 3. Test the market and strike a deal with another team, like the Kings.
The Kings are the first team reported to have more than a general interest in Smart. In June, Yahoo's Jordan Schultz reported the Dallas Mavericks, Chicago Bulls, Phoenix Suns, and Indiana Pacers were also contenders. The Suns and Pacers are likely now out of contention due to shrunken cap space from signing other free agents, while the Bulls are likely no longer interested after signing guard Zach LaVine to a four-year, $80 million deal.
The Kings — along with the Mavericks and the Atlanta Hawks — are just one of a few teams that have enough cap space to put together a legitimate offer for Smart.
Smart's interest in the Kings is unknown, but the guard told the Boston Globe's Adam Himmelsbach Monday he has "no clue" where he stands with the Celtics. A source told the Globe earlier that Smart "was hurt by the Celtics' lack of communication with him during this process."
The Celtics, however, seem interested in keeping him.
"Marcus is, I think, pretty well aware of how I feel,'' coach Brad Stevens told reporters in Las Vegas Monday. "I saw him a couple days before free agency. He was in town for his camp. I saw him over at the new practice facility. I've talked to him a bunch. I'm not involved in all the negotiation part of it and all the numbers part of it, and he knows that. He also knows we really want him back. I know our front office has worked hard to be communicative, and go from there.''