Celtics
Bill Russell's middle finger was back in action at summer league
"A national treasure."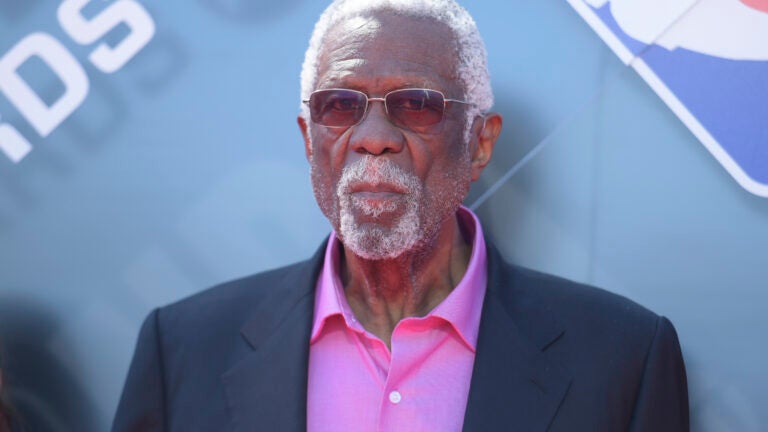 Bill Russell's intensity on the court was without parallel. After patrolling the parquet for 13 years, the Celtics legend amassed 11 championship rings — one for each finger and an extra to spare. At the NBA summer league in Las Vegas, Russell used one of those fingers to show that spirit hasn't changed.
It's not the first time. The Celtics legend has been spotted giving the one-finger salute on at least four occasions over the past six months. Each time, a fellow former NBA star — or the photographer capturing the pair of them — appeared to be on the receiving end of the gesture.
In February, Chauncey Billups posted an Instagram alongside Russell, writing that the 11-time champ "paved the way for all of us that's been blessed to play hoop for a living."
Then, at the NBA Awards in June, he was shown on TV flipping off Charles Barkley. Russell said that whenever he sees Barkley, it's just "pure instinct" to give him the one-finger salute. Barkley took no offense.
"I thought it was one of the coolest things ever to happen to me, because Bill's a mentor, he's like a father to me and he does that to everybody," Barkley said. "It meant a lot to me, because if you know Bill, well, I don't even call him Bill, Mr. Russell, he is one of the best people ever."
Bill Russell ?? pic.twitter.com/nFfI0yLaYg

— Bleacher Report (@BleacherReport) June 26, 2018
The 84-year-old must have a similar intuition around Vince Carter because he made the gesture in the former All-Star's direction on Wednesday at summer league, much to the amusement of Sacramento Kings general manager Vlade Divac.
CLASSIC ? Vince Carter getting the Bill Russell treatment at #NBASummer League had Kings GM Vlade Divac and Assistant GM Ken Catanella cracking up pic.twitter.com/YX66MnhvHe

— Lina Washington (@LWashingtonTV) July 11, 2018
Russell also appears to be doing his part, along with LeBron James, to revive the age-old Celtics-Lakers rivalry. At the same game, the Associated Press's Tim Reynolds spotted the 11-time champ giving the middle finger to Kareem Abdul-Jabbar.
https://twitter.com/ByTimReynolds/status/1017161724397404160?ref_src=twsrc%5Etfw%7Ctwcamp%5Etweetembed%7Ctwterm%5E1017161724397404160&ref_url=https%3A%2F%2Fftw.usatoday.com%2F2018%2F07%2Fbill-russell-vince-carter-flip-off-middle-finger-nba-summer-league-again-lol