Celtics
Robert Williams's high school coach explains what type of player the Celtics are getting
"I loved coaching him, and his teammates loved playing with him."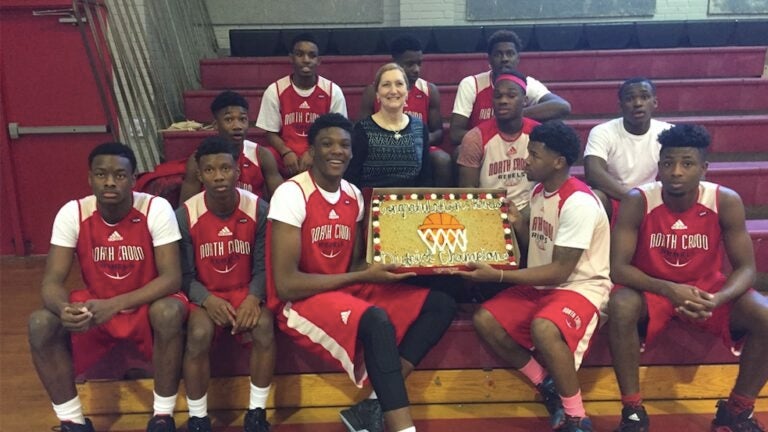 Ex-North Caddo High School boys' varsity basketball coach Ron Meikle was surprised — and disappointed — to hear that his former player, first-round draft pick Robert Williams, has had a bit of a rocky transition to the NBA.
"It's unfortunate he got off to this start with a storied franchise like the Celtics," he told Boston.com.
Meikle, who worked as an NBA scout for 24 years before accepting a position at North Caddo, coached Williams for three seasons of high school basketball in Louisiana. Located in the upper left corner of the state, with a student population less than 400, North Caddo is by no means a breeding ground for athletic talent. But Williams's mother, Tondra, said she told her son he would stand out anywhere — beyond his height and wingspan, that is — if he were good enough.
Sure enough, Williams emerged as a star at North Caddo. After a breakout junior season, he established himself as a four-star prospect and reeled in the accolades, including LSWA Most Outstanding Player of the Year honors and back-to-back All-State selections. While Williams averaged a double-double in points and rebounds both his junior and senior seasons, Meikle called his defense his biggest strength.
"This guy blocked every shot that anybody tried to shoot," he said. "That's how he protected the goal. That's what he did. Nobody, nobody got inside. The big thing about him is that he could block shots without fouling. That's a great trait of a shot-blocker. He could also keep the ball in play, instead of swatting it out of bounds."
Williams averaged six blocks per game his senior year of high school. There are no official numbers on things like his vertical leap because he did not attend the 2018 NBA Combine — a decision Williams attributed to his agent whom he later fired — but the center's ability to play above the rim was hard to miss.
"I mean, he's not Bill Russell — there's only one Bill Russell, so I'm not going to compare him to Bill Russell — but let's put it this way, he was the Bill Russell of high school basketball," Meikle said.
• • •
In addition to optimizing his length to block shots and disrupt passes, Williams's athleticism makes him a versatile option at center, according to his former coach.
"We'd have a full-court press, and I had Robert up in front of the press," Meikle said. "I could play him all over the floor because of his quickness. He can get up and down. He's very fast; his speed and quickness for his size are tremendous."
Meikle said Williams can guard the perimeter and contest a three almost as well as he can protect the paint and grab a rebound. His flexibility can generate problems for opposing players looking to capitalize on perceived mismatches. On the other end of the floor, however, Williams's weak outside shooting makes it difficult for him to convert on mismatches without putting the ball on the floor.
His ability to take advantage inside — and to get up and field alley-oop passes — gives him an opportunity to put points on the board, as he's almost a sure-fire scorer around the rim, but Williams currently lacks depth within his offensive game. He does not have a reliable mid-range jumper, let alone a knock-down three-point shot.
"In high school, he didn't have to do a lot of shooting because we ran off of transition," Meikle said. "But he's got to improve as a shooter. He's got to get better shooting the basketball, and he knows that."
One particularly troublesome area has been the free-throw line. Williams averaged 47.1 percent from the line last season with Texas A&M.
"He always had kind of a little bit of a hitch in his shot, especially at the free-throw line," Meikle said. "If he concentrates and he thinks about it and he puts in a lot of practice, then his free-throw percentage will go up."
Meikle noted, despite Williams's shooting struggles, he is by no means an offensive liability. Not only can he finish at the basket, but Williams is also able to facilitate through his impressive court vision and passing — a trait that's not immediately obvious from glancing at his low assist average.
"He knows how to see up the floor, block a shot, get the ball back on his own, and have the quickness and eyesight to see up the floor and make the right play," Meikle said. "In high school, that's incredible. And then when he got to A&M, you saw what happened, right off the bat, he just came out and played like that."
"In a high-pressure defensive game, if your teammates are open on the floor, you've got to be able to throw it out of double teams," Meikle continued. "You got to be able to throw it and make the right play. Robert can do that. He's got a great knack for passing. He sees the floor. He's got his head up."
As Meikle put it, Williams "made his teammates better."
• • •
Williams's impact extended off the court, too.
Meikle remembered one day the team was going to pick up trash from a local street as a part of a day dedicated to community service. There was no media or anybody else, except for the team, scheduled to be there. Meikle said Williams was the one responsible for organizing the event and making sure his teammates participated.
"He got everybody up," Meikle said. "We started at 8 o' clock in the morning. … Robert made sure everybody got out of bed. He and his mom went around, and, if anybody didn't have a ride to meet us at school, he made sure everybody got there. Some of the things that people do in high school get overlooked as they get older, but that kind of set the tone. He really has a great heart."
The story seems to contrast Williams's behavior thus far with the Celtics, as the 20-year-old overslept his introductory conference call and missed his flight to Boston for the team's first summer league practice. But Meikle said the Celtics are getting "a guy that is going to be the greatest teammate they could ever want."
"He's going to do whatever it takes," he said. "Whatever the coach asks him to do, he'll do it."
Meikle said he never had any problems with Williams's motor — one of the speculated reasons he dropped to No. 27 in the 2018 NBA Draft — and was surprised when Williams was selected outside of the lottery.
"Every team has what they want to look for, and maybe they felt like Robert's shooting wasn't good enough, I don't know," he said. "Maybe they just had some kind of issue or feeling that made them go a different direction. Every team is different when it comes to the draft."
Regardless of the reasoning, Meikle said the situation is perfect.
"I knew right away that was the best thing that could have happened because of the support system the Celtics have and the mentors they have," he said. "It's just a great organization. They don't let their guys fail. They have so many people in place to help you succeed, and that's what these young people need today. They really do need a support system, especially when they're only 20 years old."
Getting drafted to a good team allows for proper player development, in Meikle's opinion, even if it means the rookie's playing time is initially somewhat limited.
"They grow more, and they can come along at their own pace, instead of being rushed into something," he said. "It's a lot easier for a rookie to get on the floor and play when you have veterans that have been there and guys that can cover for your mistakes because you're going to make rookie mistakes."
• • •
For Williams, moving to Boston is inevitably going to be a transition in itself. His hometown, Oil City, has a population that hovers around 1,000, and his first visit to Boston was for his introductory press conference.
"He's a country kid," Meikle said.
When Williams was in eighth grade, he had the opportunity to play for bigger high schools but decided to stay local. When Williams was in college, he had the opportunity to declare for the 2017 NBA Draft but opted to stay at Texas A&M for another season. When Williams was getting drafted, he had the opportunity to go to New York the night of the draft but elected to stay in Louisiana.
He's a homebody who Meikle said cares about his community, cares about his teammates, and just loves the game of basketball.
"Robert plays the game because he loves it," Meikle said. "He's got the old-school feel as far as what his intentions are. I loved coaching him, and his teammates loved playing with him. That's why I can understand why he didn't go to the draft. …  It was a big chance for him to thank everybody who helped him on his path."
Though the start to his NBA career hasn't exactly been auspicious, Meikle said to just give Williams the shot he deserves.
"I really think Boston got a hell of a player," he said. "You just got to give him a chance and let him grow, and we'll see what happens."