Celtics
Morning sports update: Danny Ainge doesn't really care about the East: 'We're trying to win championships'
"What do I care about the Eastern Conference?"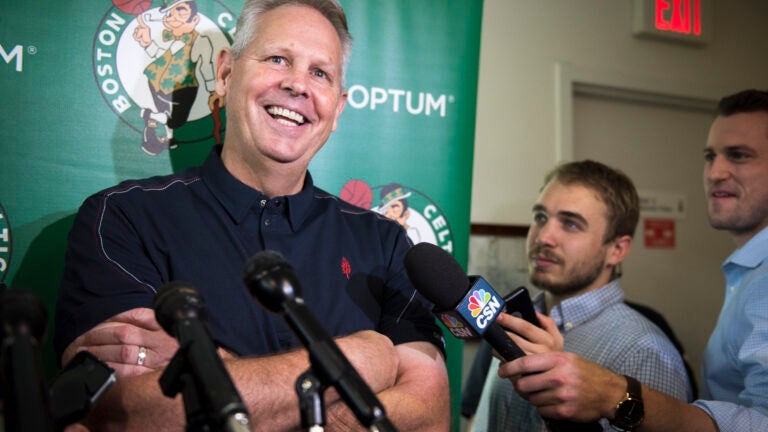 Chris Sale struck out 12 in seven scoreless innings to lead the Red Sox to a 4-2 win over the Rangers. Mookie Betts had two hits and J.D. Martinez had a pair of RBIs for Boston, which picked up its ninth straight victory.
Here's what else you need to know as you get caught up on sports headlines this morning:
Danny Ainge doesn't really care about the East: 'We're trying to win championships'
LeBron James's decision to leave the Eastern Conference removed a superstar-sized stumbling block from the Celtics' path to the NBA Finals. James cut short three of Boston's past four seasons, but Danny Ainge shrugged off the suggestion that his departure left the East ripe for the Celtics to claim.
"I think that there's a lot of good teams in the East that get undersold a little bit," Ainge told reporters after the Celtics summer league off-day workout, per ESPN. "I think Washington, and Milwaukee [is] an up-and-coming team, and Toronto was the best team in the conference last year during the regular season. I think they're a fantastic team. So the East is going to be tough."
The Celtics president of basketball operations noted the team's ambitions go beyond representing the East in the Finals, then going home empty-handed. Even if Brad Stevens leads Boston to a conference title, James could still be waiting in purple and gold.
"What do I care about the Eastern Conference? I don't really care about that. We're trying to win championships, and you still have to play LeBron," Ainge said.
As for his own organization, Ainge said the team's priority "remains the same": signing restricted free agent Marcus Smart. If doing so means Boston has to pay the luxury tax, the Celtics appear willing to do so.
"It's my job to be fiscally responsible, but we will pay the tax," he said. "We plan on being a taxpayer for sure."
Celtics draft pick Robert Williams lost his wallet twice in two days before summer league
Let's hope Robert Williams keeps a tighter hold on the basketball, or else the Celtics first-round draft pick will fill the turnover category this season. According to MassLive's Tom Westerholm, Williams's wallet went missing twice in a two-day stretch before he joined Boston's summer league outfit in Las Vegas.
First, the 20-year-old rookie realized he left it at his hotel shortly before he was scheduled to fly to Texas. Celtics staffers searched for the wallet while Williams handled his introductory press conference and a Celtics Shamrock Foundation event.
The next day, Williams was preparing to head back to Boston when he realized the wallet was M.I.A. once more. This time it was in the hands of his former Texas A&M teammate D.J. Hogg, who was already nearly three hours away in Dallas. Williams asked him to mail the wallet, but Hogg said overnight shipping was too expensive and instead gave it to him in Vegas when they both arrived for summer league.
Williams, who's Celtics tenure is off to an interesting start, has a solution to the ongoing issue.
"I got to start gluing it to my phone or something," he said in the interview.
Dustin Pedroia recognizes what's become increasingly obvious about his knee injury: The Red Sox second baseman acknowledged Wednesday that he is unlikely to play again this season. But Pedroia was adamant that his career will continue following surgery on his left knee last fall.
"Yeah, and I'll be better than ever," he said. "Absolutely. Absolutely." (Boston.com)
Al Horford and Amelia Vega welcome newborn daughter: The Celtics forward's wife, former Miss Universe Amelia Vega, gave birth to the couple's third child Wednesday night in Boston. Vega shared a selfie of the trio on Instagram.
"It's a GIRL!!!!!!!!" she wrote. (Boston.com)
Here's a reminder of just how good Gordon Hayward is at basketball: The Celtics have yet to make a splash in free agency this summer, but it's worth remembering Boston will still be bringing an All-Star back into the fold next season. Hayward, who's capable of posterizing Giannis Antetokounmpo and swatting a James Harden shot away, is expected to make a complete recovery in time for the season opener. (Boston.com)
Daily highlight:
https://twitter.com/RedSox/status/1017215677139169280