Celtics
Everything that has been reported on Marcus Smart's free agency this offseason
Will Smart stay in Boston?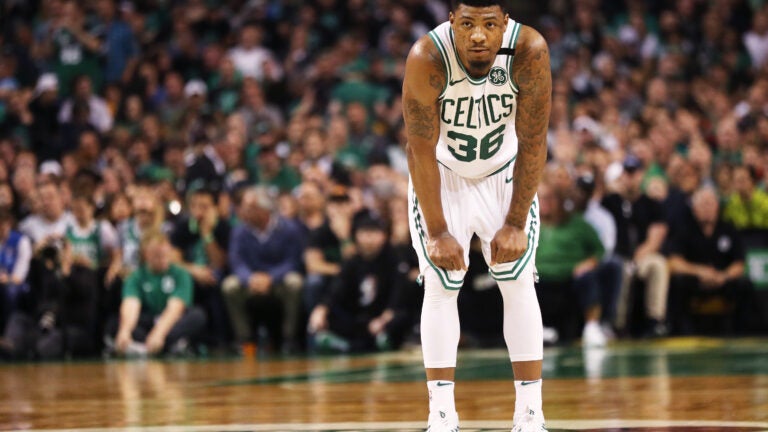 Restricted free agent Marcus Smart essentially has three options:
1. Sign his qualifying offer with the Celtics. Boston's $6 million qualifying offer has been on the table for a couple of weeks, but Smart appears to be holding out for a better deal. If Smart signs the qualifying offer, he would play in Boston for $6,053,719 next year and become an unrestricted free agent at the conclusion of the season. Signing the qualifying offer and not securing a multi-year contract with the Celtics, or elsewhere, could be particularly risky because of the disparity in pay between a qualifying offer and new contract.
2. Test the market and strike a deal with another team. While Smart has garnered interest from other clubs, he has yet to receive any official offer sheets. There are only a handful of teams with enough cap space to sign Smart to a deal he'd even consider, and, strictly speaking from a basketball point of view, few situations would present a better opportunity than playing in Boston.
3. Negotiate a deal with the Celtics. If he does not want to sign the qualifying offer but still wants to play in Boston, Smart could try to negotiate a new contract with the Celtics. Regardless of the length of the deal, Boston would likely try to stay below the league's luxury tax line by signing Smart for less than $10 million per year. The discrepancy between Smart's and the Celtics' financial interests could create some tension between the two.
Here's a look at what has been reported about Smart's status with the Celtics:
May 28: Smart told ESPN's Jackie MacMullan he thinks he's "worth more than $12-14 million" per year.
May 28: Smart said in his exit interview he wants to stay in Boston because his "heart's here," but he also acknowledged other factors would go into his decision.
June 2: The Boston Globe's Gary Washburn reported the Celtics were interested in bringing back both Smart and guard Terry Rozier.
June 20: While at Brandeis University for his basketball camp, Smart told reporters he expects to be a Celtic next season.
June 25: Jordan Schultz of Yahoo reported the Dallas Mavericks would be interested in Smart, depending on his asking price. Teams that were also rumored to be interested, other than the Celtics, included the Chicago Bulls, Phoenix Suns, and Indiana Pacers, according to Schultz.
June 29: The Celtics took the first step in Smart's free agency by extending a $6 million qualifying offer. Smart can sign the qualifying offer at any time, which would confirm his spot on Boston's roster for the upcoming season. If he signs it, he would become an unrestricted free agent in the summer of 2019.
July 5: A source told the Boston Herald's Mark Murphy that Smart was "hurt" and "frustrated" that Celtics president of basketball operations Danny Ainge had not reached out beyond tendering the qualifying offer. The source also told Murphy that Smart is prepared to sign the qualifying offer if it's the only option on the table, but said that outcome "doesn't bode well" for the Celtics.
July 6: The Boston Globe's Adam Himmelsbach reported Smart was "hurt" by the Celtics' lack of communication during free agency. He also reported, despite disagreements on the contract front, the Celtics still view Smart as "an integral part" of the team's future.
July 9: Coach Brad Stevens said Smart knows the Celtics "really want him back." Stevens said he thinks Smart is "pretty well aware" of how he feels and, although he is not involved with the finances, he said he knows the front office has "worked hard to be communicative."
July 9: While in Las Vegas to watch a summer league game, Smart told Himmelsbach and The Athletic's Jay King he has "no clue" where he stands with the Celtics. He also said he expects to find out about other offer sheets soon and hopes the contract situation can be resolved quickly.
July 9: NBC Sports Boston's A. Sherrod Blakeley reported the Sacramento Kings were preparing to make an offer to Smart. The Kings are one of the few teams with enough cap space to offer Smart more than the mid-level exception ($8.4 million).
July 10: Retired Celtics forward Paul Pierce said he thinks Smart will return to the Celtics, although Pierce said he probably won't get paid what he wants.
July 10: Smart and his agent, Happy Walters, were spotted talking to Brooklyn Nets general manager Sean Marks at the Thomas & Mack Center in Las Vegas. Like the Kings, the Nets also have enough cap space to present Smart a legitimate offer, but the Boston Sports Journal's Brian Robb reported "not much should be drawn" from the group's meeting.
July 10: Himmelsbach reported Smart met with two teams July 9 and had plans to meet with two more July 10. The teams were from both conferences, according to Himmelsbach.
July 10: Murphy reported Smart would consider the four-year extension offer the Celtics made last October. The two parties failed to reach an agreement at the time. Boston's offer was reportedly worth more than the three-year, $33 million deal guard Dante Exum signed with the Utah Jazz.
July 11: Ainge told reporters in Las Vegas the Celtics' priority is Smart. Ainge did not field follow-up questions about Smart.
July 11: Schultz reported "several teams," including the Nets and Memphis Grizzlies, have inquired about a sign-and-trade deal for Smart. Schultz also reported Smart has been "unresponsive" to the Celtics' communication efforts because he is "insulted by what he feels is a lack of respect by front office."
July 11: The Boston Herald's Steve Bulpett reported neither Smart nor the Celtics are in any rush to come to an agreement. Per Bulpett, without a competing offer sheet on the table, the Celtics feel no pressure to bid against themselves.