Celtics
Inside the cult of 'combat muscles' and 'Weird Celtics Twitter'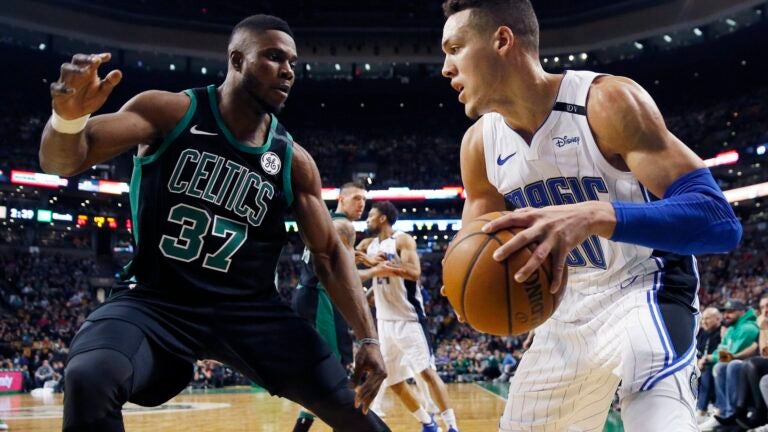 COMMENTARY
LAS VEGAS — It's morning in Las Vegas. A high school gym about 17 miles from the strip slowly grows louder with the sounds of dribbling basketballs and assorted conversations. On one side, the assembled media has broken into small groups, chatting up coaches and players, trying like hell to find a nugget of something to turn into a story.
I'm among them, settling in next to Celtics forward Semi Ojeleye.
The light above a TV camera flickers on, and Ojeleye begins answering questions.
Celtics.com's Amanda Pflugrad opens with, "What have you learned about this team?"
"Just how ready everyone is," Ojeleye replies. "Coach talked about it earlier, just mixing up starting lineups and guys are going to play different amounts, so everybody needs to stay ready and everybody did that."
Pflugrad's colleague, Marc D'Amico, asks, "Winning hasn't been a conversation we've heard from you, but, behind closed doors, how much have you talked about that?"
"It's huge," Ojeleye says. "We were talking about it amongst ourselves in the locker room that that's how we all get what we need."
And then I chime in.
"You know you've got a bit of a cult following online?"
Ojeleye laughs, then sighs, and lets out an, "Oh God."
"You've heard about all this stuff?" I say. 
"A little bit, a little bit," he answers as he continues to laugh.
"The Ojeleye factory?"
"Yeah, yeah, yeah, yeah," he continues, still laughing.
I don't know if he's laughing at me for asking, at the internet for making these things real, or at the fact that his basketball life also involves an active online audience marveling at his muscular frame.
Maybe it's a bit of all three.
As a second-year player, Ojeleye is at a summer league practice trying to expand his role on a championship contender and continue making a living. Who has time to think about Twitter memes?
Those memes, though, have become part of the online Celtics culture. Ojeleye, along with forward Guerschon Yabusele, has been at the epicenter of the movement, as fun-loving online commenters add their own special flair to Celtics games. These commenters aren't just social media personalities trying to make jokes and promote their profiles. These commenters are hardcore fans. Twitter is just their way of enjoying basketball.
It started simply enough.
"I was sent this screengrab by like 10 different people," says the godfather of what's become known as "Weird Celtics Twitter."
He is Twitter user @herbertofriffs. He likes to be called "The Riffs Man," but his Twitter ID changes often enough it's hard to be sure what he's calling himself these days. This actually makes sense, because the origin story of Ojeleye's cult-like status in Boston couldn't really be launched by anyone other than a mysterious, anonymous, online figure.
The screengrab is from a Draft Express video breakdown of Ojeleye's strengths on the floor. The "thick, jacked frame" banner is five seconds worth of a serious, six-minute analysis of Ojeleye at SMU.
"The way the analysts break down things like wingspan and muscles and frames with awkward buzzwords is absolutely absurd to me," The Riffs Man explained.
"We'd always joke about things like that," he added. "So when we got that one it was like the peak of those wingspan/frame breakdowns."
The term "combat muscles" was born as a more specific descriptor of the aforementioned "thick, jacked frame." They, after all, are the muscles necessary for hand-to-hand NBA combat. From there, "The Ojeleye Factory" was built.
"The Ojeleye Factory was a piece of Soviet-style propaganda about [Semi's] gym, where his pursuit of extreme biceps and triceps as a bench player was to be lionized like they lionized the industrial worker," The Riffs Man said. "I have no idea why these things stick, but for whatever reason multiple people in the world enjoy them."
I'm not sure if Yabusele is among those who enjoy the memes of "Weird Celtics Twitter," but he is at least somewhat aware of his place in the online cult of combat muscles.
"Sometimes I go on social media, sometimes I'm not going," Yabusele told Boston.com. "Sometimes I see those things. I'm really happy. It's a great feeling to know you have fans all over the place that's rooting for you, that's happy to see you, and just say good stuff about you. It's just a great feeling."
"Weird Celtics Twitter" goes beyond just fans rooting for players, though.
"Weird Celtics Twitter" is an online parody of mainstream basketball coverage run gloriously amok.
"A lot of how things are covered became stiff," The Riffs Man said. "Like you're talking about a hedge fund instead of a game where occasionally someone will try to foul Yabusele and wind up bouncing off of his butt and into the stanchion."
Coach Brad Stevens spent a lot of this past postseason talking about how much fun basketball was supposed to be for everyone involved. He might not have been talking about the people online, but his words still ring true.
Sometimes, an acid trippy dive down the "Weird Celtics Twitter" rabbit hole can be just what a game needs, especially a summer league game with only a handful of recognizable names and a whole lot of sloppy play.
This year's Las Vegas summer league is the NBA's biggest, most ambitious one yet. The games are not only televised, but the networks are also bringing out their top guns for the television broadcasts. It's not the best basketball, but it's fun.
It's also a place for basketball-hungry Celtics fans to get their memes and jokes off to entertain each other, regardless of how the game is going.
Ojeleye, for what it's worth, doesn't seem too sure about what to make of it, but he certainly wants to make the most of it.
"It's a good thing," he said, after composing himself. "I definitely want to use the platform to promote positive things, my faith, and what I believe in. It's good when you have that positive energy around you. That's what you want."