Celtics
At the NBA's summer league, the referees are also chasing a dream
"We care about serving the game. And I think a summer league like this really proves it."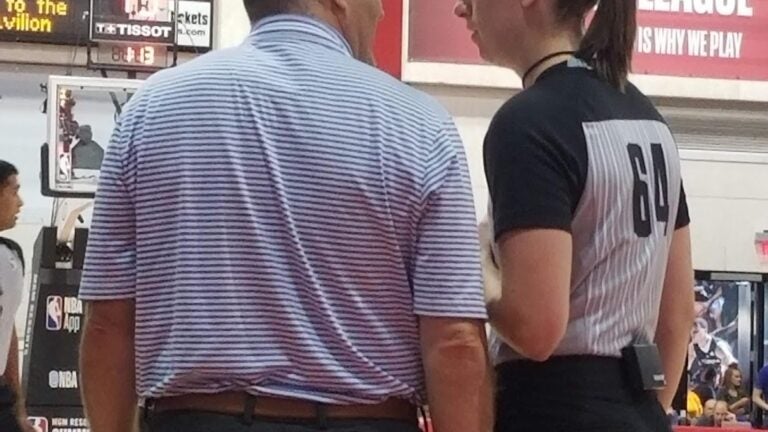 LAS VEGAS — There are 13 people chasing NBA dreams on each court during summer league at UNLV; ten players, and three officials.
No one knows much about a referee's life, though. There is a perception that they simply travel from city to city, show up at an arena, call a game, and go off to their next assignment.
In reality, the career of an official closely mimics the path most players take to the NBA. There's scouting, recruiting, training, long days of preparation, and film study after games to identify mistakes and get better.
"Our day starts from the minute we wake up, pretty much," says Jacyn Goble, a two-year NBA official working summer league. "We have a game day meeting anywhere between 10 or 11 in the morning which will run for about an hour to an hour and a half. Then we do lunch and the meeting continues, and we talk about basketball. Then we take a nap, and by 5 o'clock we're up and we're heading to the arena."
Goble is both a success story and a work in progress. Like a player, just making it to the NBA isn't enough. There is a constant process of training and rising through the ranks. For Goble, summer league is a chance to lead a crew. He does so under the watchful eye of 14-year veteran referee Eric Lewis, who is assigned to oversee the officials in Goble's crew this particular evening.
"My job is to try to get them hired," Lewis says. "So what I'm looking for is ways to improve what they're doing. Try to help them eliminate mistakes, to make a minimum of mistakes, so I try to get them in the right position, I try to get them looking where they're supposed to be."
In a way, Lewis is coaching his referees like the coaches instruct players on the sidelines.
He jots notes as the game progresses. He'll do things like ask why a technical foul was given, or evaluate an official's handling of a heated reaction to a call. He, and other veteran officials observing their games, will lead sometimes hours-long video reviews of referee performances. For officials like Goble, this is a chance to build on the lessons learned in the NBA. He's also a teacher on the floor.
"He's working on his leadership but he's also setting an example that (his fellow officials) can see live because they don't get to work with an NBA referee during the season," explains Lewis. "Now he's on the floor, they get to see exactly what he does and work with him and understand what he does and they can start mimicking it. So it's a live example for them and experience for them."
These summer league officials are among the thousands the NBA scouts and recruits every year. Monty McCutchen, a former official and now the NBA vice president of referee development and training, oversees the program that will ultimately yield the next generation of NBA officials.
"We need courageous people," McCutchen explains. "You can't be a great play caller if you're not courageous because the crowd is too big, it's too passionate towards a one-sided view in any given city, our players have too much standing in the world, and our coaches are too relentless for their pursuits.
"If you're not courageous to stand up to that," he continues, "how can you possibly uphold standards? Any time you're upholding standards under duress, it takes courage."
Courage is only part of the package. McCutchen is quick to point out that courage must come without arrogance, that control of a situation must come without condescension. He's also very clear that the NBA no longer considers the package in which the right qualities are found.
"We don't have a 7-foot, 48-inch vertical leap sort of standard that we can look to," says McCutchen. "That being said, when I see someone who's 5-foot-4 referee like they're seven-foot-two with their strength and their passion for the game, then that represents that big mind and that big heart that we're looking for."
The 5-foot-4 referees are most likely the women the NBA is increasingly targeting for their officiating program.
"It's a bit embarrassing that we only have one working woman in our officiating ranks right now," says NBA commissioner Adam Silver. "There is no physical reason why that's the case. It's just the way things have grown up in the league, but we're determined to change that as quickly as possible."
"I think we have people in the pipeline that are very exciting to us," says McCutchen. "We are at the place where I can pick the best referees to be hired into the NBA and know that some of them will represent different nationalities, different sexes, different modes of what we've traditionally seen as effective and excellent refereeing. This is an exciting time for us."
Jenna Schroeder, who worked with Goble's crew, is one of the up-and-coming officials getting her shot at summer league. She officiates college basketball and the WNBA, and is coming off her second year in the G League. She's one of 19 women at the Las Vegas training camp.
"I think the initiative is great and they're having more females at the lower levels which is the G League and the WNBA," she says. "But once again there's only one in the NBA so I think we're still making that push and we're not quite there yet. But yes, we are in the starting periods and we're really excited about that."
Schroeder is quick to point out that while the NBA is making a push to get more women into the officiating program, everyone is treated the same once they get in the door. McCutchen and Lewis make it clear that officials are here to serve the game. Despite public perception, they take the pursuit of fairness seriously, so all referees have to face the same rigors. They also have to be their own biggest critics.
"You usually have a pretty good idea and you have to evaluate yourself," Schroeder says. "That's the only way you're going to get better. I'm fully aware of two plays when we watch film Eric is probably going to hammer me tomorrow. I'm very aware of that."
Some critiques may be harsh and tough to hear, but that's part of the process.
"The life of an NBA referee is not conducive to someone who needs their hand held all the time," McCutchen says.
Still, the evaluators and developers in the program are not running Navy Seal boot camps. They are careful to be encouraging as well.
Six years ago, Lauren Niemiera was a summer league intern. She found her way into the development program and took the floor when the Celtics met the Hornets at the Cox Pavilion. It was her summer league debut. McCutchen walked up to her as she stood on the floor to give her a few words of encouragement.
"That can be an overwhelming moment and what I wanted her to hear was that she's already proven her worth to us," McCutchen explains. "All she has to do now is start the journey of participation so that we can learn and start the teaching process. You can't do that if someone doesn't participate. Be willing to make mistakes. Be OK to fail."
Failure, to the chagrin of everyone involved, is part of the game. Referees know when they miss a call. It bothers them, too.
"Your jaw wants to hit the floor, but you can't," says summer league official Josh Wilson, who was the third referee in Gobel's crew. "You gotta have intestinal fortitude and go back to the basic principles … you have to have triggers that can allow you to bring the air down and get you to a calm place so you can move forward and continue doing the job that you gotta do."
Sometimes, an official just has to say "I'm sorry."
"For instance I had a technical foul today and I had to apologize to the head coach because it was given too quickly," says Wilson. "I let him know that I made a mistake there, and that's how you earn the respect of the people that we have to work with and try to turn what can start off with as an adversarial relationship into a positive one."
Mistakes can cascade if an official can't get past them. It's also often the mistakes that give the evaluators their best idea of who can cut it at the highest levels.
"Refereeing is only effective at the NBA level if you can live in the present moment." says McCutchen. "You can't stay in the present moment if you're beating yourself up in the past and then one mistake turns into two, which turns into a bad quarter, which turns into a bad game, which might turn into a series of bad games in which you now start to doubt yourself. And one of the first things I look for when I'm observing a game is how do they respond to their mistakes."
"Say I missed a shot to tie a game," says Lewis, using comparison of a referee to the players they officiate. "A player won't let that missed shot sink him. If he does, he can't perform the next play. Same thing with us. We gotta be able to fight through those mistakes because there are still other plays that we have to make."
It takes about three to six years of G League officiating just to get into the preseason camp. From there, officials can get spot NBA appearances to further test their abilities, and handling the grind of the officiating process is part of the evaluation. A referee's ability to deal with being on the road is as vital as the ability to figure out whether a collision in the lane is a block or a charge.
"Being an NBA referee is as much about a rigor as it is about talent," says McCutchen. "Can you maintain your own health on the road? Can you maintain good eating habits? Can you be self motivated? Do you watch tape on your own? Do you study your rules on your own, because you're out there in those hotels on your own?"
"The amount of work we put in is a lot," says Schroeder. "From the day before to the end of the game, then we break that tape down. I didn't realize it when we first started. I'm sure people's perception is that we just walk in and walk out and that's not what it is."
There is true passion here, which also leads to a bit of frustration. NBA officials are aware of their standing in the NBA landscape. No one will spend days tweeting about anyone nailing a block/charge call. They will, however, go on and on about calls that seem to cost their favorite teams a basket, a game, or a series.
"You almost have to be a glutton for punishment to be an official because you're public enemy number one," says Wilson. "But that doesn't sway our approach to the work we have to do."
"I'm proud of our work that we're doing," McCutchen says. "I wish America knew how diligent and passionate referees were in serving the game. We're not just pulled off the street to antagonize individual home base fans. We care about it. We care about serving the game. And I think a summer league like this really proves it."