Celtics
Gordon Hayward gives an update on his recovery and expectations for the upcoming season
The Celtics forward says his rehab is on the right track.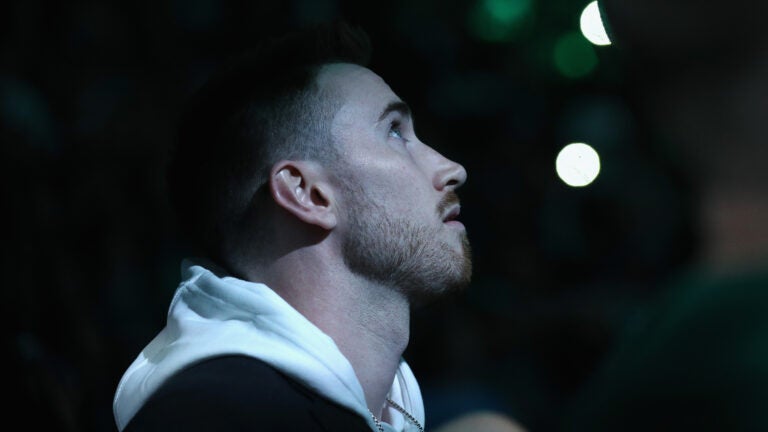 CAMBRIDGE — After fracturing his left ankle six minutes into Boston's season opener last October, Celtics forward Gordon Hayward said he's making progress following a complication that required a second surgery in late May.
"I had worked my way up, and then did that second surgery and got knocked back down again," Hayward told Boston.com Thursday night. "I had to work back up."
Hayward, who plans to spend the rest of the summer in San Diego, returned to Boston Thursday for an appearance at the Xfinity store in Cambridge. A select group of Xfinity customers had won the opportunity to play "Call of Duty: Black Ops 4" before the game's official release in October. Hayward, an avid gamer, participated in the event before flying out to San Diego for a 6 a.m. workout Friday.
The forward said he still has yet to play 5-on-5 basketball, but is hoping to do so in August. As far as what he can do? Recent developments include being able to dunk.
"I dunked the basketball for the first time off my left foot — without pain — last week," he said. "That felt awesome. I went into it very soft and gingerly, and after I did it, I was like, 'OK, that didn't hurt it all.' I did it again, and it felt good."
Hayward said he's also able to "do a full sprint linearly," meaning he can sprint in a straight line and then come to a stop. On the basketball court, he said he's able to do some lateral movements, like cutting left and right. Any activity without pain is "always exciting," he said.
With every new task, Hayward noted he has to monitor how his ankle reacts. There's a mix of emotions as he approaches each checkbox in the rehab process, but a series of successful attempts typically puts him at ease.
"Leading up to doing something new, I think I'm anxious and nervous a little bit, and, subconsciously, I think a little scared," he said. "A lot of times when I do something new, I think I like to just protect [my ankle], and I don't go as hard as I probably could. After I do something a couple times, my brain and my body kind of tells me, 'OK, it's fine. You can do this again.' The bone is strong, everything is strong, and then it takes a little bit, but then it's kind of normal."
Hayward expressed confidence about the future and anticipates a smooth recovery from the unexpected second procedure. Performed in late May, the surgery removed the plate and screws that were inserted during the initial operation and had been causing pain outside of his ankle.
"The second surgery went really well," he said. "I basically got everything removed from my ankle. I've been feeling a lot better. My ankle has just reacted to things differently and with less pain. The stuff that was in there, it was just kind of irritating it. It's good to have it removed."
Despite the unforeseen complication, Hayward wrote in a blog post on his website that he views the procedure as "a good thing more than anything."
"When you introduce foreign objects into your body, anything can happen at any time," he wrote. "Sometimes your body rejects it or things happen; you get infections, and it could happen a year or years down the road. So it's nice to know that I'm done with the plate and screws now, and that is not something I am going to have to worry about in the future."
Teammate Kyrie Irving actually experienced what Hayward is hoping to avoid. In April, Irving underwent a "minimally-invasive" procedure to remove a tension wire that had caused an infection after originally being placed in his left knee during the 2015 NBA Finals. The surgery sidelined the All-Star point guard for the final weeks of the regular season as well as the entirety of the postseason. The Celtics have said they expect both Irving and Hayward to be ready for training camp in September.
"I feel like we're in like a time warp to about a year ago," Hayward said. "The team went back to the Eastern Conference Finals. I'm joining the team. I get a chance to play with Kyrie and the young talent. I'm still just as excited. I think last year we had a good training camp, and we were starting to gel a little bit and starting to find that rhythm, so I'm looking forward to getting back to do that same thing again."
Ahead of his return to the court, Hayward said he anticipates a few changes:
1. Improved shooting: "I spent so many days just shooting out of a chair, or so many days standing and shooting or doing mini-jumping and shooting because that's all I could do. I do think my shot's got a little bit quicker. There will still be a little bit of the transition period for me, as I go from doing drills that are rehearsed to playing live. That's just like a timing thing. I just have to play again for a little bit, but I really do think my shot has improved."
2. Heightened attention toward taking care of his body: "All the little things that go into being a basketball player, all the stuff you have to do, and should do, to make sure you don't get hurt — stretching, little exercises for little intrinsic muscles in your leg and foot, doing stuff after the game to try and recover — all that stuff, I think I'll be better at just because that's what I've been doing for the last eight or nine months."
3. Acute court sense: "On the mental side of the game, being able to see things and watch for a year has helped me process where the right reads are, what guys do really well that make them better, [and] what guys do that make the game harder for themselves. I think that'll help, too."
In terms of emotions, however, he's not totally sure what to expect.
"I'm sure before the first game, I'll be really anxious and nervous," Hayward said. "I don't really know what I'll expect emotionally, but I'm sure it'll be a lot of adrenaline pumping for the first couple minutes, and, once I get out there in the flow of the game, it'll be fun. But I know leading up to it, I'll definitely be a little nervous."
Hayward said he'll stick to the goal-setting mindset that he's relied on not only during his recovery but also throughout his entire NBA career. "This season will be no different," he said. His goals might be a little modified because the initial ones will be "pretty basic," but, before anything, Hayward said he wants to be comfortable.
"I think the first one is just being comfortable and feeling like my old self out on the court and in a real game," he said. "I've never been through a major injury, so I don't know when exactly that will be, but I hope it's sooner rather than later."