Celtics
It's great Marcus Smart re-signed with Celtics, but there's just one thing . . .
There is one aspect of Smart's game that makes him a somewhat polarizing player.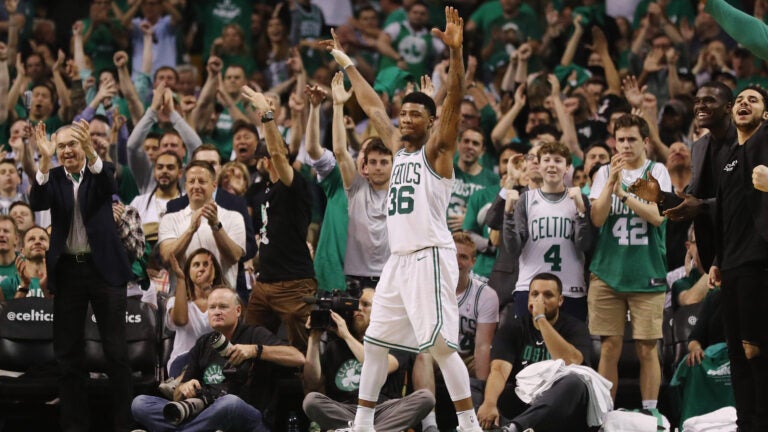 In an uncomplicated kind of way, it's been a satisfying offseason for the Celtics so far, one that has sustained the optimism of last season's shorthanded run to the seventh game of the Eastern Conference Finals.
Gordon Hayward and Kyrie Irving, All-Star absentees for virtually all of last season in the former case and the most important games in the latter, are close to playing authentic, full-go 5-on-5 basketball again.
Jayson Tatum seems to star in a viral video every few days of him ripping up some other young NBA star one-on-one.
Robert Williams, a lottery-level talent, albeit one unaware of the helpfulness of alarm clocks, fell to the Celtics at the low-risk 27th spot in the first round.
Guerschon Yabusele, who we really want to like, showed enticing playmaking skills in the summer league.
And seemingly about a half-dozen Celtics became dads or announced pending fatherhood, which if everything lines up right (and the NBA institutes a rule that teams can keep the draft rights of their player's kids) will set up the 2037 Celtics to be a second-generation dynasty.
Oh, and the path to the Finals has been cleared of a certain obstructing redwood: LeBron James is a Laker. The lottery awaits you Cleveland. As for Kawhi Leonard, Raptor? He played eight more games than Hayward last year, and acquiring him cost them Celtics killer DeMar DeRozan. I'm just glad the Sixers didn't get him.
The only disappointment is a minor one. Shane Larkin, the reserve point guard who always seemed to play well when his chance came, is the only member of the band who isn't returning on the next tour. And he's been replaced by intriguing Euro league veteran Brad Wanamaker, whose tough-nosed nature sounds like a perfect fit.
But the best news of the offseason came in the last few days. Marcus Smart, whose relentless, ferocious defensive approach rivals not his NBA peers but that of NFL safeties such as Rodney Harrison or Ronnie Lott, is returning to the Celtics on a four-year, $52-million deal.
It seemed touch-and-go for a while, with the limitations of unrestricted free agency frustrating him and the Celtics refusing to bid against themselves. (Whatever happened to the rumored pending Kings offer? Must have been an agent's daydream.) In the end, perhaps in an act of good faith to let a valued and emotional player know he was wanted, and perhaps because the window to acquiring Leonard had been closed and locked, the Celtics rewarded Smart with an offer similar to one he had turned down in the fall.
In a purely financial and unemotional sense, it might have been better business for a year to get Smart back on his $6.1 million qualifying offer. But it might have fractured the relationship. In every other way beyond pure dollars spent, this was the best way to go about the business of retaining and satisfying a player they wanted to keep.
There is one aspect of Smart's game that makes him a somewhat polarizing player — more on that aspect in a few adjectives — but he is someone Celtics fans of both old and new schools should appreciate if not outright adore despite the flaw. It's a delight — and extremely advantageous — to have a player like Smart who can jostle, and agitate, and flop until, oh, for example, James Harden descends into late-game madness.
Danny Ainge has said that if he had the first choice among Celtics in a pickup game, he'd take Smart because no one ever wants to play against him. Granted, he may have last said that before Hayward, Irving, and Tatum were Celtics, but you get the gist. Smart is the pitbull you want barking on your behalf rather than snarling in your direction.
His tenacity and toughness should remind more seasoned Celtics fans in certain ways of Paul Silas and Don Chaney, of Dennis Johnson and Quinn Buckner. He is often the spark that ignites the flame, the guy who comes up with the loose ball in a scrum against multiple opponents, who rips the ball from a ballhandler's grip, who blocks a shot that looked uncontested until he burst into the frame.
The polarizing part of Smart's game is obvious on his Basketball-Reference page and in pretty much any game you watch him: He's a poor shooter who does not know he is a poor shooter. He is a career 36 percent shooter from the field and 29.3 percent from 3. He finished fourth on the Celtics in minutes per game last year (29.9), yet was 11th in field goal percentage among those who played more than 50 games. He was third on the Celtics in 3-point attempts per game (4.6, behind Kyrie Irving and Terry Rozier), but 12th in 3-point percentage among players who played more than 30 games.
That is unacceptable, and I've been convinced since Game 7 of the Eastern Conference finals, when Terry Rozier and Jaylen Brown bricked the Celtics into the offseason, that Brad Stevens's shoot-it-if-you've-got-a-look offense has to become less democratic in certain situations.
Remember how it went? With 6 minutes and 41 seconds left in that game, Jayson Tatum drove and dunked in the vicinity of LeBron James's forehead. Forty seconds later, he buried a 3 to give the Celtics a 72-71 lead. The Garden roared. The kid was taking over.
From that point, Smart, Rozier, Marcus Morris, and Al Horford combined to go 0 for 9 before a meaningless Morris dunk with 32 seconds left. Tatum got one more shot the rest of the way before fouling out in the final minute.
There should be alterations to the system after that outcome. Smart should not have free reign to bomb away like a modern-day World B. Free until he proves better aptitude for making a decent percentage. He'll work at it. But Game 7 is no time to hone such a thing.
In the scheme of the Marcus Smart experience, though, it's a mostly tolerable flaw. He cares deeply about winning, and he backs down from no challenge or challenger. I'm glad he's here for the foreseeable future. You will be too. Especially if he shoots a little less.
This is a good deal for Smart and the Celtics, and it feels like the last and most important task of the offseason is crossed off the list. Can the season start tomorrow, please?