Celtics
At least two teams are reportedly expected to pursue Kyrie Irving next offseason
Irving will become an unrestricted free agent at the end of the upcoming season.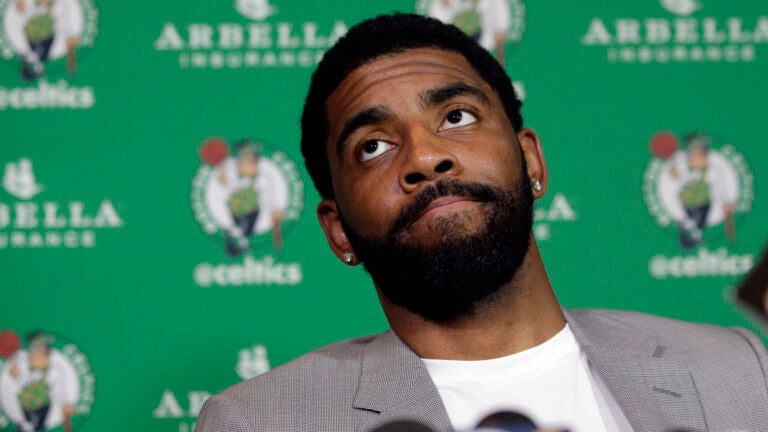 Buried in New York Times reporter Marc Stein's NBA newsletter Tuesday was a nugget about the future of Celtics point guard Kyrie Irving.
Two teams — the Brooklyn Nets and the New York Knicks — are expected to pursue Irving if he hits free agency next summer, Stein reports. The Knicks, who were reportedly one of Irving's preferred destinations when he initially requested a trade out of Cleveland, have continued to pop up as a contender to lure Irving away from Boston. The Nets, on the other hand, are a new name to join the discussion.
"I expect Brooklyn to aim as high as possible in free agency while reserving the right to stay conservative if the Nets can't convince top-tier free agents to take their money," Stein wrote.
According to Stein, Irving's plans for the 2019-20 season are "not at all clear."
"There have been no firm indications from Irving or his camp that the All-Star guard is eyeing an exit from Boston next summer or that he's angling to go to New York — as is often speculated," he wrote.
Irving — who is scheduled to become an unrestricted free agent at the end of the upcoming season — has been non-committal about staying with the Celtics. The 26-year-old has avoided answering questions about his long-term future in Boston, saying any conversations about a new contract will have to wait.
"Management and I will have a talk, but that talk won't happen now," he said in June.
That being said, Irving has been vocal about his excitement for the upcoming season and, though he called signing an extension with the Celtics a move that wouldn't make any sense "contractually" or "financially," re-signing with the team is by no means out of the picture.