Celtics
Ice Cube talks BIG3's debut in Boston, and, of course, the Celtics-Lakers rivalry
"It's just one night, but it's the coolest s--- you'll ever see."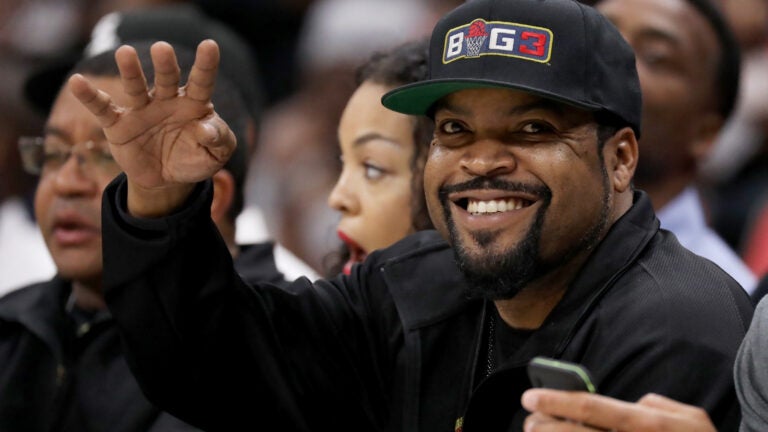 Ice Cube will be making his first-ever trip to the TD Garden Friday.
The rapper — whose three-on-three basketball league is in the midst of its second season — chose Boston as one of the 10 host cities for BIG3 games this summer. The league's eight six-person teams travel across the country once a week to compete in an eight-week regular season.
"We wanted to go to places that love basketball, that are known for having a big fan base around sports. Period," Ice Cube told Boston.com Wednesday. "Boston, to me, is a sports town — with the Red Sox, the Patriots, the Celtics, the Bruins, even Boston College — so, to me, it's a no-brainer to come to places like this."
The visit to the TD Garden, however, holds more than professional significance. A longtime Lakers fan who grew up in Los Angeles, Ice Cube said he's looking forward to getting "a chance to feel the history" on the other coast.
"When I started loving the Lakers, I started to hear these horror stories about this one team that we could never beat, and I'm like, 'We got a great team, so this must be a super team,'" he said of the Celtics-Lakers rivalry. "I had a cocky attitude about it though, like 'Nah, that was then, that was the 60's, that was the 70's, that's not now. This is the 80's.'"
The Celtics had won the first seven NBA Finals meetings between the two teams ('59, '62, '63, '65, '66, '68, '69), but Ice Cube said he was confident about the Lakers' chances headed into the 1984 championship.
"Magic [Johnson] wins his first championship in 1980," he continued. "Then he wins it again in '82, so by the time '84 comes around, I'm like, 'We got this. Them old times is not new times.' With Magic, [James] Worthy, and Kareem [Abdul Jabbar], I just didn't see how we could lose. But we lost. That was my first reality check of, like, there's a monster in Boston."
Ice Cube said he has "a lot of respect" for Boston and is looking forward to being "on the same side for one night."
"Even though I'm a lifelong Laker fan, you recognize the passion of the Boston basketball fans, that they love their game, they understand the game, [and] they're fans of the game," he said. 
His BIG3 has made quite the rounds, also stopping in Houston, Chicago, Oakland, Detroit, Miami, Toronto and Atlanta this year. Ice Cube said he expects Boston to be a little different because the city is, as he put it, "a real basketball town."
"When we go to the hardcore basketball cities, people are into the game," he said. "I expect that here. I expect people to be like, 'Yeah, I came here to watch these dudes battle,' because it's great basketball. The tradition of Celtics basketball is hard-nosed and blue-collar, and that's exactly what the BIG3 is. It's hard-nosed, blue-collar basketball. I expect the attention span to be great."
Several former Celtics — including Marcus Banks, Glen "Big Baby" Davis, Ricky Davis, Ryan Gomes, Nate Robinson, and Brian Scalabrine — play in the league, while one, Gary Payton, coaches. Ice Cube said he hopes to recruit any and every ex-NBA player interested in extending their playing career.
"We're after all the great ones that still want to play," he said. "Sometimes when you retire, you're really done. You're really like, 'It's over.' But a lot of times, you're not. That's what's cool about the BIG3. We're going to be here for you. Whenever you get an itch to play, here we are. If you keep yourself in shape — and if you're a real baller — then we got a place for you to play."
A stint in the BIG3, however, doesn't necessarily signify the end of an NBA career. Guard Xavier Silas of Power signed a 10-day contract with the Celtics in March, while forward Josh Childress of the Ball Hogs received a training camp deal from the Denver Nuggets in 2017.
"It's happened, and we want it to continue to happen," Ice Cube said. "We think it's healthy. We believe we are a complementary league to the NBA, and, hopefully, one day — just like how players can play in the Drew League or here and there — they'll let players play in the BIG3 and then go back to the NBA."
In addition to featuring three-on-three, half-court — as opposed to five-on-five, full-court — play, the BIG3 distinguishes itself from the NBA with several other rule modifications. There's no game clock (the first team to 60 points wins), players can't foul out, the shot clock is 14 seconds, and there's a four-point shot zone.
"These rules are not just because I'm like, 'Yo, let's do this or a new that,'" Ice Cube said. "It's all strategic to make three-on-three more exciting than the FIBA rules, which feel very amateurish to me. These rules are to make the game faster."
The league also allows hand-checking, a move that would be considered a foul in the NBA. The physicality is a throwback to Ice Cube's early memories with the sport.
"[My brother] would never let me play with him and his friends because they would play real rough," he said. "They don't give you no slack. They just played rough. That's why he didn't want me to play because he didn't want to take it easy on me, he wanted to play hard. So that's the style I grew up playing."
Allowing hand-checking isn't just a stylistic choice, it also encourages competition.
"We got older players, so I want to make sure we got good defense in the BIG3," Ice Cube said. "I don't want guys to just be running past guys, with a quick head fake and be at the basket. The lateral movement [and] the hand-checking helps you regain defensive position. And some dudes go hard. When you see it in person, you'll see why guys decide not to play. … It's rough, it's rough in there."
Ice Cube's favorite rule pertains to how the BIG3 handles free throws, calling it "interesting, but not annoying." If a player gets fouled shooting a two-pointer, he'll shoot only one free throw from the traditional foul line for two points. If a player gets fouled shooting a three-pointer, he'll shoot a "free-throw" from the three-point line for three points. And if a player gets fouled shooting a four-pointer, he'll shoot one shot from the four-point line for four points.
"Free throws are very boring to watch," Ice Cube said. "We wanted to make it one shot. You was trying a three-pointer anyway, so why should you get a chance to go closer? Shoot your shot for free, and then, if you make it, we play. To me, that's something I think the NBA needs to adapt because — I know it gives everybody, officials, players a chance to rest — but free throws are boring."
The BIG3 itself is still evolving, but Ice Cube hopes it one day will be a league people get excited about in the same way fans do about the NBA and the NFL. He said his long-term goal is to expand internationally.
"Our vision is to start a BIG3 Brazil, BIG3 China, BIG3 Europe, and have the champions of those leagues come and play here in the summer and create this kind of like World Cup-ish vibe around pro three-on-three basketball," he said. "We feel we are the premier three-on-three basketball league in the world, that there's none better. If you want to be a pro three-on-three player, you want to play in the BIG3."