Celtics
Brad Stevens doesn't seem to be worried about the Celtics' starting lineup
"I do think our guys have a recognition overall that that's not what it's about."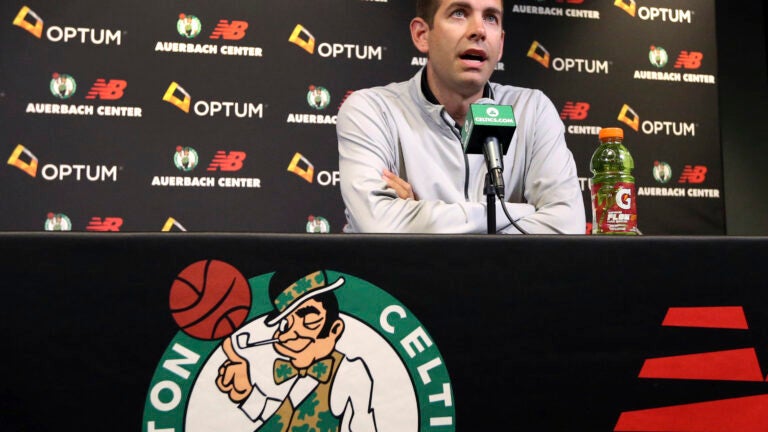 Celtics coach Brad Stevens said he isn't worried about establishing a starting lineup for the upcoming season.
"We'll just do it like we've always done it," Stevens told Chris Mannix of Yahoo Sports during an episode of Mannix's podcast that aired Tuesday.
Boston's starting five for its last game of the postseason consisted of Jayson Tatum, Al Horford, Jaylen Brown, Terry Rozier, and Aron Baynes, but the imminent returns of All-Stars Gordon Hayward and Kyrie Irving are expected to prompt some adjustments. Stevens said he doesn't know just yet how the minutes will be distributed, but he's not anticipating any internal conflict over playing time.
"I do think our guys have a recognition overall that that's not what it's about," Stevens told Mannix. "It's about trying to be the best that we can be collectively. If we all do what we do to the best of our ability, it'll benefit everybody individually. You only get so many chances to be a part of a special group. We're pretty fortunate to be in this position, so we need to take advantage of it."
Stevens said the Celtics have "eight, nine, maybe 10 guys that are starters." Even if a player comes off the bench, he doesn't necessarily view him to be a "non-starter."
"Marcus Smart has come off the bench for two years, and I've never considered Marcus Smart to be a non-starter," Stevens said. "We're going to have different lineups out there, and everybody is going to get a different opportunity and lots of opportunities to make an impact."
Instead of focusing on who's starting and finishing games, Stevens emphasized he's taking a day-by-day approach with the upcoming year. He said the team can take some pride in its performance last season, but his focus is primarily on what's next. Although the Celtics are considered one of the favorites to come out of the East, Stevens is by no means comfortable with the team resting on its laurels.
"I've been on teams that have been at the top level the year before and then really tailed off at the start of the next season," Stevens said. "The challenge is coming back and saying, 'We're committed to doing all of these little details again.' There will be no steps that will be skipped. We're not trying to be playing in April on September 26, we're trying to be better on September 27."
Unlike last season, the Celtics, as of now, are bringing back nearly their entire roster. Stevens said the continuity, which he tabbed as one of their offseason priorities, should help their offense — an area he felt suffered more than he initially expected when the team brought back only four returning players last year.
"I thought we were going to be a little ahead offensively and a little behind defensively," he said. "It actually turned out to be the reverse. … Statistically, we were not good enough offensively to compare ourselves to championship teams in the past — just as a whole. Defensively, we were pretty good, especially when you compare us to the rest of the league."
The re-additions of Hayward and Irving should help, too. Though Irving hasn't committed to Boston beyond the upcoming season, Stevens said his uncertain future, like the starting lineup, isn't really a concern.
"I'm not going to talk to him about it all," Stevens said. "One of things I want to do is just give everything I can to all these guys while they're here. Hopefully, the people that are here recognize it's a really good environment with a high upside for a long time and a place that'll be committed to them.
"There's no real discussion to be had," he continued. "When those times come for any free agent to look over what their options are, you hope that you have separated yourself with the everyday relationship and the work there. As far as talking about it and everything else, he's been so good to me, everybody around here likes him so much, we don't really think twice about it to be real candid."