Celtics
Catching up with old friends: Nate Robinson
Robinson reflects on his NBA career and shares what he's up to now.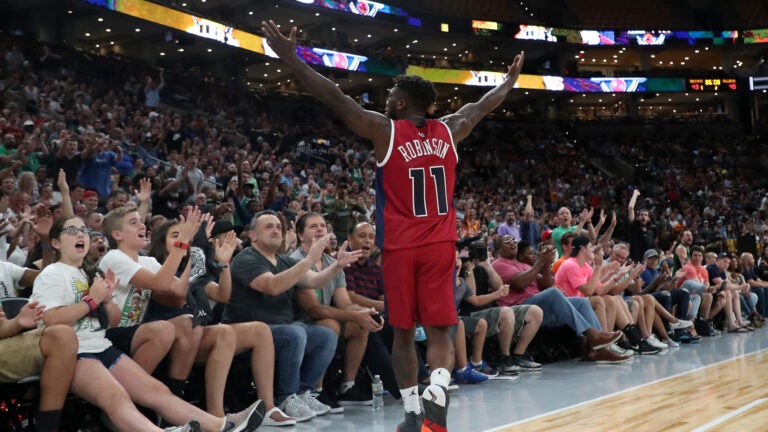 Despite never securing a full-time starting role, point guard Nate Robinson's NBA career features flashes of memorable moments. He's a three-time Slam Dunk Contest champion, he's dropped 40-plus points on three occasions, and he — at 5-foot-9 — once stuffed 7-foot-6 center Yao Ming at the basket.
But his absolute favorite NBA memory is a no-brainer from his rookie year.
"My game-winning shot over Allen Iverson," Robinson told Boston.com. "That one probably takes the cake."
With the score tied and the clock winding down in overtime of a regular-season game between the New York Knicks and Philadelphia 76ers, former Knicks point guard Stephon Marbury dribbled the ball down the court and dished it to Robinson, who hoisted a three-point attempt as time expired. The high-arcing shot hit nothing but net, prompting Madison Square Garden to explode.
"I knew it was good when it left my fingers," Robinson said. "I was thinking in my head, 'Just give it a chance to go.' You got to shoot it up and you got to shoot it quick because Iverson got some long arms. He almost blocked the shot, actually. He helped off Marbury, stunted, came in and tried to contest it, but I end up making that shot and it changed my life forever."
Robinson said he asked Iverson after the game for his "best shooting sleeve," which he ended up giving to him. The gesture, in conjunction with the game-winner, produced pure euphoria for Robinson, who, at the time, was just trying to make a name for himself. He went on to play for eight NBA teams, including the Celtics.
As a Celtic, Robinson got his first taste of playoff basketball. He was traded to Boston in February 2010, just in time for the Big Three's second NBA Finals run. Though his playing time was limited, Robinson carved out a role off the bench. In Game 6 of the Eastern Conference Finals, he scored 13 points in 13 minutes while starter Rajon Rondo was nursing an injury.
"That whole ride, that whole journey was memorable and something that I can take and share with my children and my grandchildren," he said. "It was pretty dope. The Celtics were a first-class team. We did everything together as a unit. I love that the team camaraderie was awesome. You don't find that in teams all the time."
During his time in Boston, Robinson formed a connection with shooting guard Ray Allen — initially because "Ray had some of the coolest shoes." The pair's relationship, however, eventually blossomed beyond sneaker talk.
"I wanted to try to take something from his game and implement it in mine," Robinson said. "Watching his work ethic, getting shots up, running on the treadmill, I just took the hard work and dedication he put into the game and put it in mine."
"When I saw him on the treadmill, I would get on the treadmill and run with him," he continued. "Then we'd go get shots up. He would help me with my jump shot, dips, stuff like that. He was always a good teammate. I out-shot him a couple times, too. Nobody knows, but I held my own against one of the best shooters in the world."
Robinson ended up getting traded in February 2011 to the Oklahoma City Thunder, but not before he suffered "a near-death experience." After former teammate Paul Pierce hit a game-winning shot against the Knicks, Robinson kept trying to jump on Pierce's back in celebration. But Pierce was having none of it, upending Robinson.
"That was the day I died and came back to life," Robinson joked. "I literally almost broke my neck. I was trying to get the piggyback ride from Paul, but he kept running. That was a pretty cool picture though. Somebody got a picture of me falling on the ground, Ray Allen looking at me all crazy, Paul Pierce doing some superman thing, and KG like bowing to the crowd. It's a pretty epic picture."
Robinson hasn't played an NBA game since October 2015, but isn't ruling out the idea of a comeback just yet. He currently is a member of Ice Cube's BIG3 league, playing for legend Julius Erving on Tri-State.
"It's all been so much fun," Robinson said. "It's like you're just at the park or you're at the gym and you don't have enough [players], so you just get to play three-on-three. You learn how to play ball and you go hoop."
The BIG3 recently stopped at the Garden in Boston, where Robinson scored 12 points and his team improved to 5-2. With the win, Tri-State clinched a playoff berth.
As for what's next when the BIG3's season ends later in August?
Shams Charania of Yahoo Sports reported Robinson had signed a one-year contract with Homenetmen Beirut in Lebanon, but Robinson later said he hasn't officially inked a deal and is holding out for a training camp invite from an NBA team.
Whether there's still a place for him in the league remains to be seen, but regardless of what happens, Robinson said he would like to eventually pursue a career in entertainment. He currently has a podcast, "HOLDAT,"  with former teammate Carlos Boozer and also recently appeared in Celtics point guard Kyrie Irving's movie, "Uncle Drew."
"I felt like I was Martin Lawrence and Eddie Murphy because they had me all old like in the movie, 'Life,'" Robinson said. "We got to chop it up and be ourselves, and yet, be other characters, too, having the makeup on."
Robinson first got involved with "Uncle Drew" when the concept was a series of Pepsi commercials. But landing the role took some effort. A self-proclaimed movie guru, he said he was on "Kyrie's helmet" to try and star in one of the shorts.
"I was just hounding him every game we played him," Robinson said. "I was just like, 'Yo, what's up, man? I'm trying to really be in 'Uncle Drew,' the next commercial.' Then he asked me one summer on Twitter, he DM'ed me was like, 'Did you really want to be in it?' I was like, 'Yeah,' and he said, 'Well, we're doing one this summer, and I want you to be in it.' I was like, 'Of course,' and that's how it happened."
When the movie got the green light, Robinson said Irving hit him up again.
"I literally stopped from going overseas to play basketball to do the movie," Robinson said. "I turned down a couple deals because I was like, 'This doesn't come around too often. So let me jump on this movie deal.' I haven't looked back ever since. Now all the kids call me Boots, so it's pretty cool. I got another nickname."
Robinson said he's interested in movies, TV shows, broadcasting — you name it, he's likely down for it. (For what it's worth, he said Irving has "a bright acting career" as well.) Outside of his professional goals, Robinson said he's just trying to stay adventurous. Some of his bucket list items include skydiving, riding "the world's scariest roller coaster," and getting over his fear of scuba diving.
"Just doing things that people wouldn't really want to or care for to do," he said. "Except being in movies."