Celtics
Paul Pierce opens up about battling depression early in his career
"The only thing that saved me was basketball."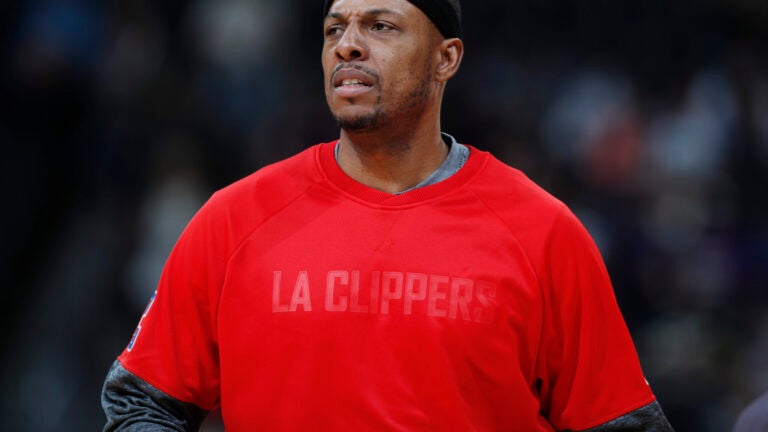 Retired Celtics forward Paul Pierce says he battled depression for a year after he was stabbed 11 times at a Boston nightclub in 2000.
"The only thing that saved me was basketball," Pierce told ESPN's Jackie MacMullan.
The 2000 incident required emergency surgery to repair a collapsed lung before the start of Pierce's third NBA season. The forward recovered to play all 82 games that year, averaging 25.3 points per game, but he said he continued to privately struggle. Although the Celtics encouraged him to seek counseling, Pierce opted to manage his anxiety on his own, saying he "didn't want anybody else in [his] business."
"We can offer all the services in the world," Celtics general manager Danny Ainge told MacMullan. "But if they won't use them, we can't help them. Too many of these guys don't realize how badly they need help until it's too late."
After the stabbing, Pierce said he hired an around-the-clock police detail to be stationed outside his Lincoln home. Months after his release from the hospital, a troubling death threat he received from a mysterious caller worsened his anxiety. Pierce said he was "a mess" as he wrestled with the post-traumatic stress and paranoia.
"I think that's the reason I got back on the court so fast," he told ESPN. "Me sitting at home thinking about [the stabbing] didn't work. I went to every practice, sat on the sideline for hours, because that's where I felt safe. I didn't want those practices to end because then I had to go back out there in this world that really scared me."
Once the season started, however, he remained jittery in crowds — a feeling he said took years to overcome. During one event, he recalls having to back out because "his heart rate spiked" and "his palms began sweating."
Pierce now acknowledges he wishes he had listened to the Celtics and sought professional help. He admits his depression was "bad — really bad" — and encourages others to obtain the support they need.
"I should have opened up earlier than I did," Pierce said. "It was eating me alive. Once I finally started talking to a family member, it helped me.
Pierce's story was shared as part of ESPN's five-part series on mental health in the NBA.