Celtics
'I definitely have gotten a lot stronger': Here's what Jayson Tatum's been up to since you saw him last
The 20-year-old Celtics forward has even spent some time with Markelle Fultz.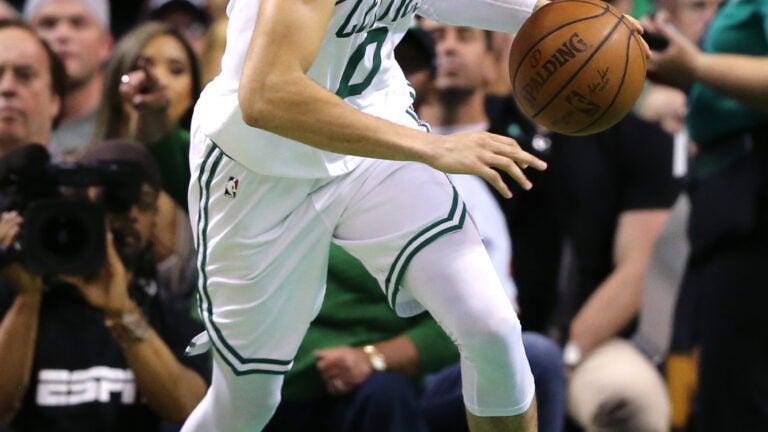 Celtics forward Jayson Tatum has been all over the map this summer.
He took a trip to China with Nike, he traveled to New York to film a commercial for Foot Locker's "Discover Your Air" campaign, he returned to St. Louis to have his high school jersey retired at Chaminade, he went to Los Angeles to work out with skills trainer Drew Hanlen, and he, of course, has spent time at the Celtics' new practice facility in Brighton. The 20-year-old is certainly keeping busy during the offseason.
"I'm trying to enjoy it and work out at the same time," he told Boston.com.
Tatum is coming off an impressive rookie year, in which he played 80 games and averaged 13.9 points and 5.0 rebounds during the regular season. His scoring jumped to a team-high 18.5 points per game during the playoffs, as he continued to garner praise for not only his talent but also his tremendous poise.
"Most players come into the league, and it takes a while for them to prove to themselves that they belong," Celtics color commentator Tommy Heinsohn told Boston.com during the team's playoff run. "This kid knew he belonged right from the get-go. There was no wonderment in his game. … He just went out and did it."
As Heinsohn and others dish out compliments, Tatum has stayed level-headed and focused on refining his craft. That's not to say he didn't get a wave of excitement when his childhood idol, retired Lakers guard Kobe Bryant, chose him as a subject for the ESPN+ series, "Detail." In the episode, Bryant offered his thoughts on how Tatum should seek out more catch-and-shoot opportunities.
The pair also connected for a few workouts this summer.
"That was really, really exciting for me because he's always been my favorite player," Tatum said. "I always looked up to him, so just to interact with him on a couple different occasions was really more than enough for me. … The idea of him being willing to help me out and share his knowledge was a once in a lifetime experience."
Tatum said he's "been stealing [Bryant's] moves ever since [he] was a kid" — a phenomenon Hanlen captured in a video that spliced together their highlights — but Bryant's on-court prowess isn't the only thing Tatum is trying to emulate.
He wants to adopt that Mamba mentality, too.
"I'm really just trying to get into his mindset, how he went about each year, from taking care of his body to getting better and better each year," Tatum said. "Just studying the things that he would add to his overall game."
Although he didn't elaborate on what he and Bryant specifically worked on, Tatum said his "main priority" this offseason is building strength. Both coach Brad Stevens and president of basketball operations Danny Ainge have identified strength as an area of improvement for the forward.
"It's tough to put on a bunch of weight right now, being how young I am, but I definitely have gotten a lot stronger," he said. "That's really all I can ask for. I don't really want to get too heavy, you know. I still want to be able to move in the paint."
Tatum believes getting stronger will help him play through contact, which in turn, will facilitate better ball control. Besides bolstering his strength, Tatum said he's working on "expanding his overall game." His college coach, Duke's Mike Krzyzewski, told Boston.com he'd like to see his former player become more vocal on the court, but Tatum said that's probably not going to happen just quite yet.
"Coach K always wanted me to talk more, even when I was in college," Tatum said, after a small chuckle. "That's something I'm going to do as I get older."
The Celtics open their season against the Philadelphia 76ers on Oct. 16. With point guard Kyrie Irving and forward Gordon Hayward re-joining the team after suffering season-ending injuries, Boston is expected to be one of the favorites in the East. Tatum, however, isn't writing off the competition.
"Obviously, we've gotten a lot of credit coming into the season because of how far we went last year," he said. "I'm looking forward to it. The East is tough. Obviously, it looks like us and Philly are going to go back and forth for years to come, but, you know, Toronto added Kawhi [Leonard] and you got Washington and Milwaukee. The East is tougher than a lot of people give us credit for."
During their playoff run last season, the Celtics topped the Bucks and the 76ers before falling to the Cleveland Cavaliers in the Eastern Conference Finals. Though he noted there's a budding rivalry between Boston and Philadelphia, Tatum has actually spent some time with two members of the opposition, Joel Embiid and Markelle Fultz, this summer. The trio all share the same trainer.
"Sometimes we talk trash," Tatum said. "I like to remind Joel that we beat him 4-1."
Fultz was also one of the players to visit China with Nike. Tatum said he and Fultz — who was the first overall pick in the 2017 NBA Draft — have yet to play one-on-one but suggested it could happen "later this summer."
"People try to make us be enemies by how we got drafted, but we don't care about that," said Tatum, who was selected two spots behind Fultz. "There's no animosity between me and him. We're really best friends off the court."
Currently in Los Angeles, Tatum will continue working out before training camp begins in September. He said he is not concerned about forthcoming decisions regarding playing time, expressing the utmost faith in Stevens to do what's right for the team. He also trusts his teammates to handle the situation in stride.
"Everybody has a job to do," he said. "Our job is to be the best versions of ourselves and come together for a bigger goal, which is winning a championship. Brad's job is to manage playing time and manage all sorts of stuff. That's why he's the coach. We got a bunch of selfless guys on the team that just want to win. We'll figure it out."
Tatum said it does not matter to him whether he starts or comes off the bench.
"I understand how deep our team is," he said. "I just care about winning and doing what I can while I'm on the floor."