Celtics
'I used to hate Boston': Jayson Tatum on rooting for — and learning from — Kobe Bryant
The Celtics wing says his roots as a fan of the Lakers legend run deep.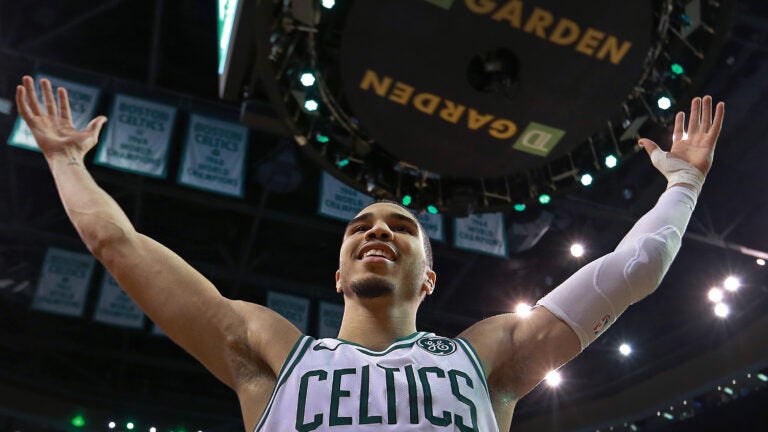 Boston Celtics fans might not want to hear about Jayson Tatum's lifelong admiration for Kobe Bryant, but they are now reaping the rewards.
According to Tatum, the Los Angeles Lakers legend was the reason he started playing basketball.
"He was the reason I wanted to play basketball [as] a kid," the Celtics' 20-year-old standout said in a podcast interview released Friday with The Ringer's Bill Simmons.
That Tatum  idolized Bryant growing up has been no secret. One only needs to look as far as his Twitter feed to know that. However, it went much deeper than social media. The young Celtics wing told Simmons, an outspoken Boston sports fan, that his "earliest basketball memory" was of Bryant and that from an early age he wanted to "be Kobe."
"When I was like 4 or 5, I'd just always tell—my mom would ask me what I wanted to be when I got older," Tatum said "And I would just be like, 'I wanna be Kobe.' She'd be like, 'You wanna be in the NBA?' 'No,' like, I wanna be Kobe.'" He was just my favorite player. I had his posters, all his jerseys. That was my guy."
Of course, that fandom put Tatum squarely on the other side of the historic NBA rivalry with the team for which he now plays.
"I used to hate Boston," he said.
"Yeah, well, we need to fix that," Simmons replied.
"No, I love Boston now," Tatum quickly added.
Still, entering his second season with the Celtics, Tatum is still a fan of Bryant — and the respect is apparently mutual. Bryant has publicly offered Tatum advice and even reportedly questioned why the Lakers didn't draft Tatum with the second overall pick in 2017 instead of Lonzo Ball.
This offseason, the pair also worked out together, with the retired star, who just this week turned 40, sharing his basketball knowledge. Tatum told Simmons that they talked about both "basketball-related" and "non-basketball-related" things.
"I tried to get into his mind and see how he went about things," he said. "Just trying to get better each year, what he wanted to improve year after year so he didn't backtrack or be complacent. His will to just be the best and just striving to get better every year."
On the court, Tatum said he was particularly interested in how Bryant focused on breaking down each aspect of the game to make it "as simple as possible."
"He said the year he averaged 35, all he worked on in the summertime was pivot foot, trying to play off both pivots," Tatum said. "[Bryant] said, 'That's all I did for the entire summer. Obviously, I expanded off a move from each pivot and a counter move to that.' But he was like, 'The entire summer that's all I worked on.'"
As for the one thing Tatum is working on this summer, he says he is primarily focusing on just getting stronger and shooting three-pointers off the dribble. But don't be surprised if you notice even more similarities between his game and a certain favorite player.