Celtics
Danny Ainge shared an update on Gordon Hayward and Kyrie Irving
"I'm really excited about the upcoming season."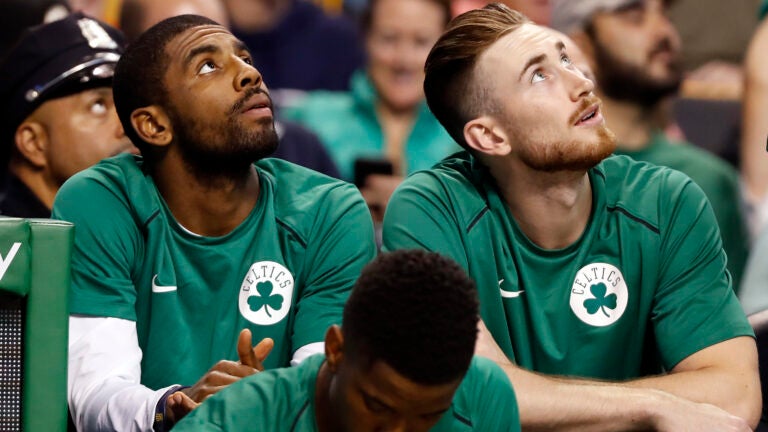 Celtics president of basketball operations Danny Ainge says both Gordon Hayward and Kyrie Irving would be ready to go if training camp started today.
"I don't want to hype it up too much, but I'm saying that, if our training camp were starting today, that they would be here today going full speed," Ainge told ESPN's Chris Forsberg. "It's not like they need an extra month. I think that they know they have an extra month so they are sort of pacing themselves. They're playing as if to build up to that opening day of training camp [on Sept. 26]."
Hayward (ankle) and Irving (knee) are recovering from season-ending injuries and, per Forsberg, are expected to return to Boston next week. Both players have shared encouraging updates throughout the offseason.
"By the time Labor Day is over, they will all be playing 5-on-5," Ainge told Forsberg. "If they're not playing 5-on-5 now, then it's only because they want it more of a controlled environment, I guess. They're doing everything — dunking the basketball off both legs and playing 1-on-1 live and jumping and cutting and defending."
Celtics point guard Terry Rozier told reporters at his basketball clinic Saturday that the team has been texting one another to try and organize informal workouts and pickup games prior to the start of training camp. Though Ainge said Hayward and Irving will be full participants, he also acknowledged there will still be a transition for the rehabbing players. According to Forsberg, the team will be cautious with their level of activity. Boston's deep roster, however, should ease the process.
"I'm really excited about the upcoming season with [Irving and Hayward]," Ainge said. "Obviously, there's a transition from rehabbing to playing 1-on-1 to playing 3-on-3 to 5-on-5 and then playing NBA basketball, so I don't want to build up expectations too high. I think there will be a little bit of an adjustment once that last phase is made."