Celtics
What Ray Allen is saying about his ex-Celtics teammates in recent interviews
Allen said he "doesn't expect" to hear from Kevin Garnett or Rajon Rondo before his Hall of Fame induction.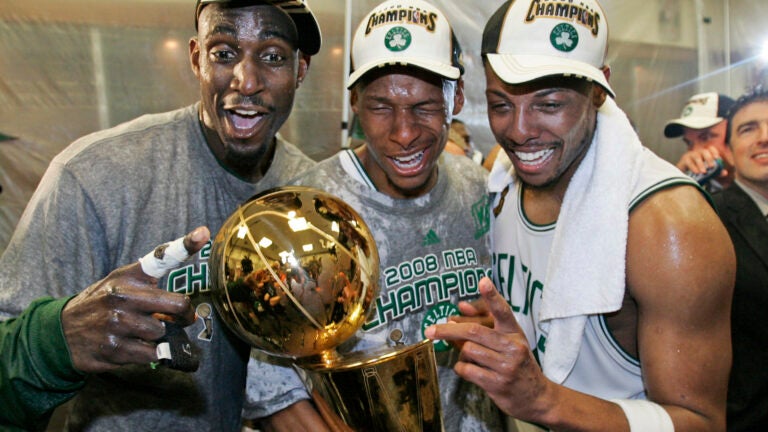 Ray Allen will be officially inducted in the Naismith Memorial Basketball Hall of Fame on Friday. Yet as Allen acknowledged in a recent interview, he doesn't expect congratulatory messages of any kind from people he once won a championship with.
In an interview with Shams Charania of The Athletic, Allen was asked about about lingering discontent with former teammates like Kevin Garnett and Rajon Rondo. With Paul Pierce, Allen explained, he's cleared the air.
"I talked to Paul a year ago today, and we patched it out," Allen told Charania. "So much was made about my decision, and they were upset with me because I left for Miami. But it will never change what went on between us in 2008."
Asked in a follow up question if he's had any communications with Garnett, Rondo or Glen Davis, Allen simply replied, "Nope." And his answer was almost as succinct when when asked if he expects any congratulatory messages from them about making the Hall of Fame.
"No, I don't expect to."
The ongoing feud between Allen and several former Celtics from the 2008 NBA Championship stems from the shooting guard's decision to leave Boston for the rival Miami Heat in 2012 as a free agent. Rondo later compared Allen's decision to sign with the Heat as joining "the enemy."
Allen has responded to the perception of his relationships with former teammates at various times, including earlier in 2018 when Pierce's number was retired at TD Garden.
And in a recently recorded podcast series with NBC Sports Boston, Allen elaborated on his thoughts during his final season with the Celtics.
"There were parts throughout the season where I was starting to like, feel this type of resentment towards me on the floor," Allen said. "And other people would tell me at first but I would ignore it because I don't like people getting into my team business but people would always say 'he looks you off…when you come off of a screen he sees you and he doesn't pass you the ball when you're open.'"
Allen won the '08 Championship with the Celtics, and went on to win a second title with the Heat in 2013. The former University of Connecticut star was drafted with the fifth pick in 1996. He officially retired in 2016 as the all time leader in three-point field goals.