Celtics
Brad Stevens gives an update on the Celtics ahead of training camp
"I've been told that everyone is going to be ready to go."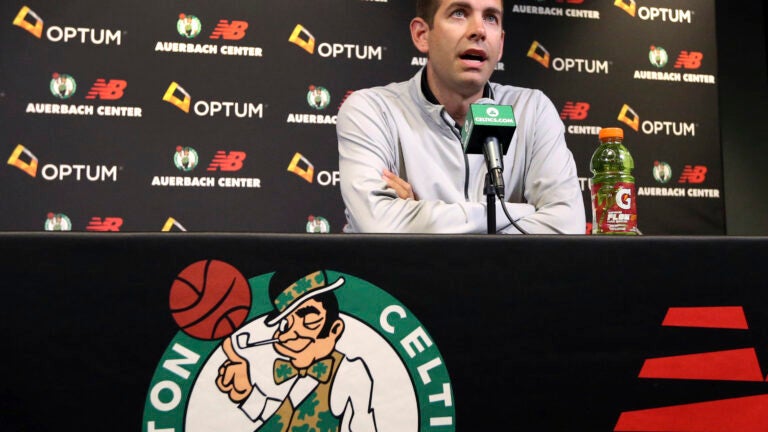 Celtics coach Brad Stevens says he has been told all players will be ready to go for the start of training camp in September.
Stevens, who attended the annual ABCD Hoop Dreams charity event at TD Garden Tuesday evening — his first visit since losing to the Cleveland Cavaliers in the Eastern Conference Finals — told reporters the team is eager to get things started.
"It'll be a great opportunity to start afresh with a brand new team, though we do have a lot of guys back, and see if we can be the best version of ourselves," he said.
The Celtics are anticipating a healthy return from a trio of previously injured players: Forward Gordon Hayward (ankle), point guard Kyrie Irving (knee), and center Daniel Theis (knee) are all expected to make full recoveries. Stevens said Hayward, who missed nearly the entirety of last season due to the gruesome fractured dislocation of his left ankle, and Theis, who suffered a torn meniscus in March, have yet to be cleared for 5-on-5 play, but he's awaiting the imminent go-ahead for both players.
"[Gordon] will be cleared to go for some 5-on-5 here very, very, very soon, like any time soon," Stevens said, glancing at his wrist as if he were wearing a watch. "The anticipation is that [Daniel] will be [cleared] by the start of training camp."
The re-addition of Hayward, Irving, and Theis should bolster a team that — despite facing additional injuries (e.g. Marcus Smart's thumb, Jaylen Brown's concussion, Shane Larkin's shoulder) — advanced to the Eastern Conference finals last season. In contrast to their roster overhaul in 2017, when president of basketball operations Danny Ainge gutted all but four players, the Celtics brought back the majority of their roster this year. That continuity, along with the re-introduction of certain players, should benefit the team, according to Stevens.
"Any time you add new guys, you get a little bit of extra life in the building," he said. "To add Kyrie back in the mix, and to add Gordon, considering they were here last year, it's almost like you're adding a brand new player to the team."
With Hayward and Irving healthy, the players who stepped up as starters in their absence will likely see decreased minutes. Stevens said disgruntlement in response to adjustments to playing time will only hamper the team's chances of success.
"I think we've got a really good locker room," he said. "I don't think it's any secret to anybody that there's only 240 minutes in a game. If we all struggle with that, more than just the human nature if you get taken out — that's OK, that's part of it — but if we all struggle with that, then we won't be very good. If we don't, then we'll have a chance to be pretty good."
As for who's starting and who's coming off the bench? Stevens stressed he hasn't thought too much about rotations, putting more focus on how — rather than whom — he wants to play. Citing last year's experience as a paragon, Stevens emphasized how personnel needs can turn on a dime.
"Your rotation can change in a heartbeat," he said. "You can work all summer on it and then you've got to adjust in one day. The bottom line is we have an idea of who we'll play together and who best fits together and what lineups we think we'll try to use, but we'll see how it shakes itself out."
After starting in all 19 of Boston's playoff games, point guard Terry Rozier is one of the players expected to have a reduced role this season. Rozier recently said the team's collective goal (i.e. winning a championship) is more important than individual ones, telling reporters this year's group has the potential to be "super special."
"Everybody everywhere knows Terry can really play, so it's not about as much — when we talk about the roles and everything — about proving ourselves, it's about how we can all help each other win," Stevens said. "You got a chance with a team that has a lot of good depth. That depth has to be a positive. That's the way we're going to approach it."
Between now and September, Stevens said the team will be focused on re-earning their hype surrounding the expectations for the coming season.
"One of the things about all 30 teams at the start of the season is everybody's looking at their upside and looking at the best possible scenarios," Stevens said. "I think everybody feels great about where they are and who they are because nobody's played a game yet [and] nobody's lost a game yet."
"We just need to be the best version of ourselves," he continued. "We can't skip steps. We can't talk about being a favorite. We can't talk about being in the mix. We can't talk about being a playoff team. We have to go back and earn all that."