Celtics
Doc Rivers weighs in on the rift between Ray Allen and the 2008 Celtics
"It really hurts me to see what's going on."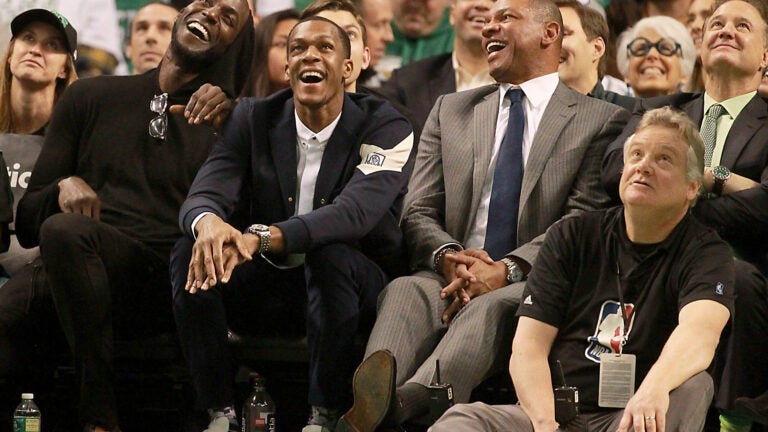 Ex-Celtics coach Doc Rivers says he loathes seeing his former players feuding.
"As the years have gone on, things have been fractured," Rivers told reporters at the annual ABCD Hoop Dreams charity event hosted at TD Garden Tuesday night. "I hate it. I hate seeing it."
Rivers — who spent nine seasons, including an NBA championship run, coaching in Boston — said the 2008 title squad was "as close of a group as [he] could ever coach." The fruitful dynamic, which Rivers acknowledges was never perfect, has since gone to pieces. After shooting guard Ray Allen left the Celtics for the Miami Heat in 2012, he was ostracized by some of his former teammates — namely Kevin Garnett and Rajon Rondo.
"Why we were really good is why they don't get along," Rivers said. "[They're] very stubborn, very tough, very competitive, and no one wants to give in."
Allen was not invited to join the 2008 championship team's reunion, a vacation planned by Rondo, to celebrate the 10-year anniversary of their rings. Rondo told The Undefeated's Marc J. Spears the decision to exclude Allen was shared among the group of veterans. Paul Pierce also called Allen out for not attending their charity events, telling ESPN's Jackie MacMullan the guard was absent for many social gatherings off the court. More details surrounding Allen's friendships with Rondo, Pierce, and Garnett are discussed in his memoir.
Rivers said it's unfortunate the team and the city haven't been able to come together for Allen's upcoming induction to the Basketball Hall of Fame, which is set to take place this weekend in Springfield.
"I would love to have [had] a celebration for Ray," he said. "Not a lot said here about it. You know, Ray won us a title. He really did. I think he should be celebrated. I think he should be celebrated in Boston. He's responsible for that banner. He really is."
"If I had one wish, I wish I could do a better job of getting that group back together," Rivers continued. "I can get a lot of them back together, I just can't get that whole group back together. And they really should be because they were so close. It really hurts me to see what's going on."
Rivers yearns for the day the group will be able to channel a phrase he said he told them a thousand times before: "It's about getting it right, not who's right." He said he's happy Pierce has extended an olive branch in trying to mend his relationship with Allen. Despite all the drama, however, Rivers said he still would take the '08 Celtics over any other team.
"On the floor, I'd take that group every night on the floor to go to war," he said. "If I had one game to win for my life, I'm taking that 2008 group and we're going to go to war because you knew they were going to show up and do it together."