Celtics
Celtics' Jabari Bird remains hospitalized following his arrest
No timeline was given for the 24-year-old shooting guard's arraignment Wednesday morning.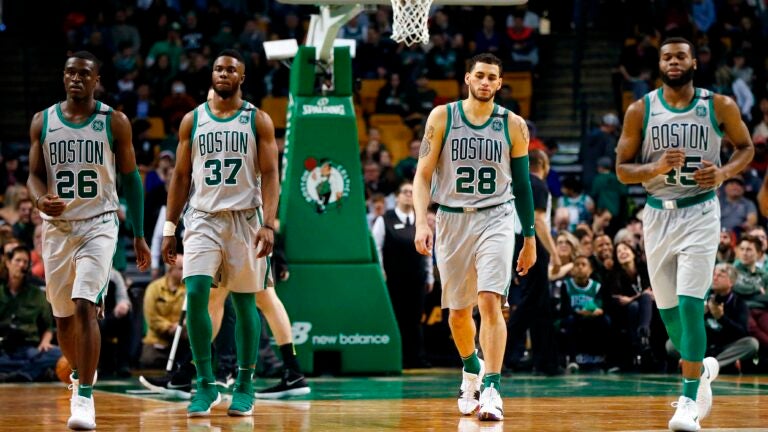 Celtics shooting guard Jabari Bird's forthcoming arraignment has been delayed due to his extended hospitalization, according to a spokesman for the Suffolk County District Attorney's office.
Bird — who was arrested Friday night in Brighton for a domestic incident in which he allegedly assaulted, choked, and kidnapped a person with whom he had a romantic relationship — was initially expected to be arraigned in Brighton Municipal Court on Monday, spokesman Jake Wark said in an email. He will not be arraigned, however, until he is discharged from the hospital, taken back into police custody, booked, processed, and transported to court. 
Wark did not have an updated timeline for the arraignment Wednesday morning.
A spokesman for the Boston Police Department said Wednesday morning that Bird had not been booked, and he did not have further details on Bird's hospitalization.
In their initial statement issued Saturday morning, Boston police said Bird was "being guarded at a local hospital for an evaluation." WBZ reported Saturday Bird was in custody at St. Elizabeth's Medical Center. A police spokesman could not confirm Bird's location Wednesday.
Per police's initial statement, complaints will be sought against Bird for assault and battery 209A, strangulation, and kidnapping. Wark said a formal list of charges would not be available until the court provides it to the arraigning prosecutor. As of Monday morning, no attorney had filed an appearance on Bird's behalf.
The Celtics issued the following statement Saturday morning: "We are aware of the incident involving Jabari Bird and are taking it very seriously. We are actively gathering information and will reserve further comment at this time."