Celtics
Gordon Hayward says he's played 5-on-5 and is feeling 'very good'
"We have so much talent on this team."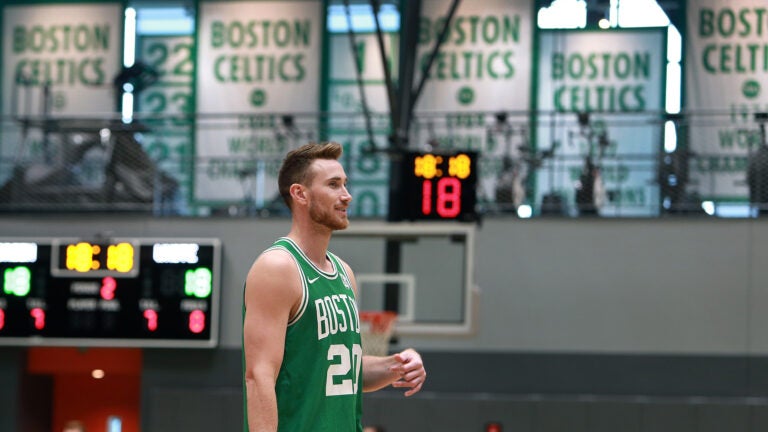 Celtics forward Gordon Hayward says he's been playing full-court, 5-on-5 basketball with "pretty much no restrictions" for two weeks.
"I'm just excited to be out there," Hayward told reporters at the Auerbach Center Thursday afternoon. "It's been so much fun to be able to play again and play with my teammates. These past few weeks and the next probably month or so will be good to get back into the game."
Hayward was five minutes into his Celtics debut last October when he went down with a season-ending fracture dislocation of his left ankle. He spent the entirety of last season rehabbing and recovering from the gruesome injury — a process he called "the most difficult thing [he's] done."
With training camp set to begin in under two weeks — and the team's first preseason game scheduled for Sept. 28 — Hayward said he's not completely 100 percent basketball-wise, though he's getting close.
"The last step for me, as far as from a physical standpoint, is just the little explosion, that little last juice [and] bounce that you get," he said. "That's going to take maybe the longest time, but like I said, for the most part, I feel very good."
In the four 5-on-5 games he's played, Hayward said he hasn't experienced any fear as far as cutting, jumping, or other activities on the court. He said he's not playing with anxiety and is focused on regaining his rhythm and sense of timing. The 28-year-old acknowledged that getting back into a groove won't happen overnight, but he hopes more time with his teammates will help him re-acclimate.
The Celtics open the regular season against the Philadelphia 76ers on Oct. 16, and Hayward said he 100 percent expects to be on the floor. Like many of his teammates, he expressed no concerns about starting versus coming off the bench.
"It's not something I'm worried about at all," Hayward said. "We're worried about winning and putting another banner up. … We have so much depth, we have so much talent, it doesn't matter who starts for me. My goal is to help us get that banner."
Hayward said he gained a lot of confidence from watching the team compete last season, so he's eager to finally join them on the floor. The Celtics are also anticipating a healthy return from point guard Kyrie Irving, making them one of the favorites to come out of the East.
"We have so much talent on this team."