Celtics
What the Celtics had to say during media day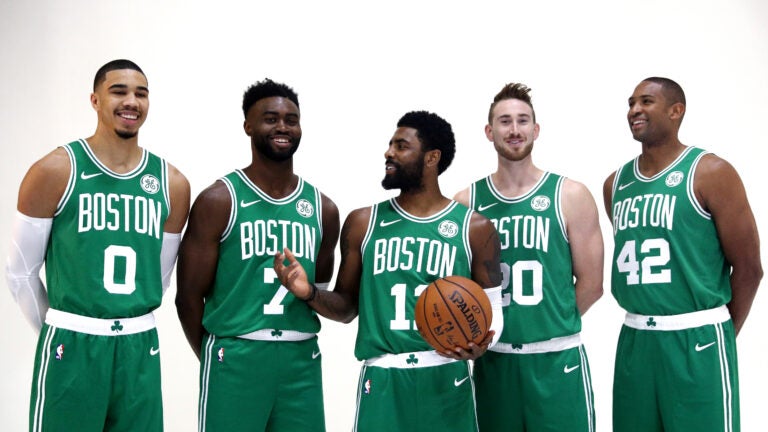 CANTON — The Celtics are holding media day on Monday. Here are some of the important notes and quotes:
Gordon Hayward
On excitement about playing with Kyrie Irving: "Very similar to last year, to be honest. It was very difficult to have to watch basically the whole year last year, and then I watched the playoffs with him, too, so I know it was hard for him to sit there. As a competitor the last thing you want to do is be forced to the sideline.''
On the team's younger players: "You could argue they're more experienced than I am, going to the Eastern Conference finals.''
[fragment number=0]
Kyrie Irving
On if he feels like himself again health-wise: "I can only feel like myself playing out there in an NBA game. But I had great opportunities this summer to be around great people.''
Irving said he spent 18 days in Seattle, spending much of the time playing in pickup games that were organized by Jamal Crawford. Celtics legend Bill Russell was among those who came to watch.
"I'm appreciative of that time, because I finally got to slow down.''
Kyrie Irving on meeting Bill Russell: "He's as cultured as they come." pic.twitter.com/Q1MX8P8pQJ

— Nicole Yang (@nicolecyang) September 24, 2018
On rehabbing from knee surgery: "It was a lot of patience on my end, but it was well worth it in the long run, because it set me up for the next years of my career and being more dedicated to my craft.''
"I'm just appreciative of the opportunity to finally be comfortable. That's the biggest thing. And I'm happy.''
Kyrie Irving: "I'm just appreciative of the opportunity to finally be comfortable." pic.twitter.com/gOWuMjVtvI

— Nicole Yang (@nicolecyang) September 24, 2018
Brad Stevens
On Gordon Hayward: "He's one of 15 that we have to be able to make sure that what we're doing fits with how he best adds value to winning. To his credit, he's a guy that can play a lot of different roles . . . He'll have games this year where he scores the ball at a high level and he'll have games that he doesn't but does other things to add value to winning.''
On how Hayward and Jayson Tatum will complement each other: "It should accentuate it because it fits from a skill standpoint. I think Gordon's ability to play as the primary ballhandler will open up opportunities too. We're not playing in a day and age where we're numbering our guys what position they are. We're going to have all those guys out there at once and hopefully be very versatile.''
[fragment number=3]
[fragment number=4]
[fragment number=5]
Marcus Smart
On the death of his mother: "The last couple months, not days, have been real humbling in a sense. It kind of brings you back to reality. But I have a great supporting cast around me, a great community in Boston and in Dallas.''
"To see those guys [teammates] show up at the service was actually a surprise to me. I didn't think anybody was actually going to show up.''
Marcus Smart said several members of the Celtics organization (Al, Jaylen, Semi, Brad, Wyc, Theis, Terry, and more) attended the memorial services for his mother: "It meant a lot to me and my family."

— Nicole Yang (@nicolecyang) September 24, 2018
On how basketball helps him: "Basketball keeps me calm. That's probably why I go out and you see me dive on the floor or take a charge or throw my body this way and give it everything I have. Because I know and understand that any day could be my last day, and if it was, would I be proud of what I've accomplished in my time here?''
[fragment number=6]
Jayson Tatum
On his offseason: "Just trying to get stronger and working on finishing around the basket and playing through contact, one of the areas I struggled at last season.''
On adding strength: "It's still going to take some time. I don't want to get super big. I'm still pretty young.'' Tatum said he thought he got better finishing through contact as last season progressed.
On Kyrie Irving: "I just love being out there with him. He's a great player and teammate. I still get excited at some of the things he does on the floor. It never ceases to amaze me.''
On the Warriors: "Obviously, they're the defending champs. Everybody respects them. We respect them. We believe in ourselves and the guys that we have in the locker room. It's a long season, but if we start tomorrow, we feel we can compete with anybody in a seven-game series. It's not going to be easy. It's going to be tough. But I believe in our team.''
[fragment number=7]
[fragment number=8]
Jaylen Brown
On summer improvements: "Some of the things people critiqued me on in the past, it'll be interesting to see if they critique me on them this year.''
Jaylen Brown: "In the summer time, for me, I can set my own schedule. I can work out 10 times in a day if I want. Nobody can tell me no. You can't really do that during the season. Our medical staff would have a problem with that." pic.twitter.com/HcMcMuKCoM

— Nicole Yang (@nicolecyang) September 24, 2018
On working out with Tracy McGrady: "Being able to talk to him and him to work me out, it meant the world to me.''
On internal competition: "We're not trying to beat each other up too much. We're trying to beat up whoever else we're going to be competing against.''
On the legal situation of his former college teammate and roommate, Jabari Bird: "I think I'm going to keep that between us. It's a personal type of question, but it's an unfortunate situation. And as we find out more about what's going on, we'll let the team and the Celtics kind of handle it.''
Terry Rozier
On his role: "I know my role coming in is just to make an impact when I step onto that court, whether it's five minutes, 10 minutes, don't matter whether I'm starting or not.''
On Tatum: "He calmed down and now he's coming back this summer he's got that like 'I'm the man' look. He's been killing.''
[fragment number=10]
Daniel Theis
Theis, who missed the rest of the season after undergoing knee surgery on March 11, said he felt fully healthy again for the first time about two weeks ago. "I feel great. My knee is fully recovered.''
[fragment number=11]
Aron Baynes
"In 2014 with the Spurs [NBA title team], everyone set aside their egos and allowed us to be great, and that's one of the common things I see here in Boston.''
[fragment number=12]
Semi Ojeleye
[fragment number=13]
Marcus Morris
On vying for playing time during his contract year: "At the end of the day winning oversees everything. I feel as though the more successful as a team you are the better it'll be for everybody in their careers. To me, we're very fortunate to have a lot of guys that are able to play and be starters for other teams . . . At the end of the day whatever my role is I'm going at it and approaching it with everything I've got.''
"A blind person can see that we've got a lot of talent. Obviously, we all know there's some type of sacrifice we'll have to take.''
On Kyrie Irving: He's at least, in my opinion, top five. He's special . . . We didn't need him to beat Milwaukee; we didn't need him to beat Philly. Add him into that Cleveland series and we're talking about being in the championship.''
[fragment number=14]
Guerschon Yabusele
[fragment number=15]
Photos from the day