Celtics
Like many, Danny Ainge is eager to get things started
"You know you're not going to win them all."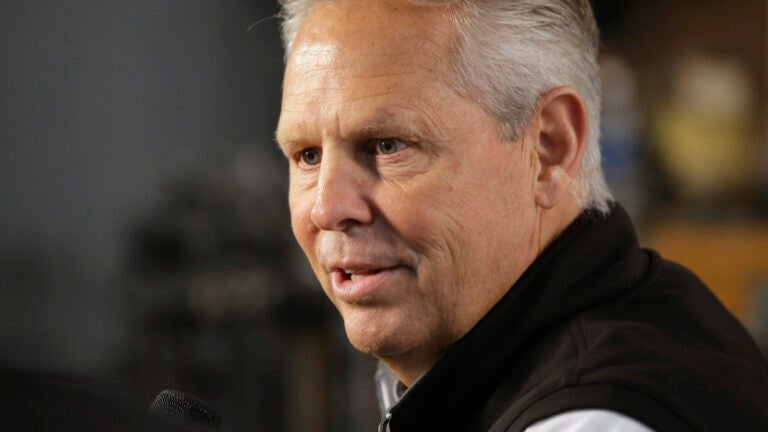 BRIGHTON — "Oh, come on. Don't start that."
Celtics president of basketball operations Danny Ainge did not want to talk Wednesday about the team's looming financial decisions in order to maintain their stacked roster after the upcoming season. Instead, Ainge wanted to talk about the present — and what appears to be the finished product of a team he's been tweaking (and overhauling) since coach Brad Stevens took over in 2013.
"This is the first time that, in Brad's era, where we've had really high expectations as the season starts and this much depth," Ainge said at the Auerbach Center Wednesday evening. "That brings a challenge to coach Stevens, and he's definitely up for the challenge. He'll be great."
The Celtics kicked off training camp Tuesday, and Ainge is right. The expectations are high. With the re-addition of All-Stars Kyrie Irving and Gordon Hayward, the group that advanced to the conference finals last season should, in theory, be primed for a championship run. The anticipation is palpable, with both Irving and Hayward unable to contain their excitement for what's to come.
"In 2014, I was his host in Cleveland when he was a restricted free agent," Irving said of Hayward Tuesday. "To think that we're able to play together now, one year taken away from us, it's just making up for lost time. Man, he's so talented. I'm just a big fan. I was watching his highlights yesterday, so I just can't wait to see Gordon play. I'm so happy for him. I've been waiting to play with a two-guard like Gordon."
Ainge echoed the chorus of players who have said the pair, despite undergoing multiple surgeries for season-ending injuries last season, looks great.
"Just in case you didn't know, those guys are really good," Ainge said. "They're the least of our worries. Obviously, health is always an issue with all of our players, but those guys looked great. They've worked hard in the offseason and their rehab."
Through two days of camp, Ainge said the team has primarily been showing "a lot of skeleton offense and practice defense," which he frankly calls "a little boring." Impatient as a child on Christmas morning, he wants to see the team play and go after it. He, like many, wants to see what a fully healthy squad is capable of achieving.
"Let's scrimmage," he said. "Let's go. We haven't done a lot of that yet, so it's hard to tell. But the attitude and the work ethic is great. Guys are putting in a lot of work."
Though Stevens will reiterate to his team that they can't "skip steps," Ainge's craving to jump right to the good stuff is excusable. After all, the Celtics' final scrimmage Tuesday night ended with a go-ahead three-pointer by Irving. This team has the potential to, as many players have previously articulated, accomplish something special. Ainge knows that, Stevens knows that, the players, the analysts, Klay Thompson, everyone knows that.
"I feel good about our roster," Ainge said. "We have a lot of depth and guys that can fill in. We showed the depth that we had last year, and we think that we're even better this year. I think we have a deep roster, and I think we're ready for anything."
With the increased depth, however, comes what some are dubbing an "embarrassment of riches." How will players who were elevated into starting roles respond to getting relegated to the bench? Point guard Terry Rozier — who didn't start a single contest in his first two seasons in Boston — started every playoff game last season. The chances of the streak continuing this year are slim, but Ainge doesn't believe the adjustment will faze the 24-year-old.
"Terry was really good last year," he said. "Terry's a winner. I expect that Terry's going to have that swagger that he finished the season with, in maybe a lesser role this year to start the season with everybody healthy. I think he'll be dynamic in that role."
Rozier isn't the only player who will experience changes. They likely all will.
"Sometimes you don't get the exact role you want game-by-game, but I think there's enough to go around with this group," Ainge said. "But the players need to make some sacrifice to be a great team. Every good team I've ever been on, there's some that make more sacrifices than others when it comes to minutes and opportunities, so we're no different than any other championship team.
"Young players, they want to get paid, they want to be All-Stars, they want recognition, they want the respect of their peers. Everybody does. That's just the nature of the game. Everybody wants respect in whatever job they're doing. Everybody wants to win. But sometimes people want to win on their terms, so I sense that it's our job and the players' jobs to understand sacrifices have to be made by everybody on the team. Some more than others, and I think they'll get that."
Even with the unique dilemma at hand, Ainge is confident things will pan out OK. His impression is that the players revere one another enough to willingly make the necessary sacrifices. He's not sure if a formal discussion about reduced roles is warranted, but noted he's happy to do so should the situation arise.
"There were times where I thought I was better than Larry Bird, and someone had to talk me off the ledge, so I'll do the same," he said.
As far as the competition, Ainge is by no means expecting a cakewalk, naming the Milwaukee Bucks, Washington Wizards, and Toronto Raptors all as opponents that have given the Celtics trouble in years past — "and there's always a team that surprises you, too," he added.
"The East is very respectable," Ainge said. "I think it's very balanced at the top."
According to Ainge, it's actually more difficult to compete as a favorite as opposed to an underdog. With the Celtics considered the leading contenders to take their conference, he knows people will be gunning for them — and he knows opponents are going to bring the best they have. Ainge said the circumstances don't necessarily create a sense of pressure, calling it a "great feeling."
"You know you're not going to win them all," he said. "At the same time, you have a little bit of room for error, too. You don't have to be perfect in order to win, and that's a much worse feeling — when you can't make any mistakes and still win."
While he didn't want to dive too far into the future, Ainge did acknowledge the buzzing rumors about Irving's upcoming free agency. Like their hopes of a title, the Celtics won't know the result for several months, but, in the meantime, they can do everything in their power to better the chances of the desired outcome.
"I think Kyrie is very, very happy here in Boston, always has been and I think that we'll hopefully make it a place where he'll want to stay much longer when the season ends," Ainge said.