Celtics
Terry Rozier and Celtics will not agree to extension
Boston signed Rajon Rondo to a rookie contract extension in 2009, but they have not done so with any player since then.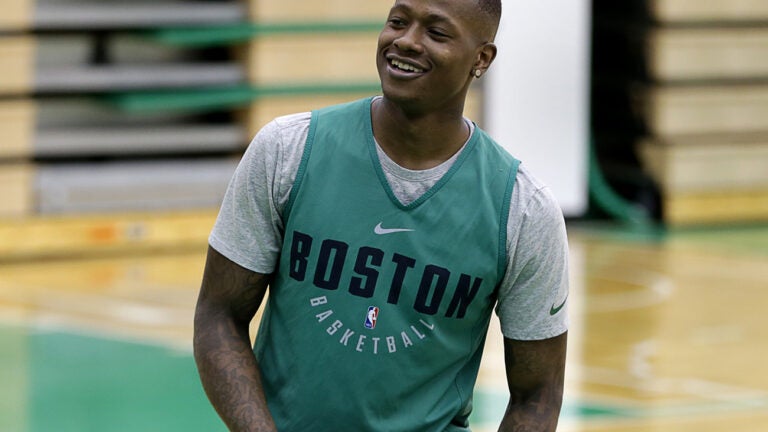 The Celtics and point guard Terry Rozier will not come to an agreement on a contract extension prior to Monday's deadline, two league sources told the Globe. According to one source, Rozier is determined to become a starting point guard in the NBA, and next summer will seek the minutes and money of a starter, perhaps in the $20 million-per-season range.
"There's not going to be any extension,'' the source said. "It's hard to envision a deal that would make sense for both sides.''
It was never likely that Rozier, 24, would sign an extension given his current role as a backup to Kyrie Irving. Last week, Irving publicly declared his intention to re-sign with the Celtics after this season, making Rozier's interest in a long-term extension on a team-friendly deal even more of a long shot. Irving likely will command a five-year, $189 million maximum-salary contract.
Rozier thrived in place of the injured Irving in last season's playoffs, averaging 16.5 points, 5.7 assists, and 5.3 rebounds per game, as Boston reached Game 7 of the Eastern Conference finals. He also averaged a team-high 36.6 minutes per game, up from 25.9 during the regular season. Rozier took advantage of the added exposure and boosted his value.
The Celtics signed Rajon Rondo to a rookie contract extension in 2009, but they have not done so with any player since then. Last year Marcus Smart turned down the team's extension offer and signed a four-year, $52 million contract in July.
Next summer Rozier will likely become a restricted free agent, meaning the Celtics have the right to match any offer sheet. But with Irving and Smart on board, the luxury tax beginning to mushroom, and Rozier's wish to be a starter clear, the situation could become cloudy. Rozier also could accept Boston's $4.3 million qualifying offer next summer and then become an unrestricted free agent in 2020.
If the Celtics sense that Rozier is in line to receive a hefty payday from another team and decide that they would be unwilling to match it, they might also try to trade Rozier prior to February's deadline.
Although the past two years have been less bountiful for free agents than the free-spending summer of 2016, the salary cap is expected to spike by about $8 million next season, and many teams are in line to have a glut of cap space at their disposal.
It will be important for Rozier to maintain a sizable role this season, and coach Brad Stevens has given every indication that he will be an essential piece, even with Irving's return.
"I just have to figure out how to get him as many minutes as possible,'' Stevens said earlier this month. "He's tremendous. And, not only in the way he plays when you guys all see him in the games, but just the way he goes about his everyday business.
"He works as hard as anybody on our roster. It's immediate energy; it's noticeable when he's in the game.''
On Thursday, Celtics president of basketball operations Danny Ainge said during his weekly appearance on 98.5 The Sports Hub that he and Rozier's camp had extension discussions, but a league source said there was never much momentum behind them.
Rozier on Thursday briefly addressed the possibility of signing an extension.
"I'm focused on the team,'' he said. "If it's right for me to sign an extension, I will. If it's not, it still can happen in the summer. So, you never know.
"But like I said, I'm focused on the team. We've got our first game coming up, but we haven't been playing pretty good basketball.''