Celtics
'I won't be the same player': How Gordon Hayward expects to be different post-injury
A new docu-series sheds light on what to expect following Hayward's career-altering injury.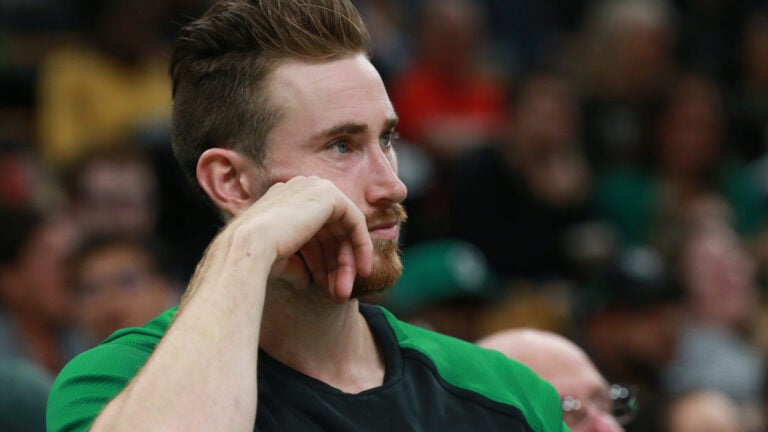 Take two.
Nearly a year to the day that Gordon Hayward's devastating leg injury ended his first season with the Boston Celtics after five minutes, the 28-year-old forward is set to make his return. Once again, the Celtics will play in the NBA season-opener, this time at home against the Philadelphia 76ers. And Hayward is expected to be on the floor Tuesday night for that opening tip.
But will the All-Star forward be the same player the Celtics signed two summers ago? Hayward is the first to admit that won't be the case, for better and worse.
"I lost a year in my prime of my career," Hayward says in "The Return," a docu-series released last week by The Athletic, which produced the project in partnership with The Players' Tribune.
"I mean, it's very frustrating," he said. "It's something I can never get back. But I've gained a lot throughout the year."
The five-part docu-series provides the most in-depth account of Hayward's arduous recovery, including the setbacks and mental challenges he faced during the yearlong process to return from the fractured tibia and dislocated left ankle he suffered last October.
"I won't be the same player," Hayward says during the second episode. "I'll be a different player. I think something of that magnitude changes you as a player. Does that mean that I'm not going to be able to get to the same level or better than I was? Absolutely not."
During the third episode, Hayward says he thinks he may be bigger, since — unable to run for months — he was in the weight room "every single day." After entering the league as a lanky college player, he had already been working to slowly add muscle during his first seven seasons with the Utah Jazz. However, Hayward also noted that he didn't want to bulk up too much.
"Basketball's all about speed and quickness," he said, marveling at the ability of the likes of LeBron James to maintain their speed along with their strength.
Those following Hayward's recovery on social media might already know how much he's also been working on his shooting. Whether from a chair or flat-footed "jumpers," it was one skill that Hayward could still practice, even during the early stages of his recovery process.
During the fifth episode, the career 36.8 percent three-point shooter is seen smoothly draining catch-and-shoot threes off passes from the Celtics trainers, who count his uninterrupted makes. Though they don't show every shot, the count gets up to 68.
"He's obviously worked on his shot," Celtics coach Brad Stevens says later in the episode. "His shot has gotten better."
Hayward himself said as much in a blog post last month on his personal website.
"I feel like I'm shooting the ball really well," he wrote. "I'm still trying to figure out some of the timing and rhythm on pull-up and dribble jumpers. But I do feel a lot better shooting the ball—even better than I did before the injury."
Hayward also says that all the time on the couch has made him better at dissecting game film and identifying his teammates' strengths.
"When you can step back and watch the team, you can see different things maybe I wouldn't necessarily know if I was playing in the game," he said.
Of course, there is a physical toll to the injury. Hayward wrote last month that he was still working on his in-game conditioning and it's been just over a month since he revealed he had returned to five-on-five games in practice. Specifically, he expects his jumping ability to take the longest to return to prior form.
"From what I am told, the last thing to come is that explosion off my left foot," Hayward wrote last month. "Being able to push off that left when I'm going right, when I'm going to the rim off of one foot, being able to just confidently jump off of it and finish at the rim, whether that's a dunk, or a layup, or whatever—that is the last piece. I feel like I can do that off my right, but not necessarily off my left yet. That will come with time and repetition, just like everything else."
During the Celtics' early preseason games, Hayward certainly didn't appear to elevate the way he did in the past. However, his Celtics teammates claim they can't tell a difference. Semi Ojeleye, who practiced one-on-one against Hayward over the summer, said he seems "like the same guy."
"Physically, he's got it back," Ojeleye says in the fifth episode of "The Return."
As if to prove a point, Hayward and his skills trainer Jason Smeather recreated the alley-oop on which he got injured in an empty gym this past summer for his first dunk since the injury.
"That's how the first play last year was supposed to be," Hayward says, after catching and throwing down a two-handed dunk.
Whether the Celtics will still look for him on alley-oops in actual games is something that remains to be seen.