Celtics
Celtics fall at home 93-90 to Orlando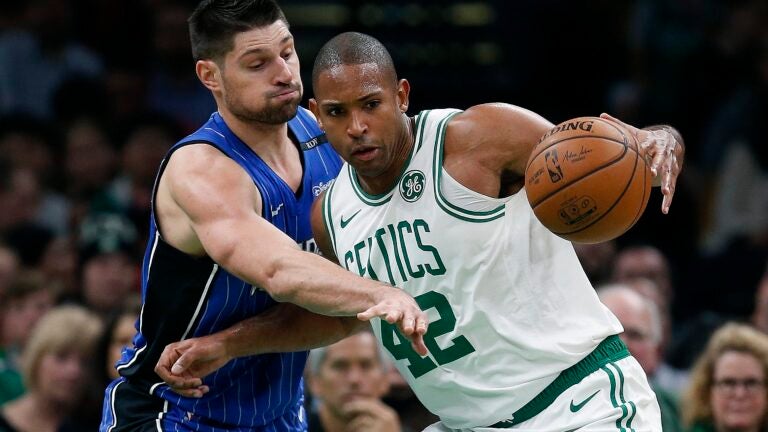 BOSTON (AP) — Nikola Vucevic had 24 points and 12 rebounds while the Orlando Magic survived two 3-point attempts by Boston in the closing seconds to beat the Celtics 93-90 on Monday night.
Jonathan Isaac added 18 points and 12 boards for the Magic (2-2).
Kyrie Irving led the Celtics (2-2) with 22 points. Al Horford had 15 and Gordon Hayward 11. Irving and Hayward each missed a 3 in the final seconds.
The Celtics, who never led in the game, trailed by at least five points from the midway point of the final quarter until Jaylen Brown nailed a 3-pointer from the left corner, closing it to 89-86 with 71 seconds left.
But Isaac answered with a foul-line jumper om the next possession.
Horford and Irving then had consecutive baskets 32 seconds apart, slicing it to 91-90 with 14.2 seconds to play.
With Boston forced to foul Evan Fournier after Orlando inbounded the ball after a timeout, he stepped to the line and made both free throws with 7.8 seconds left.
Irving then missed his 3 from the right corner, and after Horford grabbed the rebound and fed it out — Hayward's rimmed out just before the buzzer sounded.
Orlando had pulled ahead by 13 points twice late in the third quarter before Boston closed the period by scoring 10 of the final 12 points to slice it to 75-70 at the break.
SEATED COURTSIDE
Red Sox star Mookie Betts walked into the arena early in the second quarter and watched from a courtside seat across from Boston's bench. Later in the quarter, the Celtics moved him to a seat right next to their bench.
GETTING STARTED
Robert Williams, the Celtics' first-round pick in this year's NBA draft, made his debut, playing 3 ½ minutes in the third quarter without getting anything on his stat line.
LONG MISSES
Both teams were ice cold from beyond the arc. The Celtics missed 31 of 40 and the Magic 25 of 35.
TIP INS
Magic: C Timofey Mozgov was inactive for the fourth straight game with a sore right knee.
Celtics: C Aaron Baynes missed the game with a strained right hamstring. … Coach Brad Stevens turned 42-years-old on Wednesday. … Marcus Morris started the second half after Hayward picked up three fouls in the first two quarters.
UP NEXT
Magic: Host Portland on Thursday.
Celtics: At Oklahoma City on Thursday. They beat the Thunder in both meetings last season.