Celtics
Paul Pierce explains why he vapes CBD oil
The former Celtics star says the substance has helped him deal with anxiety and depression that have plagued him since his near-fatal stabbing in 2000.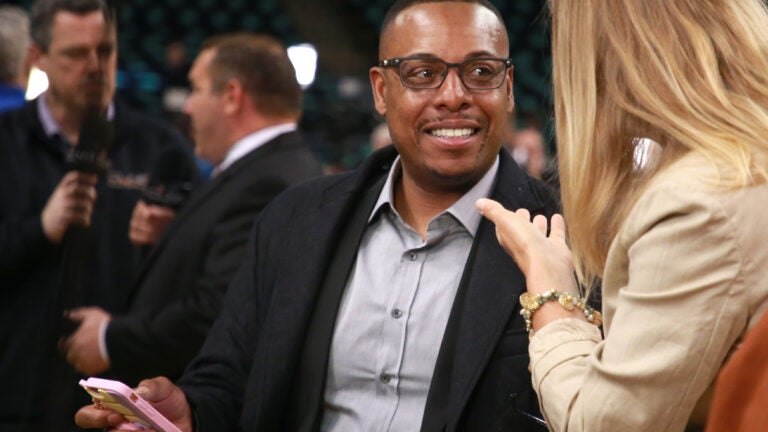 Paul Pierce announced this week that he's launching a new vape pen business. It's a product line with which he has personal experience.
The former Boston Celtics star says he vapes cannabidiol, or CBD, oil to deal with "chronic pain and anxiety" as a retired professional athlete.
"These type of medications should [be] … allowed in sports as an alternative to pain pills and other issues athletes deal with on a day to day basis," Pierce tweeted on Tuesday, announcing his new company, Vape Vesper, of which the 41-year-old is listed as the co-founder and CEO.
Proud to announce the launch of my new company @vapevesper a great way for me to intake my cbd oils for chronic pain and anxiety these type of medications should b in allowed in sports as an alternative to pain pills and other issues athletes deal with on a day to day basis

— Paul Pierce (@paulpierce34) October 23, 2018
CBD is a non-psychoactive substance that is derived from cannabis plants that — unlike tetrahydrocannabinol or THC — won't get you high. As marijuana use has become increasingly legalized and destigmatized both in society and in sports, some athletes have begun to turn to CBD as a pain and stress relief alternative.
Still, Pierce's surprising new business venture apparently elicited a number of questions from fans. The 10-time NBA All-Star went on to explain that his symptoms weren't solely due to on-the-court reasons. Addressing "all the people who ask why I vape cbd" in a tweet Thursday night, he referred back to the 2000 nightclub attack, in which he was stabbed 11 times, and receiving death threats, as well as the anxiety from which he suffers as a result.
To all the people who ask why I vape cbd who on here been stabbed 11 times had to deal with death threats and had to deal with anxiety when in large crowds and depression ? then u will kno

— Paul Pierce (@paulpierce34) October 26, 2018
This past summer, Pierce opened up about how the life-threatening stabbing attack —  as well as a subsequent, mysterious death threat — resulted in crippling post-traumatic stress and paranoia, especially in large crowds. He told ESPN's Jackie MacMullan that, following the incident, he didn't want to leave his home: "I was a mess."
"If I got in a crowded place, I'd start shaking inside," Pierce said, later adding, "My depression was bad — really bad. I never want to feel that way again."
Though marijuana has been legalized in nine states (and Washington, D.C.) for adult, recreational use and in 30 states for medical purposes, use of the substance for any reason remains banned in the NBA, as well as most other major professional sports leagues (except for the NHL).
Last October, during a segment on ESPN's "The Jump," Pierce said he thinks people still have misconceptions about marijuana and pointed out that there are different ways to consume it.
"They have different oils that are used for pain," he said. "They have different pills that are anti-inflammatory. … People look at it as a guy on the street corner smoking marijuana just for fun, but there's medical benefits to this that a lot of people are unaware of, and I think we need to get over it."
Cannabis and CBD products, despite their booming popularity, are also still illegal under federal law. It's also worth noting that while studies have shown that CBD can treat seizures, the evidence that it can effectively relieve anxiety and other ailments is still mostly anecdotal. Researchers say the subject needs to be further studied.