Celtics
Everything you need to know about the Celtics this week
They're now 6-2 in the season.
COMMENTARY
While the Red Sox were off winning the World Series and throwing a parade, the Celtics were getting themselves back on track. The C's polished off their third and fourth wins in a row to move to 6-2 on the young season.
Don't worry if you missed any of it, though; everything you need to know about the week is right here.
Here's who they beat:
Detroit came to Boston for the back half of a home-and-home on Tuesday night. The Celtics beat them pretty thoroughly in Detroit last Saturday, but Detroit bounced back and played the Celtics tough. Kyrie Irving dropped 31, including 13 points in a monster third quarter performance where he matched the entire Pistons team. The Celtics won, 108-105.
The Milwaukee Bucks came to Boston undefeated Thursday night, but they couldn't withstand a record-setting barrage of threes by the Celtics. Their 24 was a team record and one shy of the NBA record. Kyrie was brilliant again, but every starter hit double figures, including Semi Ojeleye, who started in place of an injured Jaylen Brown.
Kyrie Irving did some impressive things.
Like this to Detroit: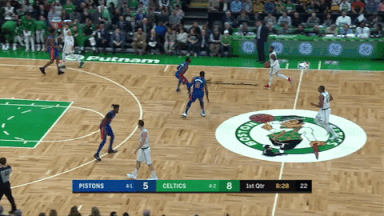 And this to the Bucks: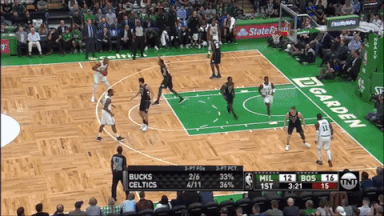 He twice scored nine points in 90 seconds, going off for three-point barrages in each game and demonstrating to the world that he's still a premier scorer.
He also did it while wearing these during the Pistons match:
Irving honored his father, Drederick Irving, an all-time great at Boston University, with a BU-themed Kyrie 4 sneaker.
Here's a fun thing they did.
Man, do I love the little things in basketball. Watch how they sprung Kyrie for a wide-open three: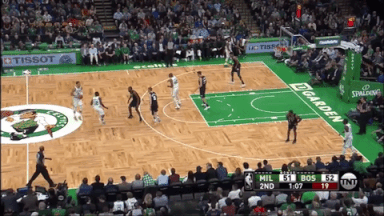 Here's the play in three steps.
1: The fake: Kyrie gives up the ball and starts to walk off to the right, so now Eric "Drew" Bledsoe is thinking "Kyrie gave it up, and Al Horford is signaling to Terry Rozier for a pick, so I have to get ready to tag the roll man (Horford) if he comes down the lane."
Except, it's a clever little misdirection. Horford and Rozier signaling each other for the pick is a nice touch that really sells it. This play was never for Rozier, they just need to make the Bucks think it's a pick and roll for him, which the Bucks, at this point, completely do.
2: The first pick: Milwaukee is 100 percent in their pick and roll defense. Ersan İlyasova has dropped back and Matthew Dellavedova has gone under the screen. Those two guys are now essentially out of the play defensively.
3: The second pick: Horford comes off the first pick and immediately sets a pick on Bledsoe, who has now seen Kyrie streaking out of peripheral vision. It's way too late for him, though. The entire timing of this play is perfect, and before Bledsoe can even react, the ball is on its way to Kyrie.
Minor details make things work. This play is beautiful because it's simple, it's precise, and it takes advantage of the other team's tendencies.
Gordon Hayward and Marcus Morris played well, too.
Gordon Hayward had 18 points against the Bucks, his highest scoring output as a Celtic.
"I think with each game I'm starting to remember kind of who I was and what was going on before I got hurt," he told reporters earlier in the week.
He's making progress with each game, which is fun to watch. We don't know how close he is to returning to his former self, but he's shown some flashes. The most important thing is that he's taking contact more often, which means he's less afraid of mixing it up.
And can we get some love for Marcus Morris? It's early, but if this level of production keeps up, it will be his best season as a pro and he'll definitely be a Sixth Man of the Year candidate. He's currently shooting 51.3 percent from three, an obviously unsustainable-yet-amazing-while-it-lasts kind of number. Almost all relevant offensive metrics are currently at career highs, too. This week, Morris had 15 and 17 points off the bench in the two games on a combined 11-22 shooting, including 7-12 from three.
Now the bad news:
Daniel Theis is out indefinitely with a partial tear in his right plantar fascia. On the positive side, the team had said he'd be in a walking boot for two weeks, but he was walking around sans boot Thursday night. 
Jaylen Brown missed the Bucks game with plantar fasciitis in his right foot as well. He was a late scratch, so it seems like he might be available at some point on the road trip.
And a few odds and ends:
Robert Williams was assigned to the Maine Red Claws. He will make his debut in Portland Friday night.
Boston exercised its team options on Jaylen Brown, Jayson Tatum, and Guerschon Yabusele this week. There were some questions about Yabusele's future in Boston, but Brad Stevens said the Dancing Bear's unique skillset is right for the modern NBA, and so they'll let a 22-year-old with high upside develop. Don't discount the possibility of keeping Yabusele around for the purposes of matching a salary in a trade. Always keep that in the back of your minds when Danny Ainge is involved.
Up next:
The Celtics have a Saturday night game in Indiana that kicks off a five-game road trip that also stops in Denver, Phoenix, Utah, and Portland.
The Utah game will be Gordon Hayward's return. They are still bitter in Salt Lake, so prepare yourself next Friday night because the boos will be loud and sustained.