Celtics
Everything you need to know about the Celtics this week
The shine of a four-game winning streak has been dulled by a pair of losses and a win over a horrible team.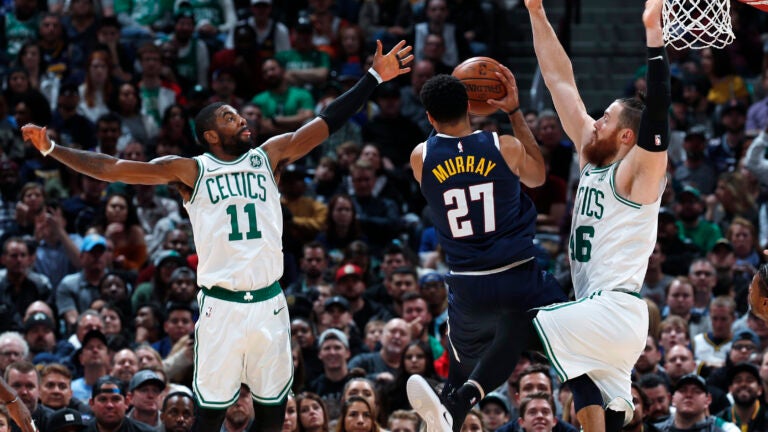 COMMENTARY
The last week has not been especially kind to the Celtics. The shine of a four-game winning streak has been dulled by a pair of losses and a win over a horrible team that required five extra minutes and a super-human performance from Kyrie Irving.
Did you miss some of it? Consider yourself lucky. I endured every last minute of it, so I'll fill you in.
Here's what happened:
The Celtics have spent the whole week on the road. It's a trip that continues tonight in Utah, where it will not be a pleasant experience for Gordon Hayward. About 18,000 Utahns have bought tickets to boo Hayward and watch a basketball game.
That reception will only be slightly less unpleasant than the last-second loss to Indiana and Victor Oladipo. After Kyrie Irving missed a layup that could've put the game essentially out of reach, Oladipo hit a three with three seconds to go to put Indiana up one. He then stole the inbounds pass on an out-of-bounds play to seal Indiana's win.
The Celtics then went to Denver and stormed out to a 34-19 lead. They reverted back to some bad habits, let Jamal Murray get hot, and watched their lead vanish by the second half. The Celtics tried to come back, but Murray dropped 48 points on 19-30 shooting. In the final seconds with the game in hand and the Celtics conceding the loss, Murray tossed up one last three to try to get his 50 points. Kyrie Irving was so upset, he took a $25,000 fine and threw Murray's career-high ball deep into the stands.
Thursday night, the Celtics played perhaps the worst half of basketball in the Brad Stevens era, falling behind 22 points to the terrible Phoenix Suns. They managed a comeback and needed a last-second three from Marcus Morris to send the game into overtime. The Celtics looked like themselves over the final 11 minutes of the fourth quarter and overtime, outscoring the Suns 40-17.
The player of the week:
Kyrie Irving is on fire. He averaged 29.3 points per game on 32 of 57 shooting (56.1 percent), including 14-26 (53.8 percent) from three. He had 39 points in 43 minutes against the Suns, leading the team in points and assists while falling one rebound shy of leading them in all three categories.
The Denver game aside, Irving has been pretty active defensively this season. Here's a key play from Thursday night that set the tone for that big overtime performance.
That's just Kyrie being aware and active and taking advantage of a sloppy play. It's not a crazy Marcus Smart play where he wills himself to a big one — it's just simple active hands and recognition.
The highlight of the week:
It has to be this buzzer-beater from Marcus Morris.
Morris had his first down game of the season against Denver, but he made up for it in Phoenix with that shot as part of a 17-point, eight-rebound, three-assist performance off the bench. He scored those 17 on 7-13 shooting (53.8 percent) and has been a rock for the Celtics off the bench. I came into this season thinking Morris was a prime trade candidate, but now I think he can win Sixth Man of the Year.
The Celtics stole a play from Utah:
The Celtics ran this play against the Denver Nuggets.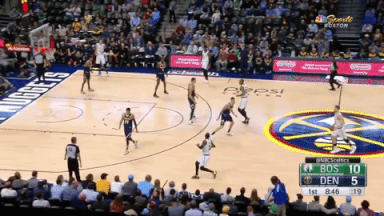 It's basically a complete rip-off of this play the Utah Jazz ran for Hayward.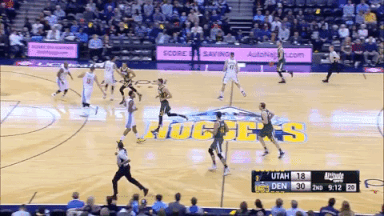 First of all, it's great to see Hayward going for alley oops again. That's a big step forward.
Second, this is a simple play that you can look out for throughout the season. When Hayward is coming up one side of the floor and Horford is on the other, watch for the ball to swing over to the other side through a player at the top of the key. The player who passes it off to Horford (or whoever can make that pass) then goes and fakes like he's going to set a pick for Hayward. At that point, Hayward takes a step like he's going to use the pick and then he cuts hard backdoor for the alley oop.
It's not the biggest bit of deception, but it's enough to get Hayward free. Thanks, Utah, for that pretty cool play.
Jaylen Brown might be getting hot:
Jaylen Brown's second half against the Suns was a great reminder of what kind of player he can be. After a lackluster first half, Brown returned with 17 points, five rebounds, and an assist after halftime. This was his first basket of the second half.
It's not difficult to get Brown going. Boston just has to play defense and get in transition. Brown will have a good game on offense if he can start out with some transition opportunities. If not, he goes hunting for his offense, and that's not ideal.
Brown also had a decent game against Denver with 15 points on seven of 14 shooting. Maybe this is the beginning of him feeling more comfortable. He's probably struggled the most so far as Boston tries to figure out its offense. Getting Brown right would be a big step toward finally finding a cohesive offense.
The offense is still terrible, though.
"We've got so many guys that's so talented and the game comes easy to, sometimes we forget why we started and that process we took to get here. We've gotta play like we're hungry. We can't play like we're sitting on a mountaintop."
That's Jaylen Brown after Thursday night's game with maybe the most damning quote of the early season.
Jaylen Brown: "We've got so many guys that's so talented and the game comes easy to, sometimes we forget why we started and that process we took to get here. We've gotta play like we're hungry. We can't play like we're sitting on a mountaintop."

— Jay King (@ByJayKing) November 9, 2018
It's also not a surprise.
The Celtics are at their best when they run a quick, flowing offense where the ball moves side to side, guys drive and get into the paint, and then either get to the rim or kick out for open threes. Sure, there are times like the first quarter against Phoenix where the open shots don't fall, but that will even out eventually.
If Brown is being honest with that quote, then there are too many guys who spend too much time offensively thinking they can just go off on their own, isolate, and get their own offense. Invariably that leads to long two-point shot attempts, which leads to long rebounds and transition opportunities for the other team.
Jayson Tatum is probably the biggest culprit at the moment. He's shooting 39.3 percent on the season so far, a far cry from the super-efficient 46 percent he shot last season. He shot 11 for 32 (34.3 percent) this past week.
Last season Tatum took 6.7 two-point shots per game, hitting 54.6 percent of them. This season he's 8.6 per game and hitting 41.1 percent. That increase is entirely pull-up jumpers, which he's taking two more of per game. He's also using more dribbles this season. According to NBA.com's second-spectrum tracking stats, he's using 3-6 dribbles for 2.7 two-point field goals per game, up from 1.9 last year. In fact, all of his shots from two use more dribbles.
One final stat: His assisted versus un-assisted shots this season are evenly split, but last season he had twice as many assisted field goals.
Tatum is much more of an isolation player this season. Some of that is him trying to figure out who he is as a player, which is fine, but the shots he's settling for are not. Fixing this Celtics offense has to start with less reliance on long two's. If Tatum is going to go off on his own, he needs to get to the basket a lot more — or else he needs to start passing the ball again.
Up next:
The Utah boo-fest is 9:30 p.m. tonight. The Celtics wrap up their road trip Sunday night in Portland before a three game home stand that features Chicago, Toronto, and the Utah Jazz again.