Celtics
Gordon Hayward says he's willing to do what it takes to help the Celtics win
"I said it before the season, it's whatever to me."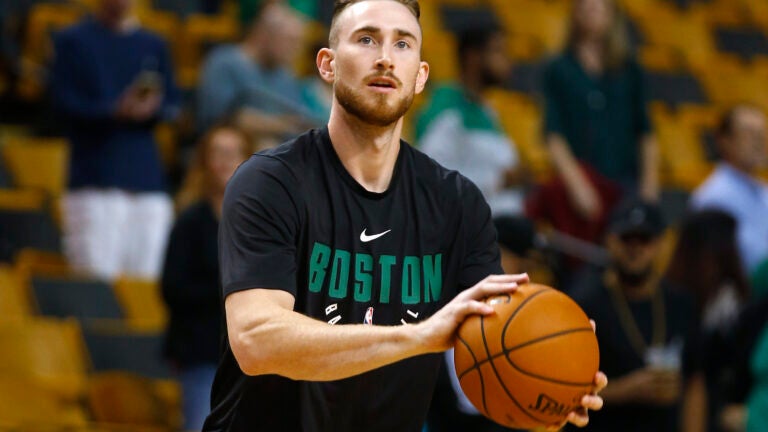 Gordon Hayward's season has been a bumpy ride, as expected for someone just one year removed from suffering a fractured tibia and dislocated ankle. But the Celtics forward is willing to do whatever it takes to help his team reach their potential during his first season back on the court, including a possible change in role.
"For me, I'm happy to be on the court, No. 1 more than anything and, No. 2, whatever I can do to help us win,'' Hayward said per The Boston Globe's Gary Washburn. "I said it before the season, it's whatever to me."
Though he's off to a much slower start than usual— averaging just 9.9 points on 39.6 percent shooting in a dozen games— Hayward is getting back into the swing of the season and believes his team will find their rhythm soon enough.
"We have to figure something out because for whatever reason we're not playing our best basketball right now," Hayward said "There's obviously a little bit of rust and sometimes you just go through those phases. You go through slumps. The shot feels good in practice and looks good and for whatever reason in the game, they're in and out."
The NBA veteran has been capped at 25 minutes per game this season, a cautionary move in the wake of last year's injury. But the minute cap is getting old, and Hayward is ready for it to be lifted so he can be put to good use.
"Sometimes it gets frustrating, but for me, I've played in the league long enough to know you just have to put in the work in practice and shoot with confidence, shoot your way out of it," Hayward said.
Celtics coach Brad Stevens had made it a goal of his prior to the start of the season to use Hayward as a facilitator in offensive situations, something that Hayward now thinks would benefit his struggling team.
"It's something that I'm trying to do is move the ball, get teammates involved, get us some easy looks, especially off pick-and-rolls," Hayward said. "It's something I'm comfortable doing. I'm trying to do whatever I can to help us."