Celtics
Here's what's wrong with the Celtics' offense
The Celtics do have good offense in them, they just have to trust that it will eventually benefit everyone.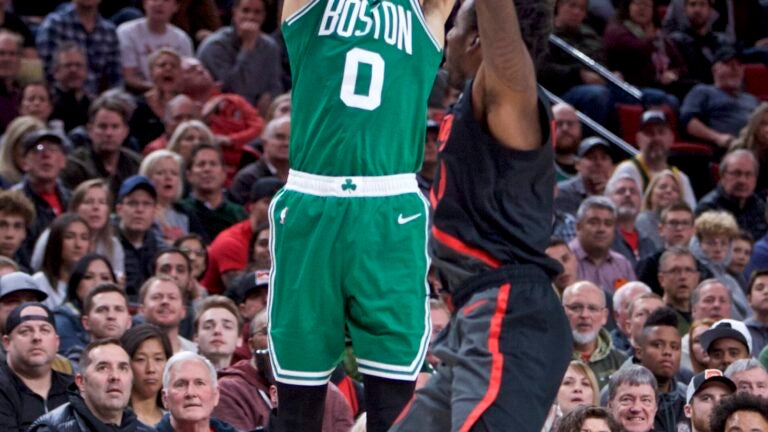 COMMENTARY
The Boston Celtics are a frustrating bunch on offense. In the first few weeks of the season we've watched them devolve into poor isolation play, even after they begin games generating open shots.
The problem for the Celtics right now is they're missing those open shots. According to the NBA's official tracking stats, the Celtics have taken 28.8 open shots (when a defender is four-to-six feet away) per game, which is the most in the NBA. They are shooting 38 percent on those open shots, which is the second worst.
That's bad in a couple of ways. First, obviously, the Celtics are missing open shots. Professional basketball players should hit more than 38 percent of their open shots, especially when said professionals are good enough to have been a consensus pick to make it to the conference finals.
The second issue is more about shot selection and why those shots are open in the first place. The long two-point shot, which is somewhere between 20 feet away and the three-point line, is the least efficient shot in basketball. It's a generally low percentage shot that generates little offense. The Celtics, though, lead the league in shots from that range, taking 19 per game. They are shooting 32.8 percent on those horribly inefficient shots, which is third-worst in the NBA.
It's not that the Celtics offense is broken, per se. It's that the Celtics players tend to give up on the good offense that generates good open shots when they don't fall early in games. Gradually, the Celtics start settling for the bad open shots, and even if a few go in, they never fall at a high enough rate to make them part of a healthy offense. Even the best long-two shooting team, the San Antonio Spurs, make them at a 45.6 percent clip, which is hardly high enough to be worthwhile. Those shots will happen; they just shouldn't happen often.
Here's an example of how bad things look when the Celtics rely too heavily on isolation: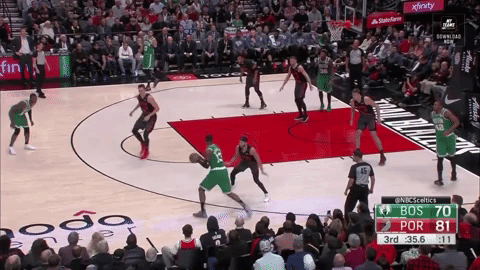 This is a little unfair to Marcus Morris because he's generally been the team's most consistent offensive player, but it's a great indicator of how things tend to go downhill for the Celtics.
The beginning shows where Jayson Tatum, Marcus Smart, and Al Horford are positioned. As Morris tries to cook and score on his own, his only outlet is to Terry Rozier. Rozier tries to beat his own guy but can't, so he gives it back to Morris who tries again, goes nowhere, and travels.
You can see at the end that comparing the beginning and the end of the play shows Tatum, Smart, and Horford didn't move at all. Tatum and Smart could have set picks for one another. Rozier could have set a pick for Tatum to force some defensive movement. The other guys could have done something, anything, to help out.
Too often, the Celtics not only settle for isolation plays, but they also stop helping each other on the court when one of their teammates starts trying to isolate. The one-on-one play is bad enough, but not giving him a bailout option can compound the problem.
The Celtics do have good offense in them. They just have to trust that it will eventually benefit everyone — even if the shots aren't falling early.
The key to Boston getting back on track is being more aggressive and getting paint touches. If you've heard that term before but aren't quite sure what it means or how it helps, here are two great examples from the same game to show what's possible: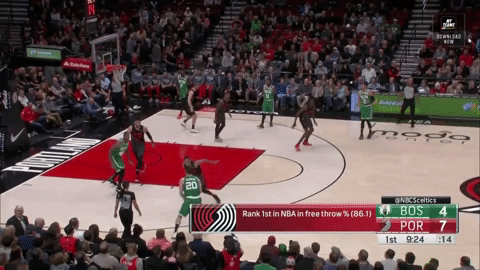 Gordon Hayward gets the ball on the left wing and aggressively attacks. Instead of pulling up for a jumper here, he takes advantage of getting the paint touch to create an open shot.
The closer an offensive player gets to the rim, the greater a defensive reaction he'll draw. The rim must be defended above all else, and every defender near it will almost always react to defend it.
When Hayward drives, he sucks in all five defenders. Every Blazer on the floor is pulled in by the gravity of the paint touch. They are all looking at him and the ball. For a brief second, no other Celtic exists.
Hayward has his choice of open men but recognizes Horford is right next to him with a good clean look at the basket. He really could have picked anyone, which would have caused another reaction.
When you hear a commentator talk about getting the defense into rotation, this is how it begins. If Hayward had kicked it out to Jaylen Brown in the corner, at least one and, usually, more defenders would have reacted. Hayward could have also passed it to Kyrie, drawing more reaction, and so on until the Blazers defense is full of holes and the Celtics could get any shot they want.
Here's another example of the sheer gravity of the paint touch:
Brown catches the ball right at the basket and he draws four defenders. If he had the space, he could have found two open men in the corner and the wing. He got fouled, which is just as good, but he comes out of the scrum recognizing he had Hayward all alone. He lets Hayward know the pass was coming to him if he hadn't gotten hacked.
The foul is OK, though, because the Celtics need to draw more fouls. Today's NBA offense is geared towards getting layups and free throws and then using the paint touches that generate those to kick out to open three-point shooters.
The Celtics know this is the case, but they've been terrible at actually getting those layups and free throws. One issue for them is they've got a lot of players who know they can hit the types of open shots they're getting. They are all too willing to settle for shots they think they can make.
Even if they do eventually make those shots, they'll never make enough to make this offense good. The only way it can get as good as it needs to be is for the ball to move and get into the paint. Paint touches destroy defenses and generate great looks. They can lead to free throws, easy baskets, and open threes. The Celtics will eventually start hitting open shots, but the first step to getting them is trusting that this kind of aggressive offense will be good for everyone. If they start hunting paint touches, we'll start seeing a dramatically improved Celtics offense.