Celtics
Kyrie Irving talks early season challenges with Duke's Mike Krzyzewski
"You guys are still a work in progress, fitting all the pieces in."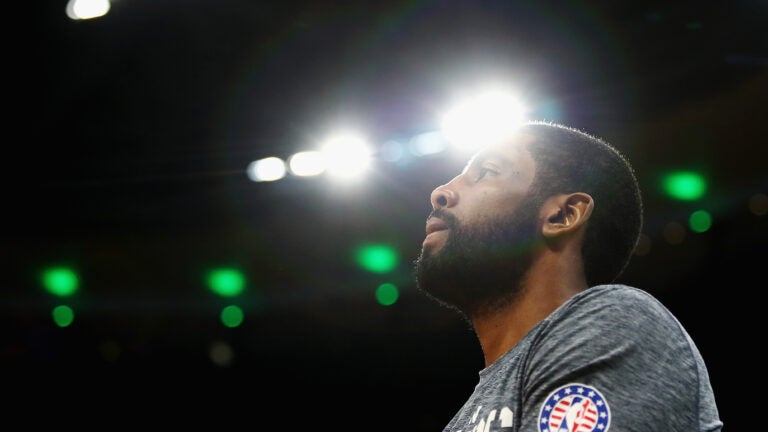 Celtics point guard Kyrie Irving acknowledges the beginning of the NBA season was "a battle" for him.
"I had so many questions," Irving recently told his college coach, Duke's Mike Krzyzewski, on Krzyzewski's weekly SiriusXM show, "Basketball and Beyond with Coach K." "You want to do everything the right way; you want everyone to feel great about the new season [and] the excitement."
Irving said he planned to lead by example on both ends of the floor, although that desire required sacrificing certain elements of his individual game.
"It took a lot of attention away from my offensive repertoire — for me, personally," he said. "I didn't want to dim down how special I am, or how special I can be. I wanted to elevate the guys around me first to see through to make sure that they are comfortable, and then have myself come along."
The juggling act of wanting to "swing the basketball, make everyone better, as well as play on the defensive end at a high level" created an "interesting dynamic," Irving noted. He stressed, however, that an 82-game season should provide ample opportunity for him and his teammates to strike an appropriate balance.
"You just try to find that balance of empowering others while also elevating yourself to be great for the group because me raising my level will only raise the group's level," he said.
Irving also explained how being sidelined with a knee injury last season gave him an "interesting perspective" about acclimating to a new environment. He said he initially was just focused on fitting in and earning the respect of his teammates as well as the organization, but now he is developing a different leadership role.
"Even the word, 'leadership,' is challenging to understand because you never know the type of environment you're going to have to cultivate or the people that you're going to encounter or the relationships that you'll have," Irving said. "There are so many excuses that you can give yourself at a particular time when you're figuring out what type of leader you want to be, whether it be age, the knowledge of what you're doing — it could be all the excuses in the world."
Krzyzewski said he sees Irving and the team, including one of his other former players, Jayson Tatum, working to adjust to different roles.
"You guys are still a work in progress, fitting all the pieces in," he said.
For Irving, the end goal is consistent with one he and his teammates have been iterating since well before training camp: They want to accomplish "something bigger than themselves."
Other topics of conversation include Irving's relationship with his father, Drederick; his creative endeavors, such as his movie, "Uncle Drew"; his relationship with coach Brad Stevens; and his thoughts on the Eastern Conference.
The episode airs Thursday at 6 p.m. on ESPNU Radio on SiriusXM.