Celtics
What's wrong with Jaylen Brown?
Brown may be the player struggling the most this season with the returns of Kyrie Irving and Gordon Hayward.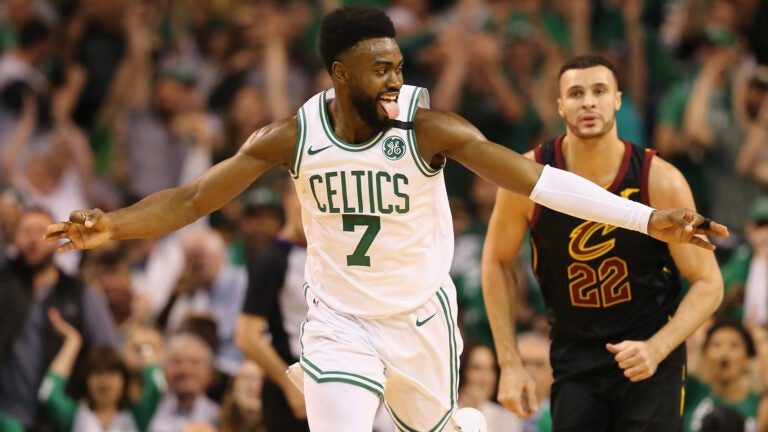 COMMENTARY
For 12 glorious minutes in downtown Atlanta Friday night, the Boston Celtics flexed a potent offense that briefly let us forget how much they've struggled so far. Their 45 first-quarter points against the Hawks reminded us what they could be if all the pieces were to come together. Unfortunately, the Hawks are like a steroid inhaler for a bronchitis patient. A nice dose makes you feel better in the short term, but there's still a long road to actually getting healthy again.
Even later in the game, we saw the same symptoms of the lazy, individual kind of plays that often get the Celtics into trouble.
"We have five-, 10-, 12-minute stretches where we just aren't very good, and then we have other stretches where we look really, really good," Gordon Hayward told reporters after the loss to the New York Knicks on Wednesday night. "We play the right way. We play Celtic Basketball, and we find a way to come back and we find ourselves in the basketball game. Coach has said it a lot about playing the whole game, playing 48 minutes. We have not done that yet."
It's unfair to pin all of Boston's problems on any one player. Hayward looked more explosive in Atlanta than he has in past games, but he has still been struggling in his comeback. The second surgery he had on his ankle over the summer is proving to have been a bigger setback than anyone realized. Al Horford is being used a little differently this year and is struggling to facilitate in the same way he has before, while Terry Rozier has been inconsistent — at best — in his return to the bench.
Jayson Tatum and Jaylen Brown, though, have born the brunt of the blame for the lack of cohesion. Tatum has a bad habit of isolating and settling for long two-point shots, but he's also strung together a decent stretch of games and is, seemingly, starting to focus more on driving rather than settling. Brown has had a few decent games, but he seems to be struggling the most with his adjustment to this year's team.
Trying to figure out why he's struggled so much is difficult detective work. Like any gumshoe, finding the answer is part following the evidence and part following hunches based on un-quantifiable observations.
The first place to start with Brown is in his own head. He has admitted to thinking too much during his struggles, which is a killer for a professional athlete. As I was once told by a coach of mine, thinking is for practices, games are for reacting. Players who think on the floor are distracted, which means they can't be present in each moment and react to what happens next.
Have you ever been driving and thinking about something then realize you've gone a mile or so without remembering it?
That same highway hypnosis effect can happen to an overthinking player on the court. For Brown, part of the problem, I believe, started with the NBA's new "freedom of movement" emphasis that led to so many fouls being called early in the season. Brown is supposed to be one of the Celtics' top defenders, but he struggled with fouls early in the season. He averaged 3.1 fouls per game in October, but just two per game in November.
Unable to defend like he used to, I believe Brown carried the frustration to the offensive end of the floor, where he has been having a generally awful year.
At his best, Jaylen Brown can be a big problem for opponents. He is both a slashing wing who can cut through defenses and finish with authority, as well as an excellent catch-and-shoot threat who can kill teams from the corners.
He hasn't been his best this year, though, and that's a big problem for the Celtics. The hope for Brown this season was to take a step forward as the ultimate fourth option. Instead of making defenses pay for mistakes, he's been swept up in the wave of mediocrity that has washed over nearly everyone on the roster.
The numbers are not kind to Brown right now. The most basic statistics paint a bad picture: He's currently averaging about four points fewer per game than last season, his shooting percentage is about 10 points lower, and his three-point shooting is worse than Marcus Smart's. Digging deeper into the advanced stats doesn't soften the blow.
According to Cleaning The Glass, the Celtics were 8.8 points better per 100 possessions when Brown was on the floor last year. This year, they're 9.8 points worse. In halfcourt possessions, against set defenses, the Celtics were plus-5.6 with Brown on the floor last year, but are a negative-3.6 this year. Even in transition, where Brown is supposed to shine, they were a plus-6.4 last season, but they're a negative-10.9 this year. 
Part of the problem is that Brown has been missing shots. According to NBA.com tracking data, he hit 43.8 percent of wide-open threes (with a defender more than six feet away) last season. This season, he's only making 17.6 percent of those shots. He hit 44 percent of his corner threes last season, but this year is only hitting 26 percent of those shots.
The simplest answer to Brown's struggles is that the law of averages will kick in at some point: He'll get hot from three, and the numbers will stabilize. But that's like waiting for a lightning strike to build a fire. Sure, it could happen eventually, but there are better ways to do it.
First, Brown needs to get better in transition. He's a gazelle, but he has issues finishing through contact. Here's a play we've seen often this season.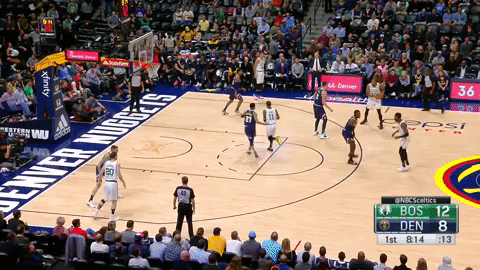 Brown drives baseline, help defense comes over, Brown absorbs contact, but he misses the shot. This play has happened often.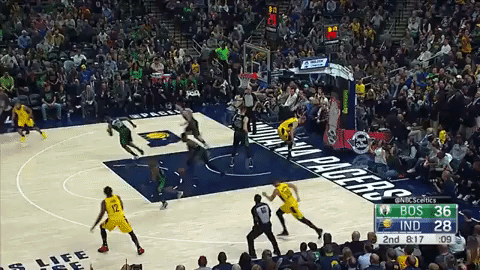 Brown goes at the defense in transition but there is too much traffic and he just can't finish. According to Cleaning the Glass, Brown is shooting 53 percent at the rim this year, down from 58 percent. A significant amount of Brown's turnovers come from plays like this, so the first step in snapping him out of this funk is emphasizing some restraint in these situations.
One-on-three drives in transition aren't good. The percentage of making those shots is low and the odds that the defense will rebound and go on a break of their own are high.
Just getting into the paint here is a win for the Celtics. Brown has drawn the attention of three defenders. If he trusts his teammates to be in the right spots, he can stop, turn, and find someone filling a lane or getting into a good shooting position. Just look at Rozier, who is so wide open. The Celtics had time to miss the shot, rebound it, and kick it out to Rozier for an open look at a three. If Brown can learn to recognize he's drawn this much attention, he can set his teammates up for some easy looks, which raises everyone's confidence and fuels extended runs. Eventually, the threat of Brown's passing will help him get better lanes to the rim because defenders won't be so certain that Brown is trying to bull his way to the rim.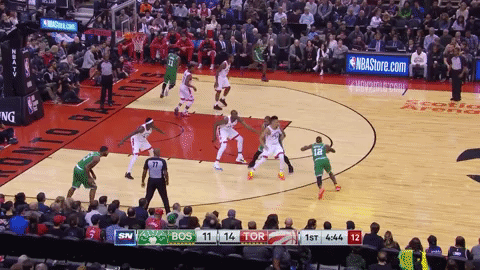 In half-court plays like this, Brown needs to understand that his dribble penetration has done its job after one dribble. Another issue Brown has is the old cliche that his biggest strength can be his biggest weakness. He trusts his athleticism so much that on drives like this against Toronto, he tries to rise up and make a play when passing in that situation is much better for the offense.
He had options: The lob or jump pass to Horford is there, but Marcus Morris, Sr. and Terry Rozier probably have cleaner looks. The next big step in Brown's progression is recognizing the defense around him and finding his teammates. This is a turnover for Brown when it could have been an assist opportunity.
Two things need to happen for Brown to really shine as an offensive player. The first is Brown needs to understand that hunting his own offense is actually holding him back. I can understand this from a player's perspective because it's hard to know when you'll get shot opportunities when the team is full of guys who can score. However, if he and the rest of the Celtics can trust that passing the ball often means getting the ball back eventually, then everyone will get his fair share of opportunities.
The second thing that needs to happen is that Boston needs to run plays to get Brown involved early. Making Brown feel comfortable on the floor early in games raises his confidence level and keeps him engaged on both ends of the floor. There are a couple of ways they can do that. Against Atlanta, they ran one play twice that worked nicely.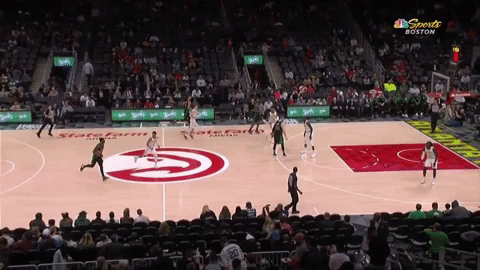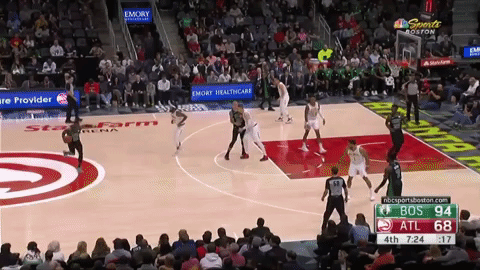 This is a simple misdirection play that clears a lot of space and allows Brown to drive without much threat of help mucking things up around the rim. More emphasis on letting Brown get to the basket early in games can help him stay focused and confident when three-point opportunities present themselves.
Another way to get Brown going at the rim early is running sets that allow him to cut.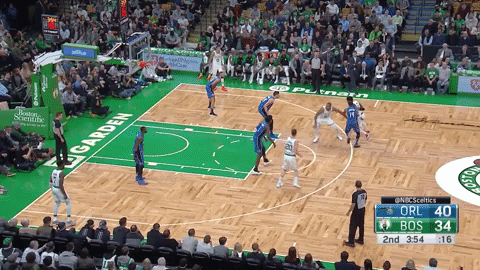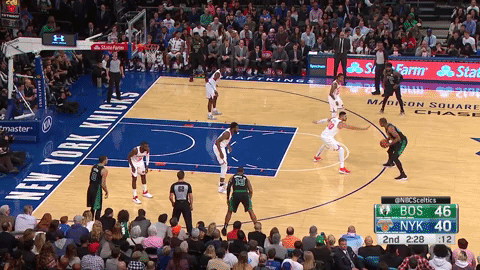 Getting Brown a running start to catch a pass puts him at a great immediate advantage. He only has three shots on cuts this season, making up only 1.5 percent of his overall shots. Last season he cut four percent of the time, which still isn't a lot but it's enough to get him the early baskets he needs to get the rest of his offense flowing.  
Ultimately for Brown, it boils down to being smarter with his shots and recognizing when his attack is a scoring opportunity versus a passing opportunity. It feels like he flinging himself into crowds too often and hoping his athleticism or an official will help him. Neither is right now (he's only taking about two free throws a game this season). If he can be a little more selective, and if Boston can focus on running a couple of early sets for him, then he can start games comfortably knowing that he's a big part of the offense.
His struggles aren't a lack of ability or effort, they're a lack of focus and discipline. Once everyone finds a way to keep him fully engaged, the Celtics will solve one of the myriad of problems they've faced all season.