Celtics
Why the Celtics can't trade for Anthony Davis unless they deal Kyrie Irving
Both Davis and Irving signed their contract extensions under the "Rose Rule."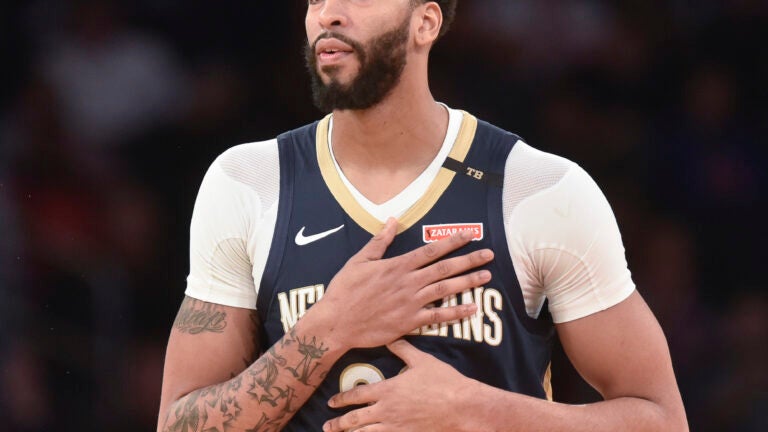 The Celtics may very well be one of the preferred trade destinations for New Orleans Pelicans center Anthony Davis, but president of basketball operations Danny Ainge can't simply strike a deal for the big man before the trade deadline — unless he wants to include point guard Kyrie Irving in the package.
Why?
Both Davis and Irving signed their contract extensions under the "Rose Rule," named after point guard Derrick Rose because he was the first player to sign such an extension. The "Rose Rule" allows certain players coming off their rookie-scale contracts to earn 30 percent of the salary cap as opposed to 25 percent. To be eligible, a player must have achieved one of three accolades during the first four seasons of his career: MVP award, Defensive Player of the Year award, or two All-NBA selections. (When Davis and Irving inked their extensions in 2015 and 2014, respectively, two All-Star starter nods was in place of DPOY.)
NBA teams cannot trade for more than one player who has signed an extension under the "Rose Rule" — a limitation that is only applicable when the players are still on their "Rose Rule" extensions. The Celtics acquired Irving via trade in August 2017, so they cannot deal for Davis — or any other player that has signed such an extension — until Irving leaves or agrees to a new deal. Irving will become an unrestricted free agent at the conclusion of this season and has expressed his intention to re-sign with the Celtics. The earliest he can do so is July 1, 2019.
After Irving's future in Boston is established under a new contract — or after he signs with another team, an outcome that is still possible in spite of his vocalized plan — the Celtics will be unhampered to trade for Davis, who is scheduled to become a free agent in 2021. The only way they could trade for Davis before the February trade deadline this season is to include Irving in the deal.
After being selected first overall in the 2012 NBA Draft, Davis has logged five All-Star seasons in which he averaged a double-double. The 25-year-old is averaging 27.0 points, 12.6 rebounds, and 2.7 blocks this season.