Celtics
A look at each Celtics player and how they're contributing to a bewildering start
The team is a quarter of its way through the season.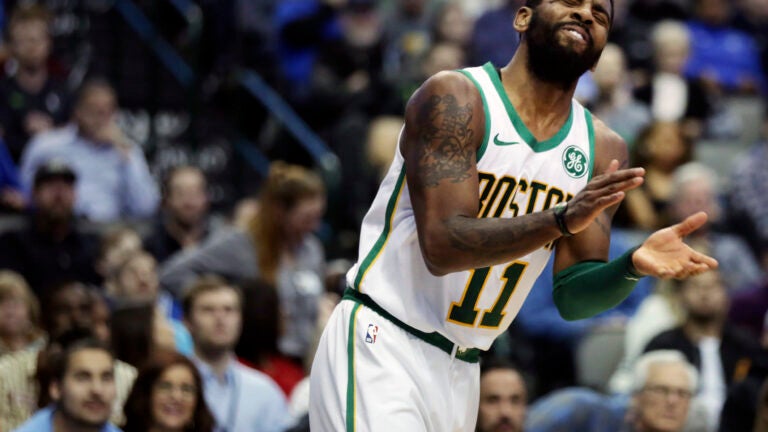 The Celtics enter Monday night's matchup with Anthony Davis and the New Orleans Pelicans with a 10-10 record and a sixth-place standing in the Eastern Conference.
In essence, they have been the Forever .500 Hartford Whalers of the NBA this season, which is not quite what was envisioned when they were proclaimed the preseason favorite to win the at last LeBron-less Eastern Conference.
The biggest issue is a rudimentary one: They have shot the ball terribly, with only Daniel Theis better 50 percent from the field this season. But it is far from the only issue, with the struggle to cohesively meld a collection of talent into a true team being perhaps the most troubling problem.
Here's a look at each player on the roster individually and what their role has been through this bewildering first quarter of the season . . .
Al Horford: Tough start for those habitual Horford heralders among us, of which I am one. His scoring, rebounding, and assist averages are down across the board. It's the last one that surprises me the most, figuring that whenever the Celtics would fall into an offensive rut, the wisest option might be to get the ball to Horford and let him find the right scoring option. He's also shooting just 32.4 percent from 3. Man, this whole team is due to get hot at once, isn't it?
Jayson Tatum: I suppose we should have fathomed some turbulence as a possibility. He was 4 minutes from being the hero against LeBron James and the Cavaliers in a Game 7 of the Eastern Conference Finals as a rookie, and now he's getting fewer rations of the ball with Kyrie Irving and Gordon Hayward back. That must be annoying to some degree. But Tatum has been so disappointing — from his low-percentage, late-career-Kobe Bryant selection of 2-point shots to his lackadaisical defense when his shot isn't falling — that priority No. 1 for Brad Stevens right now has to be figuring out how to get Tatum's game and attitude back to where it was during his beautiful playoff performance.
Gordon Hayward: I understand that he's been a problem in the sense that opposing offenses — especially the vengeful Jazz — targeted him defensively early on. And his shot, though better lately, is wayward (28.6 percent from 3). But how can he be blamed for any of this? He's coming back from one of the ugliest injuries we've ever seen, he's playing with remarkable unselfishness and has truly superb — and surprising — court vision, and he's gradually improving. I have no issue with Hayward, but I do have one with anyone who thought he would be an instant All-Star again after going through what he did. He deserves our patience.
Jaylen Brown: He's still an enigma. Incredibly athletic even by NBA standards, talented, and smart and conscientious, too. It felt like another big leap would come in his third season. But so far, he's been the odd man out in the offense. I'm not sure whether it's because he's regressed or if it's the cause of his regression, but he's shooting just 39.8 percent from the field, 25.3 percent from 3, and 62.2 percent from the line. He's not taking advantage of the opportunities he does have — he's still a poor finisher on contested layups — and the notion that he's having a hard time meshing with Hayward is a reflection on Brown more than anyone else.
Kyrie Irving: One of the big reasons to hope this mess gets resolved soon is so we can stop wondering whether he'll get frustrated enough to reconsider his verbal commitment to stick around even as free agency beckons in the offseason. It's hard to be critical of someone who seems like he can score at will but still plays relatively unselfishly, but at some point we have to look in his direction as one small guard after another roasts the Celtics defense, right?
Aron Baynes: Kind of surprising that he's averaging just 14.4 minutes per game, because his impact seems much greater than that. He needs to finish better around the basket — he's shooting just 40.5 percent overall, and 45.7 percent from 2-point territory — and his pick-and-roll defense has been spotty. But not much is on him. If anything, the Celtics could use a Baynes clone to power-dribble any of those pesky point guards who so easily have been getting into the lane.
Marcus Smart: Love his passion and unrelenting intensity. I'm glad he stayed as a free agent. When he calls out teammates for a lack of effort — which he has done more than once lately — he's speaking from the position of someone who leaves it all out there. That said, if I were one of those teammates at whom he is aiming his ire, my response might be, "Yeah, and you shouldn't be jacking up over three 3s per game with that rock of a shot.''
Marcus Morris: Entering the season, I thought he might be one of those guys who would get caught in the minutes crunch and not handle it well. Instead, he's been as reliable as anyone, averaging 13.2 points per game while shooting 48.2 percent from the field (second only to Theis among Celtics) and a team-best 43.2 percent from 3.
Terry Rozier: I don't know, maybe they should trade him, though the way things are going, Irving's knee would start barking the moment Rozier was sent to a new destination. He's salvageable, of course, but it's pretty obvious free agency is on his mind and he's trying to score a game's worth of points in every six-minute stretch of action. It doesn't help that he's shooting an atrocious 36.7 percent from 2-point range.
Semi Ojeleye: He's not exactly a Giannis Stopper, but he's definitely a Giannis Agitator, and that's a valuable role to play. Sometimes I think he should play more because of his toughness . . . and then he shoots. And shoots again. He's at 23.5 percent from 3-point range, and he looks like a 23.5 percent 3-point shooter.
Daniel Theis: His 3-point shooting is up (he's hitting 42.9 percent compared to 31.0 as a rookie), his free-throw shooting is bizarrely down (42.9 percent compared to 75.3 last year), but otherwise he's the same 11-to-15-minutes-per-game energy boost he was last year as perhaps the team's most pleasant surprise.
Gerschon Yabusele: His court awareness and poise have improved this season — he's a downright clever passer — but right now the ceiling remains garbage-time All-Star unless he ends up with a team with more minutes to share.
Robert Williams: Horford is second on the Celtics in blocks per 36 minutes at 2.0. First? Oh, you knew this: The rookie Williams, at a remarkable 6.3. Sure, he's played just 23 minutes, and he won't be a real factor this year, but I don't see how his impression has been anything but a cause for optimism. Especially after he started showing up on time.
Brad Wanamaker: The Euroleague veteran has played just 31 minutes, so it's tough to draw any conclusions on what his NBA future might be. But the Celtics do miss Shane Larkin's ability to come in and play well when called upon.