Bruins
A look at the best stories told at 'The Tradition'
Paul Pierce, Deion Branch, Jim Lonborg, Don Cherry, Julie Foudy, and Richard Petty were all honored.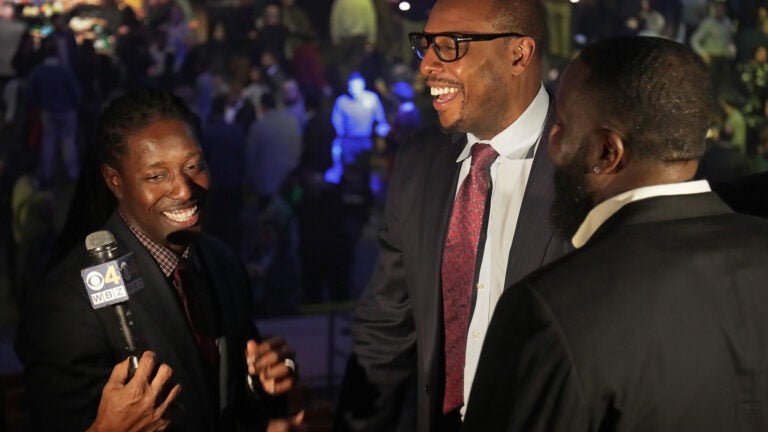 "You're giving them everything!" cried a laughing Paul Pierce in a feeble attempt to dissuade his former Celtics teammate Kendrick Perkins from continuing his story.
After being honored with the lifetime achievement award for The Sports Museum's 17th running of "The Tradition" Wednesday night at TD Garden, Pierce couldn't stop his presenter, Perkins, from dishing on the seven-plus seasons they shared together in Boston. The bearded big man was in the midst of his third vignette — one that took place outside of a club in New York City — of the evening.
Coming off a victory over the Knicks at Madison Square Garden in 2008, Pierce hit up Perkins with an invitation to go out in the city. Upon arriving at a club, however, they were turned down because the duo didn't have enough cash. The bouncer wouldn't accept their credit cards and told them he had also turned away six-time NBA champion Michael Jordan.
According to Perkins, Pierce "went crazy" and yelled, "Michael Jordan ain't getting my type of money right now!" Perkins said his initial reaction was to walk his friend back — "Hold on P, we're talking about Michael Jordan right now" — but he soon abandoned that thought —  "OK, whatever you say. I'm ballin' with you. Michael Jordan not getting your money."
He never revealed whether the pair actually got into the club, but the story was met with laughter from the crowd and, of course, Pierce himself.
"I'm just saying, this is my dog," Perkins said. "This is my brother."
The tale was just one of many Perkins, Pierce, and the other honorees and presenters shared with the 1,400 attendees in the crowd as well as event co-hosts Tom Caron and Jackie MacMullan.
Here's a look at the some of the stories from each honoree and presenter:
Pierce, presented by Perkins.
Perkins said the veterans didn't really talk to him at the start of his rookie year. Things changed, however, after an open run in which he was elbowing, yelling, and dunking on center Tony Battie.
"Battie was like, 'Throw another elbow,'" Perkins recalled. "I was like, 'If I throw another one, what are you gonna do?' And Paul was like, 'Oh yeah, that's who I'm rolling with right there. I'm rolling with him.' We gelled ever since."
But just because Pierce welcomed Perkins, the open arms didn't necessarily always extend to other rookies. The rules were made clear when Marcus Banks accompanied Perkins to dinner one time.
"[Paul] texted me, 'Hey, if I invite you, that means only you come,'" Perkins recalled. "I was like, 'My bad, P. My fault.' I used to roll with him, but whatever Paul said, I rolled with.'"
• • •
Against the Philadelphia 76ers one night, Pierce was "on fire" after drilling three consecutive baskets. Even though he was double-teamed as he dribbled the ball down the court the fourth time, he still hoisted a shot. It missed.
"Perk is like, 'I'm wide open. I'm wide open,'" a smiling Pierce said. "You can go back and YouTube this. It's clear as day. He's clear as day wide open under the [basket.] So I look at him and I just shoot it. We come to the timeout, and he's like, 'P, I'm wide-open.' I'm like, 'Shut up and get the rebound. I'm shooting it every time.'"
Football legacy award: Super Bowl XXXIX MVP Deion Branch, presented by former teammate Troy Brown.
Before Deion Branch could even take his seat on stage, the former Patriots wide receiver turned to the crowd and made an observation: The setup of the event — with the center-court video board on full display for guests seated in a sectioned-off part of the Garden — reminded him of the film room at Gillette Stadium.
"I just want to say real quick, 'This looks like the meeting room, Troy,'" Branch said. "When Coach [Bill] Belichick would be motherf****** us. This is exactly what it looks like."
"With all the lowlights, everything you screwed up in the game," added Brown.
Branch said his first memorable film session came after a 21-14 loss to the San Diego Chargers during Week 4 of his rookie season. He had just posted his best game as a Patriot, hauling in 13 receptions on 15 targets for 128 yards, but the performance didn't exempt him from criticism.
"We got back to Foxborough," Branch said. "On Monday morning, watching film, Bill's just like, 'What the f***? You motherf******.'"
"[He] would be somewhere in the back of the meeting room," Branch continued. "You can't see him, but you can hear him. We're all looking this way, like you all are, at the screen."
As the group reviewed the routes for the wide receivers, Brown said one of Belichick's tactics would be to call on a player from a different position group and probe them about various directives.
"Bill would go into that mode of calling on [linebacker] Willie McGinest or somebody who didn't play receiver, obviously," Brown said. "He's like, 'Willie, if I put you at X receiver and I say run X slant, what would you run?' 'I'd run a slant, coach,' [Willie responded]."
"'No s***," Brown said, speaking with a slight falsetto while offering his best Belichick impression. "God, Deion. What the hell are you doing? X slant! It can't be that hard. It can't be that hard.'"
• • •
Leading up to the 2002 NFL Draft, Branch said his wife, Shola, bought him a St. Louis Rams jersey because the team had told him, "We're going to take you. Period."
But the Rams, who had the 64th overall pick, elected to pass on the Louisville prospect, allowing him to drop to the Patriots, who had the 65th overall pick. Branch was OK with the decision because he was eager to play with Brown — a player Louisville's recruiting coordinator had used as an NFL comparison for him. 
"From Day 1 I stepped in the building, I was a sponge," Branch said. "I did everything this guy told me. I didn't care if it was wrong. I did it. I would say, 'Troy said this,' and they would let it be, 'Oh, Troy said it? Yeah, you're good.' I was so excited about being a part of the organization and playing with Troy."
• • •
During Branch's first-ever game as a Patriot, he had a crackback block against former Pittsburgh Steelers safety Lethon Flowers, allowing fellow receiver Donald Hayes to reach the end zone. Flowers wasn't happy about the hit, but he thought Brown was the one responsible.  
"He went on to threaten my family and said he was going to kill me and everything else," Brown recalled. "I knew it wasn't me at that point."
So Brown sold out his friend, "That was Deion."
"I looked at Troy, like, 'You said what?'" said Branch, laughing. "I'm like, bro."
Baseball legacy award: Former Red Sox pitcher Jim Lonborg presented by former teammate Jim Kaat.
When Jim Lonborg and Jim Kaat were teammates on the Philadelphia Phillies, Kaat said the team would refer to Lonborg and his wife, Rosemary, as actor Robert Wagner and actress Elizabeth Taylor because of their good looks.
• • •
Before Game 7 of the 1967 World Series, Lonborg said he wrote "$10,000" in his glove.
"That's what we would get if we won the World Series," he said. "Every time I looked down at my glove, I would say, '$10,000, $10,000, you can do this.' I wrote the same thing on the chalkboard."
Lonborg took the loss in Game 7, won 7-2 by the St. Louis Cardinals. The full share on Boston's 2018 World Series title topped $416,000.
Hockey legacy award: Former Bruins coach Don Cherry, presented by his former player, right winger Terry O'Reilly.
In November 1975, the Bruins' general manager at the time, Harry Sinden, summoned his coach Don Cherry and demanded that he go find center Phil Esposito. Sinden had struck a deal with the New York Rangers, trading Esposito away from Boston where he had won two Stanley Cups. Because press had caught wind of the move, Sinden asked Cherry to go talk to Esposito before he heard the news.
The Bruins were on the road in Vancouver, so Cherry fetched defenseman Bobby Orr from his hotel room to join him.
"Phil had always thought I thought more of Bobby Orr than I did him — I mean, who wouldn't?" Cherry recalled. "He always thought I loved Bobby more than him."
The pair arrived at Esposito's room and informed him he's been traded.
"He starts to cry," Cherry recalled. "He said, 'If you're telling me I have been traded to the New York Rangers, I'm jumping out of that window.' I said, 'Bobby, get away from that window.'"
• • •
On a road trip to face the Colorado Rockies (now known as the New Jersey Devils), Cherry called a press conference the night before the game.
"Colorado had the worst team in the league, so it was kind of like a night off," former Bruins right-winger Terry O'Reilly recalled. "Good restaurants, go to the game, and get two points."
"[But coach Cherry] says to the reporters, 'I'm going to have my guys skate with one skate each tomorrow to make it more even,'" O'Reilly remembered. "So Colorado comes out, they have it on their dressing room wall underlined in red, and they came out like Tigers. It was a dog fight for those two points."
Boston still managed to win the game, and O'Reilly said the ruse prepared their for the next stretch of tough opponents, too.
Soccer legacy award: Two-time FIFA Women's World Cup champion Julie Foudy, presented by former teammate Kristine Lilly.
En route to their 1999 World Cup title, the members of the United State women's national team each had their own pregame rituals.
"I was pretty chill with my walkman on," midfielder Kristine Lilly recalled. "[Julie Foudy] would always get in people's faces and say, 'Do your best worst.'"
According to Lilly, what she meant by that was to "do your best but your worst dance move." Foudy offered a snippet, briefly grooving out in her seat on the stage.
• • •
Foudy says the 1999 squad called themselves "communists" because of their dedication and commitment to collective goals over individual ones.
"We were kind of socialistic in the way that we wanted what was good for the group, in terms of negotiating contracts, in terms of anything," she said. "It was always 'we' is greater than 'me.'"
Motorsports legacy award: Seven-time NASCAR Championship winner Richard Petty, presented by NASCAR journalist Dick Berggren.
After every race, Richard Petty would sign autographs and pose for photos. His reasoning was simple. Because NASCAR didn't have outside sponsorships and wasn't broadcasted, a portion of the ticket cost would go directly to Petty.
"When somebody would come up for an autograph, that meant they bought a ticket, and when the race was over, I was going to get part of that money," Petty explained. "Without the fans, then Richard Petty probably has to go to work for a living and wouldn't get to have fun driving a race car."
• • •
In 1950, Petty appeared to have notched his first victory in the series now known as the Sprint Cup. After circling the one-mile track at Lakewood Speedway 50 times, Petty — who had raced in a '57 Oldsmobile — was declared the winner.
"We were there on the track when they said, 'Somebody's protesting the win,'" Petty recalled. "I said, 'What happened?' They said, 'Your dad's protesting it. He said he won the race.'"
Sure enough, upon checking their cars, the result was overturned and Petty's father, Lee Petty, was ruled the winner.