Celtics
Celtics notebook: Jaylen Brown embraces role in return to the court
"He just played the right way," Brad Stevens said.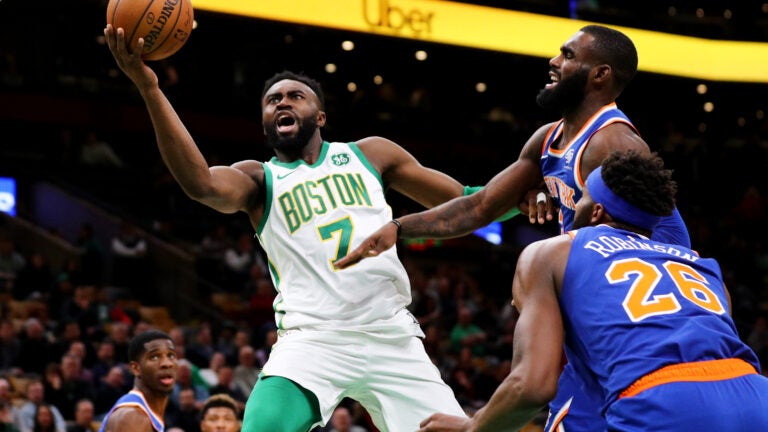 For Celtics forward Jaylen Brown, coming off the bench is no different than starting or walking straight out of the stands.
"Basketball is basketball," Brown said after Boston's 128-100 win over the New York Knicks Thursday night. "It's all basketball."
If something felt different for Brown, who was experiencing his first regular-season game as a reserve since his rookie year, the 22-year-old sure didn't show it. Brown racked up a season-high 21 points on 7-for-10 shooting, while adding three rebounds and two assists. He finished as a plus-16 on the floor.
"I thought he was really good," coach Brad Stevens said. "I thought he played with great pace and purpose and made really good decisions. I didn't think anything was forced. Sometimes when you come off the bench, that's one of the things you do: try to catch up to the game quickly. He just played the right way."
Brown's objective for the night was simple: "Be aggressive."
And he certainly held up that end of the bargain. Not only did Brown score all of his points in the paint or at the free-throw line, but he also attempted a season-high nine foul shots. Stevens has noted multiple times he's not concerned with the frequency at which the team shoots free throws — if he were, he wouldn't be pleased; the Celtics rank 28th in the league — but driving the ball seems to be a more effective way for Brown to generate offense, especially given his struggles behind the arc (25.3 shooting percentage) this season.
Jaylen Brown throws it over his head and through the hoop for the and-one bucket in tonight's @JetBlue Play of the Game! pic.twitter.com/gkDJk8rYzx

— Boston Celtics (@celtics) December 7, 2018
Typically a member of Boston's starting five, Brown has been bumped indefinitely from the first unit after suffering a scary fall against the Dallas Mavericks almost two weeks ago. Before returning Thursday, he missed three games with a lower back bruise and back spasms. Brown said his back "held up pretty good" in his 25 minutes against the Knicks.
"It feels better when you get a win, I'll tell you that," he said.
In spite of the — what Stevens has warned to be never-ending — tweaks to the rotation, the Celtics' offense has continued to mold its identity, eclipsing 115 points for the fourth straight game. During that span, the team has matched its longest win streak of the season (4) while boasting the league's best offensive rating (124.5) and net rating (20.7).
Brown repeated he's in favor of doing whatever is best for the collective, even if that means sacrificing parts of his individual game. 
"We just got to win games," he said. "Whatever it takes. We just got to continue to win games."
No fun November?
The rocky start to the Celtics' season was, unsurprisingly, not enjoyable, Kyrie Irving admitted to reporters.
"I think the important thing to take away from our struggles early on is how much fun we weren't having," he said. "It just wasn't fun. It wasn't good basketball. We weren't cheering for one another and we weren't doing the little things."
"I know certain guys would probably be fearful to talk about it," he continued. "But it goes on in every NBA locker room where guys have egos or guys have a way that they think [is] the best way of winning."
Irving said the group is "having a lot more fun" now, as it begins to find its groove. He attributed the change to being able to put personal interests aside and placing more emphasis on how the team is playing rather than who is playing.
"It's like, OK, who is going to give that effort every single time down? Who's going to demand it from one another and hold each other accountable?" he said. "You go from there, [and] then you start building some great championship habits."
Though the team is riding a wave of success, Irving didn't get too far ahead of himself, reminding reporters that it's "still a long season" regardless of whether the Celtics are winning or losing. When the team is winning, however, he reiterated the players should "have fun kicking people's ass."
"We should," he said, with a smile. "We really should. Competition itself should bring the best out of you."
Injury updates
Celtics center Aron Baynes exited Thursday's Celtics-Knicks game with a left ankle sprain and did not return.

With Boston up 30-25 and just under two minutes remaining in the first quarter, Baynes immediately hopped up in pain after landing awkwardly on his left ankle. He sat down in front of the basket stanchion for a brief moment, before getting up and limping to the locker room.
Stevens didn't have an update on Baynes after the game, but he expects the big man to be raring to go — no matter the severity of the injury.

"In typical Baynes fashion, he said he'll do 3-on-3 drills [Friday] after he does full-court sprints and runs a marathon, and then he'll get ready for the flight, then he'll play on Saturday," Stevens said. "But I don't know if our doctors agree with that, so we'll see. Baynes thinks he can play through anything."
Irving also got banged up against the Knicks. The 26-year-old motioned for a sub with three and a half minutes remaining in the fourth quarter because his shoulder was bothering him.

"It was just a weird play at the end of the game," he said. "I don't know. I got caught up and then as I was trying to get the ball out and pass it to Marcus [Morris] for a three, it just caught me weird on my shoulder. Probably an AC joint or something like that. I'm not diagnosing myself."

Irving said he met with the team doctors after the game and expects to be "all right."

"He didn't seem too concerned about it," added Stevens.
Up next for the Celtics are the Chicago Bulls Saturday night at the United Center. Baynes logged two minutes off the bench Thursday. He is averaging 5.8 points and 4.7 rebounds in 15.2 minutes this season.