Celtics
How the early-season chaos in the NBA could affect the Celtics in the draft
The butterfly effect here could ultimately mean Boston's treasure chest of draft picks is more like an arcade claw machine.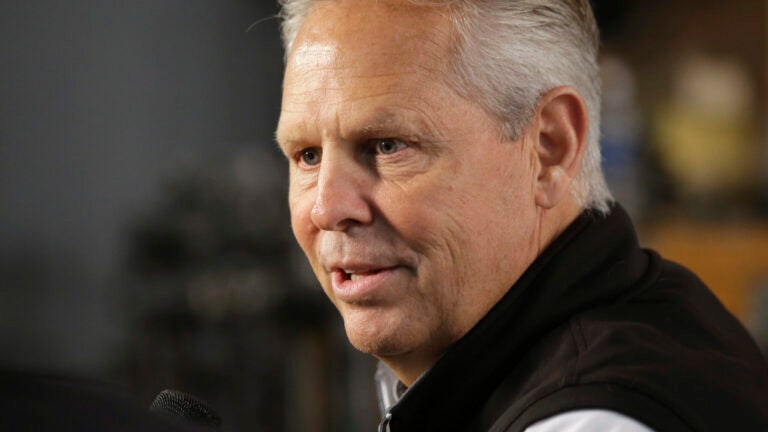 COMMENTARY
Danny Ainge has cost the Celtics a lot of money, because scouting all the potential players the Celtics might draft must be getting expensive.
Ainge's moves could give the Celtics up to four first-round picks in the upcoming draft, and they could span the entire night from top to bottom. Because those picks belong to other teams, how those teams finish determines Boston's future. Here's a look at where they, and Boston's potential picks, stand.
Sacramento Kings
Swapping places with the Philadelphia 76ers in the 2017 draft has already risen to one of Ainge's all-time fleecings. Jayson Tatum is already very good with years to go before he truly harnesses his full powers. His early struggles have given way to the more efficient and effective play we've gotten used to in his young career.
Meanwhile, Markelle Fultz has been a disaster in Philadelphia. An attempt to remake his jump shot took a disastrous turn with a shoulder injury that not only cost him most of last season, it's morphed into a nerve condition that is costing him significant time this season. Since drafting him, the Sixers have overhauled their front office and traded for Jimmy Butler, leaving many to openly wonder if Fultz is even part of Philly's future at all.
That alone makes this a lopsided trade, but Boston also got Sacramento's first-round pick from Philadelphia for the right to pick Tatum. The Sixers owned the pick thanks to a 2015 trade with the Kings, and they can keep the pick if Sacramento wins the lottery (Boston would get Philadelphia's pick instead), but it comes to Boston if it falls anywhere else.
The Kings were supposed to be bad enough this season that this protection would be a bit of a concern. This year's draft odds were also changed, giving the three worst teams in the league equal chances at the top pick. Sixers fans were hopeful they could get lucky and hang onto the pick, while Celtics fans were feeling good about adding another potential star to a young core already dripping with talent.
Sacramento, however, isn't cooperating with Boston's best-case scenario. The Kings are currently 13-11, smack in the middle of the NBA pack and occupying the eighth seed in the West as of Saturday afternoon.
Buddy Hield is making people rethink who actually won the DeMarcus Cousins trade with New Orleans. He's teamed with backcourt mate De'Aaron Fox to fuel an exciting young core. Marvin Bagley, despite a back injury, is off to a good enough start to justify the Kings' decision to go big in the last draft. The Kings are still prone to the lapses of all young teams, but they're also fun to watch and are turning that energy into wins. Even if their Kings-ness kicks in to drag them down, they've given themselves a big enough lead over the worst of the worst that they probably won't threaten to crash the Zion Williamson party.
Sacramento will still probably be a lottery team, but the daydreams of a top-five pick are fading. At this point, the best the Celtics can hope for is a market correction with their young talent and a drop that keeps that pick somewhere in the single digits. Right now that pick is floating between 10 and 15, seemingly dashing dreams of adding another Duke phenom alongside Kyrie Irving and Tatum.
Memphis Grizzlies
Eleven months ago, I wrote about how the Grizzlies pick could materialize into a pretty good selection for Boston. Like the Kings, they're not exactly playing along.
Grit n' grind is back in a big way for Memphis. They are a top-five defensive team that is last in pace and near the bottom in offensive rating. They are slow. They are methodical. They are the Grizzlies.
Memphis has its two core stars, Mike Conley and Marc Gasol, back and healthy for the start of the season. That's translated to a 15-9 record, which is just 1.5 games out of the top seed. Rookie Jaren Jackson is the real deal, and may end up one of this drafts best long-term players. As long as they have all that, they are going to be good.
With things flowing for the Grizzlies right now, their top-eight protection on this pick doesn't seem to be much of an issue. If they stay healthy, the Grizzlies will probably be a playoff team, which pushes this pick out of the top 15.
Of course, that's a big "if." Conley has missed significant time in two of the past three seasons. Gasol always seems to be gritting his way through something, and at almost 34-years-old he's approaching some natural decline for a big.
They're healthy for now, and if they can stay that way then Boston will probably have two picks very close to each other.
Los Angeles Clippers
Or maybe it will be three picks?
The Clippers join the "better than we thought" parade with the best record of the three teams. They're 16-8 and just a half game out of first at this moment.
There's an old axiom in the NBA that winning at home and splitting road games will lead to a pretty good record. The Clippers are proving that to be true. They are one of two teams with just one home loss (Philadelphia is the other), but they're .500 on the road. Right now that equals the fifth-best record in the league. They have also faced one of the league's toughest strength of schedules so far, which means some lesser competition is around the corner.
The Clips are borrowing from the Memphis playbook a bit by playing tough, grinding games. Unlike Memphis, though, they're also putting up a ton of points and playing with a decent pace. Tobias Harris seems to be the right kind of star for them. Danilo Gallinari is staying healthy, at least for now. Lou Williams is still a professional scorer. Mix in fantastic rookie Shai Gilgeous-Alexander, and maybe the league's coolest darling Montrezl Harrell, and there is a strong recipe for grinding out a lot of regular-season wins.
Of course, things could start to crash if Gallinari gets hurt again. Gilgeous-Alexander could hit a wall and Harrell could cool off, but those are more theoretical at the moment. There is plenty of time for things to regress in Los Angeles, but they're off to such a hot start that they could hold onto that playoff spot and send Boston a mid-to-late first-round pick.
This is the one pick that's least likely to convey. The Western Conference is so tightly packed that a third seed this week could be out of the playoff picture by Christmas. If the Clippers do fall into the lottery, they get to keep this pick and they'll send another lottery-protected pick to Boston in the 2020 draft.
Side note: The Celtics received the Memphis pick and the Clippers in deals for Jeff Green. Memphis sent Boston its pick in a trade for Green in 2014, and Memphis sent Boston the Clippers pick in a draft night trade in 2016. They got that Clippers pick when Los Angeles traded for Green.
It's still early, so the dream scenario of the second, ninth, and 15th overall picks, plus Boston's own, is still possible. However, the surprising early start to the seasons are dragging those picks further down the draft board, and with them Boston's hopes of either adding great young talent to an already great roster, or packaging those picks in a trade.
The butterfly effect here could ultimately mean Boston's treasure chest of draft picks is more like an arcade claw machine. The prizes inside look great, but the chances of actually getting them are slim. And if those odds continue to look bad, it's going to be tough for Ainge to get a rival general manager to dig into his pockets for a chance to play.