Jayson Tatum's quiet resurgence and other Celtics thoughts this week
Tatum's efficiency-killing isolation game is now mostly a thing of the past.
COMMENTARY
The Boston Celtics hit the court again this week after a layoff so unusually long, you might have forgotten they were still playing. It was a short two-game week, and here's what went down.
Here's how it went
The Celtics picked up their fourth straight win in a revenge game against the New York Knicks. Kyrie Irving had 22 to lead Boston, but the big story was Jaylen Brown's aggressive 21 points off the bench. Brown returned from his lower back injury in a reserve role to prove he wasn't lying to us when he said he was cool with a move to the bench if it helped the team. Brown attacked the rim, read defenses correctly, made the right decisions, and got to the free throw line nine times in the 128-100 win. The game was a bit closer than the final score indicated, with the Knicks keeping the lead around 12 until one last Celtics run finished them off.
Boston then went to Chicago Saturday night and pounded the Bulls into historic oblivion. They won 133-77. Yes, that's 133 points for Boston and 77 for the Bulls. It was the most lopsided win in franchise history and tied the biggest road win in NBA history. Boston stormed out to a 17-0 lead and pushed it to 21 at halftime, which was the best it would get for Chicago. Because Boston was without Aron Baynes (sprained left ankle), Al Horford (sore left knee), Robert Williams (personal reasons), and Guerschon Yabusele (sprained ankle suffered during the game), the Celtics had to keep Brown and Terry Rozier on the floor for garbage time, resulting in a 40-17 fourth quarter and the final abomination of a score. Daniel Theis had a career-high 22 points for Boston.
The player of the week
Brown has been a punching bag for a lot of Boston fans, but his return this week has been fantastic. The quiet secret about Brown is, despite being the target of so much ire, he's been slowly coming around and playing better. This week's performances were more of an emergence from his chrysalis rather than a basketball epiphany.
Brown scored 23 Saturday night and 21 against New York. The biggest difference in his game since his return is his level of control and focus. He's making the right reads and driving with purpose and awareness.
When I wrote about Brown a few weeks ago, I singled out this drive as an indicator of what he was doing wrong.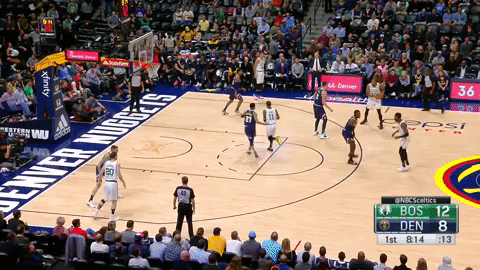 His first step gets him by the defender, but it doesn't lose the defender. When he gets into scoring position, he just jumps into people. With no foul call, there's no chance of that ball going in.
Against the Knicks, Brad Stevens drew up a play that helped put Brown in a good position, but what he does with that is perfect.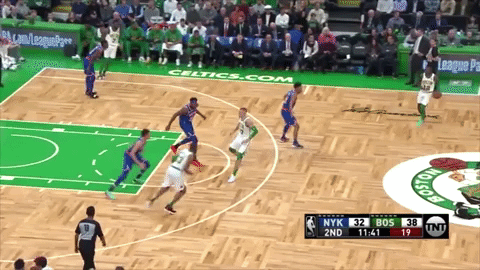 The defender over-commits to the pass, so Brown does the right thing and goes baseline on him. Once he's there, he gathers and jumps into the contact with his off-shoulder. That lets him absorb the contact without losing control of the ball or his body. That little adjustment gets him the and-1 as opposed to the opponent starting a fast break.
It was never about ability with Brown, it was about staying in the moment and making the right plays. The Knicks play is about reading and reacting. That's the type of play that can make Brown a stud.
The highlights of the week
Everyone loves an alley oop, right? Here are two. Here's Al Horford from Marcus Smart against New York:
Doesn't get much easier than this. pic.twitter.com/lN0kRahJ6B

— Boston Celtics (@celtics) December 7, 2018
And here's Daniel Theis from Marcus Smart against Chicago.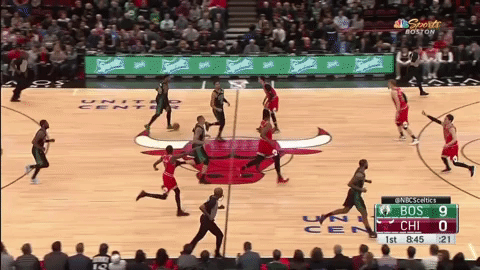 Notice any similarities?
The Celtics ran the same play in back-to-back games. Here's how they got him free:
Theis's career night
Since we're here with Theis, let's give him the credit he deserves.
The Celtics have the good problem of having too much talent, which is evident in Daniel Theis when he gets extended minutes. He's not going to match up well against, say, Andre Drummond and Detroit, but his athleticism and shooting ability makes him dangerous most nights.
His 22-point, 10-rebound, four block night against Chicago is a reminder that Boston has a deep bench capable of matching up against most teams. Fully healthy, Boston can toggle between big, bruising, Baynes-led lineups or small, athletic lineups where Theis can get some good run.
This type of experience is going to mean a lot come playoff time when adjustments can re-shape a series. Theis's ability to shake off DNP's and play well when called upon is a difficult but important skill for a reserve.
Jayson Tatum's quiet resurgence
Last week I ran down how Jayson Tatum has moved away from the problematic isolation basketball and more toward catch-and-shoot opportunities. With the efficiency-killing isolation game now mostly a thing of the past, Tatum's percentages have slowly been returning to last season's form.
Tatum has hit seven of his last nine three pointers, all taken this week, to bring his season percentage up to 42.9 percent. That's not far from last year's 43.4 percent. In fact, his true shooting is now just one percentage point below last season's while his player efficiency rating has climbed a point-and-a-half to 16.8.
Tatum's usage rate is up three points from last year, so he's more involved in the overall offense. His assist rate is up nearly two percent, his turnover rate is down a full percentage point, and he's rebounding percentage is up nearly two percentage points.
Tatum was always too good to struggle the way he did early in the season, but he's also focused on playing better basketball. It also helps that the opponents haven't been quite as good.
Only two of the next seven opponents are currently above .500, which means Tatum can take advantage to stroll into the Christmas Day game against Philadelphia with numbers that are better than last season.
Get well, Yabu
I won't show it to you because it looks bad but Guerschon Yabusele suffered a badly sprained ankle against Chicago. It only appears to be a sprain which is good, but it's bad enough to keep him sidelined for a while.
On a side note, I find sprained ankles brutal to watch. They are relatively minor injuries compared to what some other guys suffer, but I never want to see a replay of it.
Terry Rozier wants people to shut up
Rozier let us behind the scenes a little bit after the Bulls game, expressing how annoying he found the coverage of the team's early struggles.
Terry Rozier tells the Celtics doubters to 'shut up' ?‍♀️ pic.twitter.com/1muYNDN1rV

— Celtics on NBC Sports Boston (@NBCSCeltics) December 9, 2018
Despite what players might say outwardly, they hear what people are saying. Even if they don't read or listen themselves, someone in their inner circle is usually relaying the messages back to them. When things are going poorly, they'll get mad at the media coverage before they turn on themselves in the locker room.
Marcus Smart catching Danny Ainge
Notorious non-shooter Marcus Smart is now tied with notorious dead-eye shooter — and his current boss — Danny Ainge for made threes as a Celtic.
Ainge, who is forever a competitor and trash talker, responded thusly.
Uh oh?Trade deadline moved up to Monday?Marcus is a stud??☘️ https://t.co/kpueEphKvR

— Danny Ainge (@danielrainge) December 9, 2018
Good one, Danny.
Just for the record, the Celtics can't trade Smart for another month due to league rules, so he's safe… for now.
Welcome to the world, Time Princess
Robert Williams has been away from the team for a few days for personal reasons, namely the birth of his daughter.
The debate on Twitter is now whether the "Time Lord" nickname should become "Father Time."
Up Next
Things heat up this week with the New Orleans Pelicans in town for a game Monday night. The Celtics then take a quick trip to Washington on Wednesday before returning home to host the Hawks on Friday. They finish the week off with a back-to-back in Detroit on Saturday.