Celtics
10 thoughts and observations from Friday's Celtics-Bucks game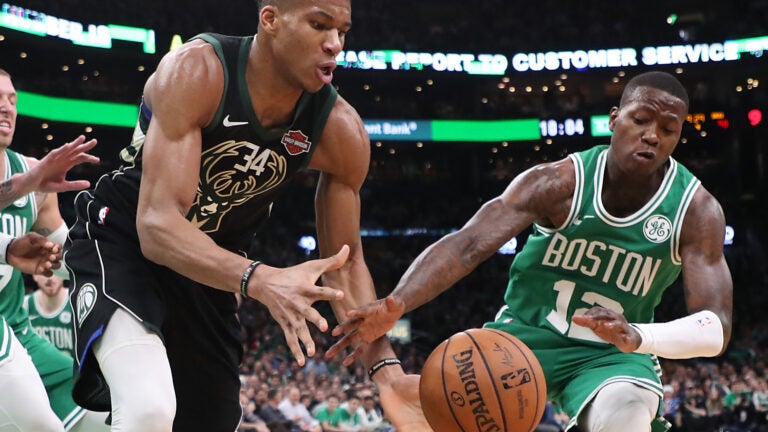 COMMENTARY
Friday night's Celtics-Bucks game was not only supposed to be a marquee matchup between two Eastern Conference powerhouses, but it was also supposed to be a real test for Boston, which, based on winning percentage, has had the easiest schedule in the NBA thus far this season. It was supposed to be an opportunity for the Celtics, shorthanded once again, to make a statement à la the many they made last season. 
What took place was the team's third consecutive loss — a 120-107 defeat at the hands of center Giannis Antetokounmpo and the 22-9 Bucks — as Boston continued to struggle to find its groove. 
Related: Celtics hold team meeting after losing to the Bucks
Despite racing out to an impressive 10-1 lead to start the game, the Celtics surrendered a 16-0 run following Bucks coach Mike Budenholzer's first timeout and never recovered. At halftime, Milwaukee led by 17.
"As you dig a hole against them, it's hard to come back," coach Brad Stevens said. "They're a heck of a team."
Here are 10 notes from the game:
1. Antetokounmpo's pregame routine is a sight to behold. The 6-foot-11 MVP candidate isn't just getting shots up in various spots around the court. Dripping in sweat, he's also running suicides, dribbling two basketballs at once to improve his handle, and driving to the hoop at full force. It's not often a player is icing both of his knees in between warmups and tip-off, but Antetokounmpo puts on one of the more dynamic displays before the game even begins. 
2. As unusual as it was to see Semi Ojeleye in position for the opening tip, the decision to start him at center paid off immediately. The 24-year-old scored five of Boston's first seven points, driving to hoop for a finger-roll layup on the team's first basket of the game and sinking a three-pointer two possessions later. Ojeleye was also responsible for drawing two of Milwaukee's three consecutive charges within the opening minutes of the contest.
"I thought Semi did a lot of good things," Stevens noted.
3. Powered by 10 points on 4-for-4 shooting from reserve guard Tony Snell, Milwaukee closed the first quarter with a 13-point lead after trailing by nine to open the game. The Bucks hit five three-pointers in the first, taking full advantage of a scattered defensive effort by the Celtics. Had DJ Wilson and Khris Middleton connected on back-to-back open opportunities, Milwaukee would have added two more to that total.
The shots kept falling throughout the remaining three quarters, however, as the Bucks finished with 16 threes on 40 percent shooting. Even Antetokounmpo, who shoots 12.5 percent from behind the arc, knocked one down in the third quarter.
4. When the shots aren't falling for point guard Kyrie Irving, it's hard to envision any sort of comeback happening, despite what the team was able to accomplish in his absence during the playoffs last season. Irving had a decent first half, scoring 11 points on 5-for-9 shooting while adding five assists. But he made only two of 11 shots in the second half — neither came in the fourth quarter — to finish 7-for-20 from the field. When Irving takes at least 10 shots and is shooting less than 40 percent, the Celtics are 3-4.
5. The fourth-quarter dunk Jaylen Brown muscled over Antetokounmpo was nuts, certainly widening the eyes of the TD Garden crowd and waking fans up from the slumber they had been lulled into by Milwaukee's consistent double-digit lead. The staredown and flex that followed the dunk were controversial — earning him a technical foul.
Jaylen ? pic.twitter.com/viA6TZrWuQ

— Boston Celtics (@celtics) December 22, 2018
Though it may have stifled a budding comeback run, the showboating isn't what cost the team the game. It was encouraging to see Brown get his swag back. The 22-year-old had been struggling, averaging 4.0 points and shooting 6-for-25 from the field over the past three games heading into Friday.
"Jaylen was one of the reasons we got back into the game, and it was really good to see him play that way," Stevens said. "He had a really good day yesterday where he worked on his own and put in a lot of time in the gym, and you could tell that he was going to have a night where he was going to, you know, have a good game."
6. Brown's stat line and highlight reel might have disguised a few of his fumbles Friday. He missed a couple of gimme finishes at the rim, air-balled a free-throw in the fourth, and got burned on defense a few times. Stevens, however, expressed confidence that Brown's missteps "are just blips for him."
"He's had some tough stretches," Stevens said. "But he always comes back to work.
7. The 48 minutes of basketball was not without highlights from rookie center Robert Williams, who brought his block party to the three-point line. Much to the delight of the crowd, Williams deflected a three-point shot attempt by Malcolm Brogdon in the second quarter. Later in the fourth, after biting twice on Brook Lopez's pump fakes, he recovered to swipe the ball right out of Lopez's hands and prevent another three.
His offensive limitations remained apparent, though. Perhaps the most noticeable error was his decision to kick the ball out for a badly missed three when he was standing wide-open right under the basket. The crowd audibly groaned. 
8. The celebrities in the house comprised a motley crew: hip-hop artist LL Cool J, Donnie Wahlberg and Jordan Knight of New Kids on the Block, running back James White and offensive guard Shaq Mason of the Patriots, and former Celtics shooting guard Ricky Davis. Only LL Cool J received face time on the center-court video board.
9. There have been flashes, but backup point guard Terry Rozier has seemingly lacked his mojo this season. He's still averaging 23.1 minutes per game, which doesn't seem like something he should be privately grumbling about, yet his contributions have been largely inconsistent. Rozier recorded another disappointing outing Friday, shooting 1-for-7 from the field and 0-for-4 for behind the arc.
10. Without a trio of defensive stalwarts in Aron Baynes, Al Horford, and Marcus Morris, the Celtics have been getting burned on the glass. The Bucks outrebounded them 31-13 in the first half and 55-36 in the game. Over the past two games, Boston has been outrebounded by a margin of 38.