Celtics
The return of Aron Baynes sounds like it's right around the corner
"It's not too far away."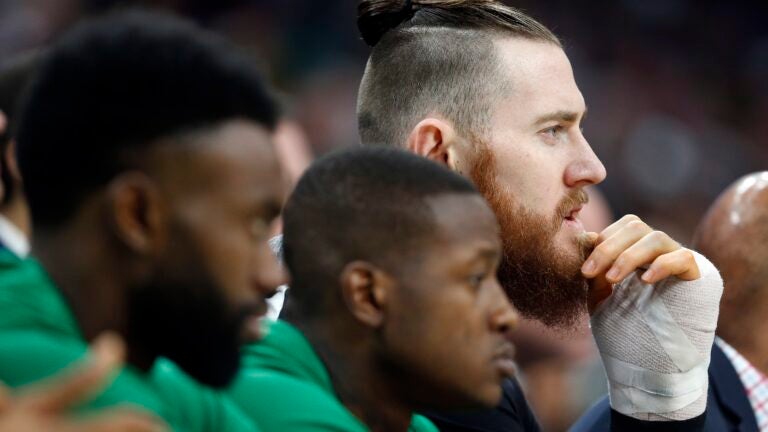 Celtics center Aron Baynes has "progressed well" and could return to game action as early as mid to late next week, according to coach Brad Stevens.
"He'll go back to the doctor to get full clearance before that happens," Stevens said before tip-off between the Celtics and Nets Monday. "It's not too far away."
Baynes, who suffered a broken finger against the Phoenix Suns on Dec. 19, told reporters Monday he has been cleared for everything but contact. He said his left hand "feels great" and is "not limiting." Before tip-off against the Nets, Baynes was on the court shooting and going through various ball-handling drills.
"It really feels 100 percent to me," he said. "If I can do everything and it still doesn't let the plate move and the plate stays in place, as long as it still is not going in a backwards direction, then it'll be good."
When he does return — the Celtics have two homes games next week: Wednesday against the Toronto Raptors and Friday against the Memphis Grizzlies — Baynes will wear some sort of protection, which he says is "more so for [the doctors'] peace of mind than anything."
In Baynes's nine-game absence, the Celtics are 6-3 and Boston is allowing 4.1 more points per 100 possessions during that span. 
"It's tough not being able to step out there and go battle with the guys, but I'm still trying to be around them as much as I can, make myself known, [and] make sure I'm still a part of the locker room as well," Baynes said. "Hopefully, we keep it rolling like we have the last few games. Then I'm able to slot myself back in and just try and contribute more to the team and keep us headed in the right direction."