Celtics
3 takeaways from the Celtics' 135-108 blowout of the Indiana Pacers
"You can tell our team is just feeling really good being around each other."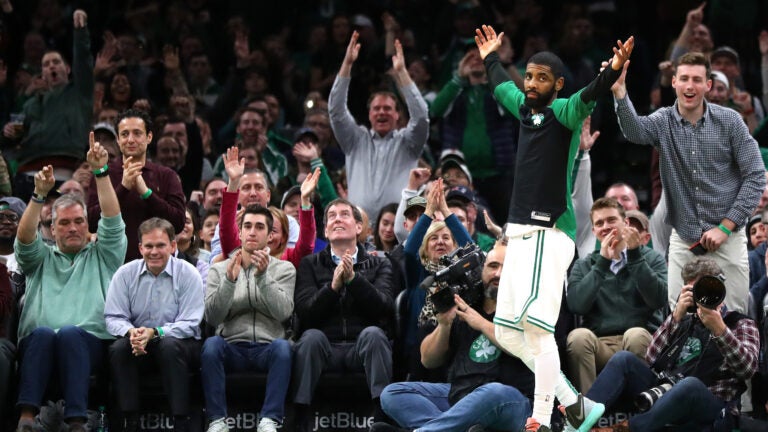 COMMENTARY
Pacers guard Victor Oladipo didn't sugarcoat things after his team's 27-point loss to the Celtics Wednesday evening at TD Garden.
"We sucked tonight," said the 2018 All-Star, who didn't log a minute of playing time in the fourth quarter due to the lopsided score. "There is no way around it."
In Indiana's defense, the Pacers were operating on the second night of a back-to-back and without big man Myles Turner. Still, the Celtics put on quite the clinic for their fourth straight win — trouncing the league's second-ranked defense with a season-high 135 points.
Increased ball movement continued to be an effective strategy for the C's, who boasted 30-plus assists for their fifth consecutive game. Seven players scored in double figures, highlighted by 22-point outings from both Marcus Morris and Jaylen Brown.
"I thought we had a lot of good performances from a lot of good people against a really good team," coach Brad Stevens said.
Here's what we learned from the 135-108 victory:
Jayson Tatum's still got that spark.
After struggling to find his shot since Christmas Day, Jayson Tatum's first quarter was nearly perfect.
The 20-year-old was aggressive from the jump, tallying 11 points on 5-for-6 shooting in eight minutes. Tatum's offensive attack flaunted his diverse expertise — he hit a three-pointer, a fadeaway jump shot, a pull-up jump shot, and two finger-roll layups — as he was a threat from all areas of the floor. He finished with 20 points on 9-for-15 shooting and four assists.
When Tatum is cooking, not only does it boost his individual numbers but it also promotes opportunities for others to get involved.
"[He and Kyrie Irving] draw so much attention, and everybody else benefits so much from the attention that they draw," Stevens said.
Jaylen Brown seems to have found his groove.
Brown has carved out quite the role for himself off the bench since returning from his back injury in early December. Targeted as one of the early-season disappointments, the 21-year-old has certainly done a solid job proving the haters wrong with his recent consistent stretch. In Boston's last five games, Brown is averaging 17.4 points on 58.2 percent shooting. As point guard Kyrie Irving noted, he is making "stronger cuts, better passes, [and] better offensive decisions."
"We got a lot of players, a lot of pieces out there, so just trying to figure out who you are and where you fit into this team and stuff," Brown said. "It's going to continue to change and things like that. You just got to be patient and continue to work hard, and everything will fall into place."
Brown identified his approach and mindset as the keys to his success. Though he probably would prefer to return to the starting lineup, Brown said he's trying to "make the best of [his] situation regardless of what it is." He unquestionably has.
In his first 19 games as a starter, Brown logged zero 20-point games. In his last 16 games, mainly as a reserve, he has put up six. From field-goal percentage to assist percentage, Brown's numbers are all climbing month over month. He'll be the first to tell you, however, there's nothing special behind the surge.
"Just hoopin' that's it," he said.
The offense as a whole looks more comfortable.
The Celtics have the clawed their way up the league's ladder for offensive rating after starting the season far too close to the bottom. In the month of January, Boston's offensive rating (118.5) ranks fourth-best in the league. Overall, roughly halfway through the season, it ranks ninth (110.9).
Things are definitely trending upward, with players having a better grasp of what is expected of them and how those expectations manifest on the court. 
"The way that we're playing, we all understand where our shots are going to come from [and] the types of shots coach wants from us," forward Al Horford said. "I feel like as a unit we're starting to understand how Coach wants us to play."  
"Guys know where their spots are and aren't forcing the issue when they're not there and taking it when they are," added Stevens.
Irving was quick to note there are "some tough tests" coming up — the Celtics host the Toronto Raptors and the Golden State Warriors later this month — but is encouraged by the fact that the team is trusting one another more so than they did at the beginning of the season. 
"You can tell our team is just feeling really good being around each other," he said. "It's totally different in terms of how we feel out there. It's just really positive."