Celtics
Charles Barkley on the Celtics: 'They're not going to win the way they're currently constructed'
The team's 15-5 stretch didn't convince the Hall of Famer, and Thursday obviously didn't either.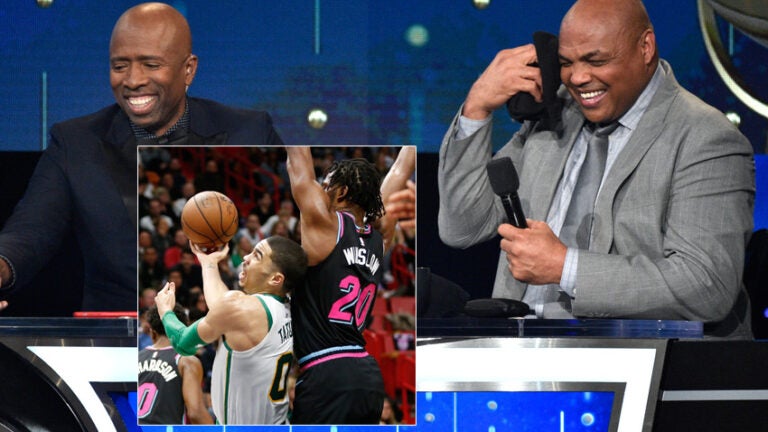 Outside of getting to see those tremendous Miami Vice jerseys up close, it was an ugly night in Miami for the Celtics. They lost 115-99 to a Heat team that only reached .500 with the win, and who led by 26 in the third quarter as Boston struggled the night after being the one taking advantage of the opponent flying into town on a back-to-back.
The first half was especially ugly, as Miami ran off the final 10 points — capped by a buzzer-beating Derrick Jones Jr. 40-footer — to open a 61-43 lead. The Heat shot 53 percent, piled up 18 assists on 26 field goals, held a 27-17 rebounding advantage and a 28-12 edge on points in the paint.
Al Horford and Marcus Smart were scoreless, taking just five shots. The Celtics didn't have a free-throw attempt. Marcus Morris and Jaylen Brown had a brief scuffle during a timeout, reportedly due to some lackadaisical defense by the latter.
Jaylen Brown and Marcus Morris had to get separated during a timeout…

(via ahubbtho/IG) pic.twitter.com/1EyBZyzvUn

— Bleacher Report (@BleacherReport) January 11, 2019
It was enough to have Kyrie Irving needing a postgame palate cleanser shootaround, his game-high 22 points still leaving him a minus-11.
Little surprise that, when the TNT broadcast kicked to the 'Inside the NBA' crew for halftime, Charles Barkley had some thoughts on the preseason Eastern Conference favorites. Namely that Brad Stevens's current roster won't get it done.
"They're not going to win the way they're currently constructed," Barkley said. "I don't know what type of team they are. I really don't. I don't think they know who their go-to guys are. … If the Celtics are going to win the Eastern Conference, I think they've got to make a trade."
The Hall of Famer's main argument is a lack of role players: "Dirty-work guys," in his parlance. Outside of Marcus Smart and "maybe Al Horford" (because of his rebounding), Barkley sees the Celtics as a team full of scorers who don't deal well when they're not getting their shots.
"They're not making that transition where they're like, 'OK, I'm not going to score tonight, [I] gotta get stops.' They don't have guys like that," Barkley said. "Jaylen Brown could be an All-Star. Jayson Tatum could be an All-Star. Kyrie [Irving]'s been an All-Star. Gordon Hayward's been an All-Star. Al Horford's been an All-Star, but you don't look at any of those guys and say, 'Well, they're a defensive stopper and they're content doing that.'
"I had a Mark West, who could go the whole game and not get a shot. Was going to affect the game and not complain and not pout. You have to have guys like that. You look at the Warriors. Draymond [Green] is a great defender. He's content to play great defense and rebound the ball. Last year, they had David West. They had JaVale McGee, Zaza Pachulia, because those [other] three guys are going to get all the shots. And with the Celtics, those guys, I told you coming into the season. Tatum and Brown wasn't going to say, 'Hey, Kyrie and Gordon, y'all take all the shots,' because they think they're better players than that."
Kenny Smith chimed in that despite Boston's No. 4 defensive rating, they lack a strong inside presence. Robert Williams is certainly establishing himself as a threat, with 28 blocks in fewer than 175 minutes this season, but the Celtics pedigree comes from the perimeter.
"That's what will separate them," Smith said, "if they got a [Kevon] Looney or someone like that that just changes the trajectory of your shot and makes you think about another pass."
Smith also stressed the Celtics should be "a ball-movement team. The ball should be pinging around, kind of what Golden State does," with Irving given some dispensation. The team agrees, posting four of its six best assist totals this season in their victories to start January. Thursday, however, was ugly all around.
"These guys don't play defense," Shaquille O'Neal said succinctly, "they don't have a shot."