Celtics
Fan video captures altercation between Marcus Morris, Jaylen Brown
The kerfuffle culminated with a shove.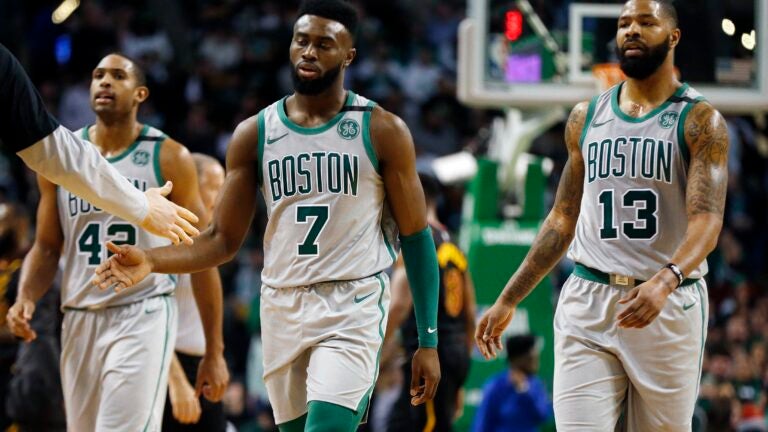 Tempers flared during a second-quarter timeout of Thursday's Celtics-Heat game.
Marcus Morris and Jaylen Brown exchanged words and had to be separated by Marcus Smart after Morris gave Brown a one-handed shove. Morris continued to bark at Brown while being restrained by assistant coach Jerome Allen.
Jaylen Brown and Marcus Morris had to get separated during a timeout…

(via ahubbtho/IG) pic.twitter.com/1EyBZyzvUn

— Bleacher Report (@BleacherReport) January 11, 2019
The video, taken by a fan at American Airlines Arena, surfaced after players and coaches had left the locker room following the Heat's 115-99 win. Based on the play-by-play, the incident appeared to occur following a botched 3-on-2 opportunity by the Celtics. Terry Rozier dished the ball to a running Brown, who couldn't finish at the rim; Gordon Hayward secured the rebound but missed the five-foot put-back; and Brown couldn't connect a second time after coming up with the offensive rebound.
Brown was then slow to get back on defense, as Heat shooting guard Dion Waiters brought the ball up and found Derrick Jones Jr. for an easy two points. As Jones Jr. was going up for the layup, Brown had just reached the paint.
The timeout, in which the scuffle occurred, was called by the Heat less than a minute later — with 7:12 remaining in the half. Jayson Tatum checked in for Brown, who did not return to the game until there were 37.8 seconds remaining in the third quarter.
The players and coaches will likely not address the matter until the team's shootaround Saturday morning in Orlando.
"It's two good kids that are competitive," Celtics president of basketball operations Danny Ainge said told the Boston Globe's Adam Himmelsbach Friday by phone. "They both want the same thing. Emotions happen in games, and I'm not worried about it."