Celtics
Marcus Morris, Jaylen Brown downplay timeout scuffle from Celtics-Heat
"You move past that type of stuff."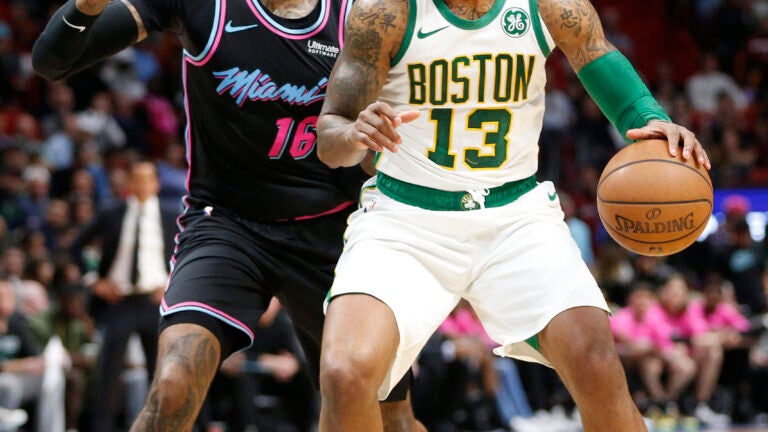 Teammates Marcus Morris and Jaylen Brown say they have moved on from their minor altercation that occurred during the second quarter of Thursday's 115-99 loss to the Miami Heat.
"When you're as competitive as we both are, tempers can get hot," Morris told reporters during shootaround in Orlando Saturday. "That's all it was."
Morris and Brown had to be separated by Marcus Smart after a heated exchange that culminated in Morris shoving Brown. According the play-by-play, the incident occurred after Brown failed to get back on defense following two missed shots in a bungled 3-on-2 offensive opportunity. Morris, who continued to bark at Brown while being restrained by assistant coach Jerome Allen, said his response was "all basketball-related."
"We moved past it after the timeout," Morris said. "I know everybody wants to catch everything on camera, but you didn't catch the stuff that happens afterwards, when we sat right beside each other and it was over."
Brown noted the pair spoke about what happened but seemed more interested in discussing the team's upcoming game against the Orlando Magic. He said he's "focused on playing some good basketball." After his recent hot streak, Brown was limited to just two points on 1-for-5 shooting in 14 minutes Thursday.
"To be the team we want to be, we have to be able to be open with each other," Morris said. "If it leads to a little bumping and pushing and shoving, I mean, what is it? It's nothing. You move past that type of stuff. Keep going."
Coach Brad Stevens also brushed off the incident, joking he was more focused on the fact that Smart was the one to break things up.
"Talk about growth, holy smokes," Stevens said. "I thought he'd be in the middle of one of those. That was pretty good. You guys all looked at it as a negative, I couldn't believe what I was seeing."